Even as President George W. Bush's mind may be firmly fixed on the lowest domestic job approval ratings of his presidency, a new Gallup survey* reveals that the British public gives Bush a far lower job approval rating than he gets at home. Less than a fifth of Britons (19%) approve of the job Bush is doing as president of the United States, while 73% disapprove.
Britons' low rating of Bush may reflect America's perceived performance in the international arena -- particularly the dissatisfaction with the situation in Iraq. An April poll conducted for the British newspaper, The Guardian, found that only 28% of Britons had a fair amount or a lot of confidence in Americans' handling of the situation in Iraq. But Britain's involvement in the Iraq war, as well as his performance relating to pressing issues on the domestic agenda, have likely affected Prime Minister Tony Blair's approval rating. The survey results suggest that Britons do not rate highly the performance of their own prime minister, either. Just over a third (34%) of the British public approves of the way that Blair is handling his job as prime minister.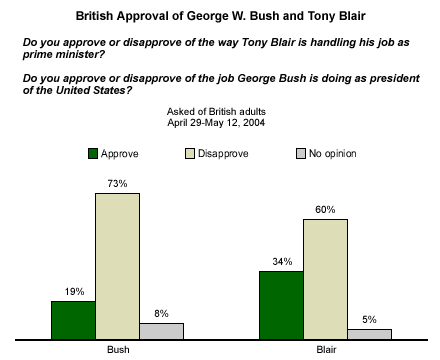 British support for Blair falls along partisan lines, with Conservative Party supporters at 19% approval, Labour Party (Blair's party) supporters at 61%, and Liberal Democrats at 24%. Support for Bush in Great Britain is similar across Conservative (21%) and Labour (26%) supporters. However, only 5% of Liberal Democrats (who have been outspoken opponents of the military action in Iraq) approve of Bush, while 93% disapprove.
Just as in the United States, support for Bush is stronger among British men than women (23% vs. 14%). There is also a generational difference in support levels -- while a majority of Britons within each age group disapprove of Bush, younger people (aged 18 to 49) are more likely than older people (aged 50 and older) to approve of him.
Government Approval
More generally, Gallup Poll results show that the British public is highly dissatisfied with the country's government. Less than a third (30%) of Britons give their approval to the government's record to date. Predictably, government approval is higher among Labour supporters (55%) than Liberal Democrat supporters (23%) or Conservative supporters (14%). However, more than a third of Labour supporters (35%) disapprove of the government's record.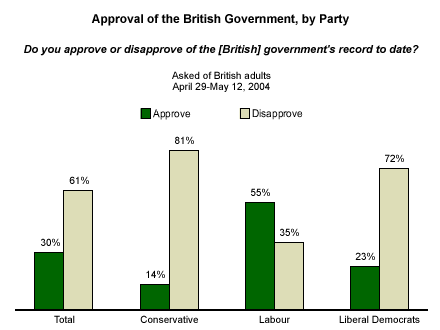 A Question of Trust
The results also show that Blair has some way to go before regaining the trust of Britons, who overwhelmingly believe that the government has not been honest and trustworthy. A year ago, just over half of Britons felt that the government had not been honest and trustworthy (58%). This proportion has now grown to just under three-quarters (71%), including 49% of Labour supporters.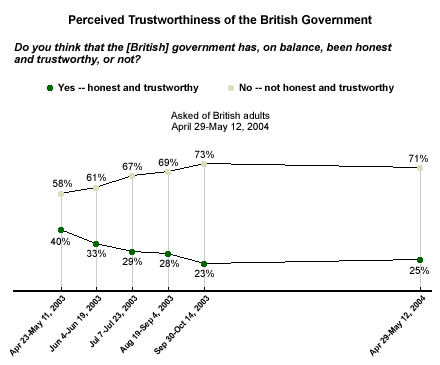 The Future of Tony Blair
Despite recent media speculation about a possible successor to Blair, Blair probably has less cause for concern about his electoral standing in Great Britain than Bush does in the United States. Unlike in the United States, there is no fixed date for a general election in Great Britain -- the prime minister sets the election date. The life of a parliament cannot exceed five years, so the next national election must take place before June 2006. Regardless, Blair has more time to rally electoral support than Bush currently does.
Even more encouraging for Blair is that despite his low approval rating, he is still judged by the British public to be better than the alternatives. When asked who would make the best prime minister (PM), a clear majority of Britons supported Blair in the wake of the 2001 election (59% in October 2001). In May 2003, Blair was considered to make the best PM by a full 50% of respondents, compared with just 14% who chose Iain Duncan Smith (the former Conservative Party leader) and 18% who chose Charles Kennedy (leader of the Liberal Democrats). During the past year, the percentage choosing Blair as the best alternative for prime minister has steadily decreased. However, while Blair has lost ground to the new leader of the Conservative Party, Michael Howard, he still retains a six-point advantage.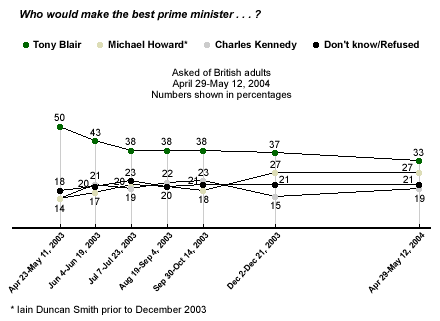 Perhaps most important of all is Blair's delivery of a Labour lead in voting intention. Despite serious misgivings about the government and the job Blair is doing, a plurality of Britons (39%) say they would vote for the Labour Party if the election took place tomorrow, a lead of seven points over the Conservative Party. Although Labour's lead has sharply reduced from double digits in 2002 and the first half of 2003, it seems that the opposition parties have thus far been unable to make Blair a serious electoral liability for the Labour Party.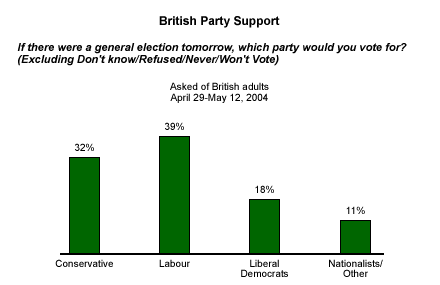 *Results in Great Britain are based on telephone interviews with 1,018 national adults, aged 18 and older, conducted April 29-May 12, 2004. For results based on the total sample of national adults, one can say with 95% confidence that the maximum margin of sampling error is ±3 percentage points. The survey was conducted by Gallup UK.
In addition to sampling error, question wording and practical difficulties in conducting surveys can introduce error or bias into the findings of public opinion polls.