With both of the major presidential candidates seeking some advantage as they barrel into the home stretch of what has largely been a dead-heat race, John Kerry and the Democrats may wish they could lower the voting age. A new Gallup Youth Survey* conducted between the Democratic and Republican National Conventions -- a period when voting intentions were essentially deadlocked among adult voters -- found American teens favoring Kerry for president. Half of American 13- to 17-year-olds said they would vote for Kerry if they were old enough, while 39% said they would vote for George W. Bush and 10% would vote for independent candidate Ralph Nader.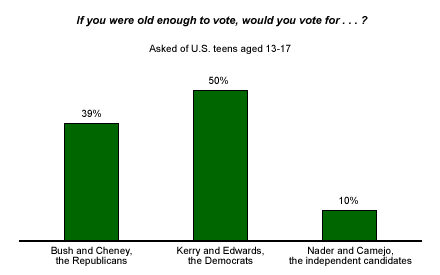 Because most teens are not yet old enough to vote in the coming election, it makes sense that they would be less politically engaged than their voting-age elders. U.S. adults are highly tuned in to the election this year, with a strong majority saying they have given it "quite a lot" of thought. In contrast, only about one in four teens (26%) say they have given the election quite a lot of thought, while 45% say they have thought about it only a little and 29% haven't thought about it at all.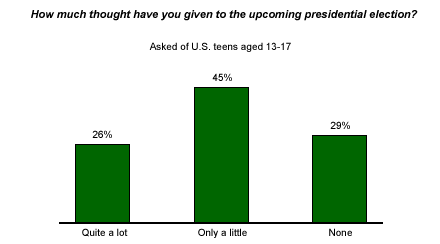 Although they're not paying as much attention to the campaign as are adults, the country's extreme political polarization may still influence teens' opinions of the president. The percentage saying they approve of the job Bush is doing as president has dropped significantly since January/March of this year; more teens in the August poll said they disapprove than approve of Bush's job performance.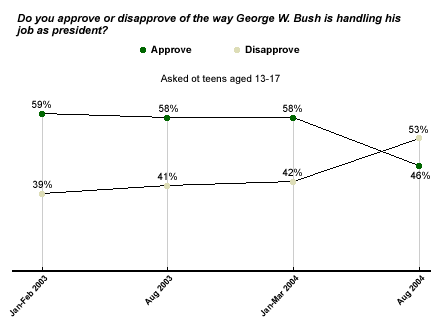 The number of teens saying they approve of Bush on a personal level is down also, though a majority of teens -- 58% -- still said they approve of Bush as a person.
*The Gallup Youth Survey is conducted via an Internet methodology provided by Knowledge Networks, using an online research panel that is designed to be representative of the entire U.S. population. The current questionnaire was completed by 439 respondents, aged 13 to 17, Aug. 8-19, 2004. For results based on the total sample, one can say with 95% confidence that the maximum margin of sampling error is ±5 percentage points.