Americans shouldn't be too surprised if teenagers appear on their doorsteps this month and ask them to vote. Nonpartisan "get out the vote" organizations such as "Rock the Vote" and "Freedom's Answer" have welcomed high school teens to their rosters to help encourage as many Americans as possible before the coming election. Although most teens will be too young to vote this November, it seems that many already know on which side of the political spectrum they will fall.
Unlike adults, slightly more of whom consider themselves Republicans than Democrats or independents, American teenagers currently lean a little more Democratic, according to the August 2004 Gallup Youth Survey*. Thirty-seven percent of teens say they think they will align with the Democratic Party when they are old enough to vote and 30% will side with the GOP. About one in four teens (27%) plan to remain independent of either major political party.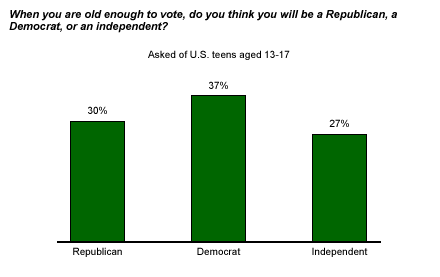 Other numbers from the August Gallup Youth Survey are consistent with teens' Democratic slant. For example, half of teens said they would vote for the Democratic ticket if they were able to, compared with 39% who said they would vote for Bush and Dick Cheney. Also, the survey showed teens more likely to disapprove (53%) than approve (46%) of Bush's performance in office (although it's important to note that Bush's approval rating among adults has grown more positive since the time the teen poll was taken in mid-August, so teens' ratings may have improved as well).
Racial Preferences
As with adults, there is a considerable racial gap among teens when it comes to political party preference. More than half of nonwhite teens -- 54% -- say they expect to be Democrats, while just 15% say they will become Republicans and 23% independents. On the other hand, the plurality of white teens say they will be Republicans (38%), while 30% will be independents and 27% Democrats.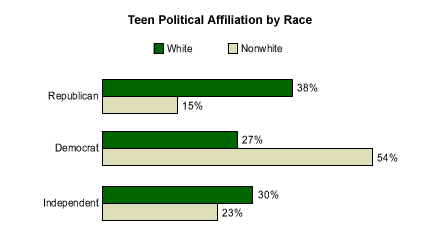 Politics and the Church
There are dramatic differences, too, between teens who have attended church or synagogue in the last week, and those who have not. Teens who have attended in the last week plan to vote Republican at double the rate (44%) of teens who have not attended (20%). Conversely, 43% of teens who had not attended worship service in the last week say they will align with the Democrats, compared with 30% of those who attended church.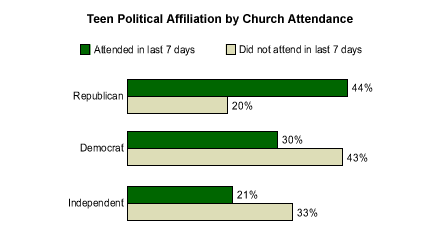 Bottom Line
Previous research has shown that teens generally follow their parents' lead when it comes to politics. But follow-up interviews demonstrate that establishing their own individual political identities can be an important consideration as well.
Heather, a 13-year-old from New Jersey, says she would likely go along with her parents and vote Republican because she "agrees with President Bush's opinions" and feels that "Democrats present themselves too negatively." But she wants to keep her options open. "I don't want to be limited by tradition or authoritarian attitudes," she says.
Ben describes his political views as "moderate" and thinks he will probably stray from his family's Democratic leanings when he's older and vote as an independent. The 14-year-old from New Jersey sees some value in both Republican and Democratic policies and likes the idea of "being able to feel differently on a particular subject rather than have a group of people that I am associated with make the decision for me."
*The Gallup Youth Survey is conducted via an Internet methodology provided by Knowledge Networks, using an online research panel that is designed to be representative of the entire U.S. population. The current questionnaire was completed by 439 respondents, aged 13 to 17, Aug. 8-19, 2004. For results based on the total sample, one can say with 95% confidence that the maximum margin of sampling error is ±5 percentage points.