In yet another reminder of how important healthcare issues are to American voters, healthcare was the first topic addressed when questions turned to domestic issues in Friday night's debate. Friday evening's uncommitted voters wanted the candidates to explain their positions on importing cheaper prescription drugs from Canada, and how they planned to bring skyrocketing healthcare liability costs under control. The large number of uninsured Americans, the nursing shortage, and the prevalence of medical errors have also been frequent topics throughout the campaign.
Is the election spotlight on healthcare issues affecting Americans' perceptions of the healthcare industry? Gallup's annual assessment of sentiment toward various business and industry sectors* suggests that in a year when Americans are down on many industries, the healthcare industry is viewed particularly negatively. Survey respondents were given a list of 25 business sectors and asked to give their overall views of each as very positive, somewhat positive, neutral, somewhat negative, or very negative.
A third of Americans view the healthcare industry very or somewhat positively, while half view it very or somewhat negatively. Sixteen percent say they are neutral. Subtracting the negative percentage from the positive percentage gives a "net positive" total of -17 percentage points, which ties the sector with the pharmaceutical industry as the second-lowest rated out of the 25 industries that Gallup asked about. (The oil and gas industry receives the worst net positive rating -- an abysmal -37.) In comparison, the computer industry and the restaurant industry are viewed most positively, with net positive ratings of +52 and +51, respectively.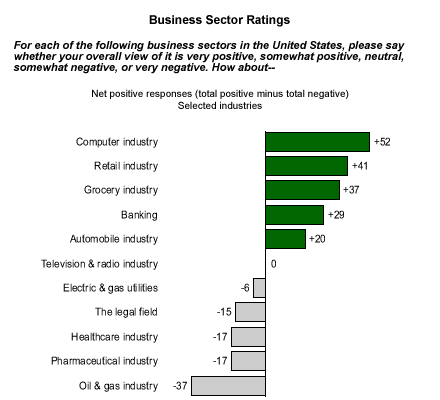 Healthcare is one of only six industries to receive more negative evaluations than positive evaluations. The low opinion of healthcare is relatively universal across gender, income, age, and education groups.
Politics do seem to play a role in people's assessments of the healthcare industry. Although the ratings of all three political groups are negative overall, Republicans are somewhat more likely to view the healthcare industry positively (42%) than either Democrats (30%) or independents (27%).
Low and Getting Lower
Negative ratings of the healthcare industry are nothing new, but like those of most of the industries measured in this year's survey, positive evaluations have dropped since last year. The healthcare industry experienced one of the more significant drops, however, from a net score of -3 in 2003 to -17 this year.
Bottom Line
Given the already negative ratings that the healthcare industry has received over the last few years, it can ill afford further erosion of public opinion. It will be a difficult process for the industry to achieve support for its legislative agenda after the November elections. But one thing is clear -- Americans do not hold the healthcare industry in very high esteem.
*Results are based on telephone interviews with 518 national adults, aged 18 and older, conducted Aug. 9-11, 2004. For results based on the total sample of national adults, one can say with 95% confidence that the margin of sampling error is ±5 percentage points.