Most teens don't have mortgages or mouths to feed, so they are likely to tune out when they hear economy-related words that set many adults' teeth on edge, like runaway deficit, higher taxes, and soaring energy prices. But teens are clearly tuning in when they hear words like terrorism and war.
In the most recent Gallup Youth Survey*, terrorism and the situation in Iraq surfaced as the most important problems teens feel are confronting the United States. Nineteen percent of teens mentioned terrorism when asked the open-ended "most important problem" question, and 17% mentioned the situation in Iraq or the war. Ten percent of teens referenced some aspect of the economy, including the economy/inflation (4%), money/lack of money (3%), unemployment/jobs (2%), and gas prices/oil shortage (1%).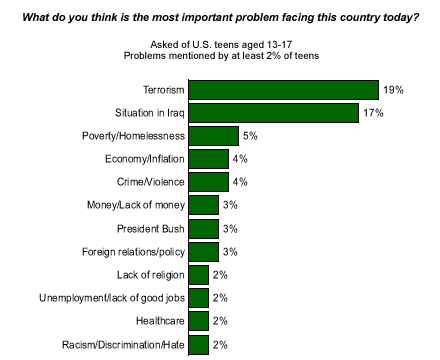 Adults, of whom Gallup asks this same question monthly, also see terrorism and the war as daunting problems facing the nation, but economic issues also rank high on the list of adults' concerns. When adults were asked this question in mid-August, 41% mentioned some aspect of the economy, 18% mentioned terrorism, and 21% mentioned the war.
Although there are differences in the issues that bubble to the top of teens' and adults' lists of the most important problem, there is one intriguing similarity. Republican adults, more so than Democratic adults, tend to name terrorism as the most important problem. The same is true among teens who say they will become Republicans or Democrats when they are old enough to vote: 28% of Republican teens say terrorism is the most important problem, compared with 15% of Democratic teens.
While adult Democrats are more likely to cite the economy or Iraq as the nation's most important problem, Democratic teens are about as likely as Republican teens to mention Iraq or the economy as top problems.
More Problems With Age?
Both younger teens (aged 13 to 15) and older teens (aged 16 and 17) are most likely to mention terrorism as the top problem facing the country, but far more younger teens than older teens see the war in Iraq as the biggest concern. Twenty-three percent of 13- to 15-year-olds name the war as the most important problem, compared with 8% of 16- and 17-year-olds.
It seems odd that the age group closer to eligibility for military service would be less likely to see the war as a problem, but the distribution of teens' responses to this question may offer a clue as to why. While a good portion of younger teens mention terrorism and the war as the most important problem, older teens' responses cover a much wider range of issues. Older teens are as likely to mention the war in Iraq as they are to mention most other problems.
Other Concerns
Many teens mentioned problems other than Iraq, terrorism, and the economy, and these issues tended to be highly social or political in nature. Five percent of teens referenced poverty/homelessness, 4% mentioned crime/violence, 3% named President Bush, and 3% cited foreign relations/policy. Two percent each named lack of religion, healthcare, and racism/discrimination/hate.
*The Gallup Youth Survey is conducted via an Internet methodology provided by Knowledge Networks, using an online research panel that is designed to be representative of the entire U.S. population. The current questionnaire was completed by 439 respondents, aged 13 to 17, Aug. 8-19, 2004. For results based on the total sample, one can say with 95% confidence that the maximum margin of sampling error is ±5 percentage points.