When sitting around the house with nothing to do, many American adults instinctively reach for the remote control -- in fact, watching television is one of the most favorite ways adults spend an evening. Results from a recent Gallup Youth Survey indicate that most teens are flipping on the tube, too. When asked in an August 2004 survey* if they watched television yesterday, 9 in 10 teens (90%) between the ages of 13 and 17 said yes.
What other pastimes do teens indulge in? The Gallup survey asked teens whether they'd done various activities and found activities related to electronic media reign supreme. In addition to watching television, teens are also listening to music -- 77% of U.S. teens listened to music on the radio the day before the survey, and virtually the same percentage (76%) listened to music on CDs or MP3s.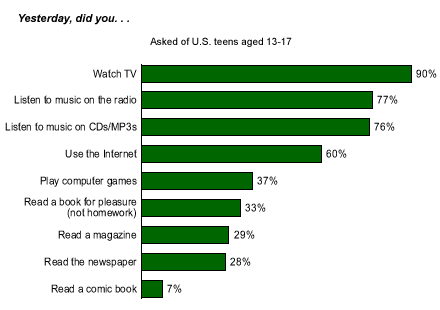 A majority of teenagers -- 60% -- said they'd used the Internet the previous day. However, other data show that the Internet has a long way to go before overtaking television. According to a 2003 study by Knowledge Networks/Statistical Research, Inc., 60% of children between the ages of 8 and 17 have a television in their bedrooms, while only 9% have Internet access through a computer.
More than a third (37%) of teens report that they played computer games the previous day. This is one of the few activities Gallup asked about that shows a significant gap between boys and girls. Nearly half (49%) of boys said they played computer games yesterday, compared with about a quarter (24%) of girls.
Fewer Teens Read
To the dismay of many parents, fewer teens said they'd read a book for pleasure than said they'd watched television, listened to music, or surfed the Internet. Still, a solid third (33%) of American teens said that they read a book for pleasure, rather than for homework, the day before the survey. (Note, since the survey was administered during the summer, most respondents were unlikely to have homework assignments during that period.) This question also shows a gap between boys and girls -- 26% of boys said they read a book for pleasure, compared with 40% of girls.
Teens report reading magazines and newspapers just about as often as they report reading books. Twenty-nine percent of teens reported reading a magazine in the past day, and 28% reported reading a newspaper.
The golden age of comic books has clearly passed. Just 7% of teens said they read a comic book yesterday.
*The Gallup Youth Survey is conducted via an Internet methodology provided by Knowledge Networks, using an online research panel that is designed to be representative of the entire U.S. population. The current questionnaire was completed by 439 respondents, aged 13 to 17, Aug. 8-19, 2004. For results based on the total sample, one can say with 95% confidence that the maximum margin of sampling error is ±5 percentage points.