The federal No Child Left Behind (NCLB) law has generated its share of controversy since it was passed in 2002. The law's stipulations on measuring student achievement and reporting test scores, for example, have drawn fire from educators because they see them as one-size-fits-all approaches that just don't fit their schools. One of NCLB's goals is to close the education gap between wealthy and poor school districts by holding schools accountable for every student's performance. In order to identify children and schools that are slipping through the cracks, NCLB mandated standardized state testing for all students in grades 3 through 8. The law requires that test scores be broken down by poverty level, race, and ethnicity, English proficiency, and disability.
Separating a school's standardized test scores by groups with different backgrounds and needs in order to gauge groups' educational achievements may seem like a worthy goal. But when asked specifically about separate reporting of test scores in general, according to such criteria as race and poverty level, disability status, and ability to speak English, slightly more than half of Americans (52%) said they oppose the practice, according to the 2004 Phi Delta Kappa/Gallup Poll of the Public's Attitudes Toward the Public Schools*.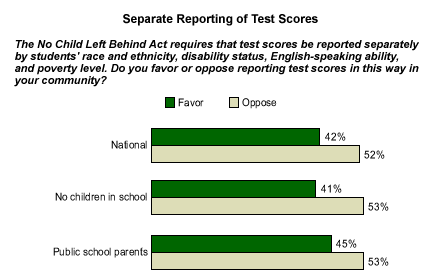 Although they don't advocate separating out specific groups' scores, in the case of "special education" students, most recognize the need to make exceptions. A majority of Americans (61%) believe that students enrolled in special education should not "be required to meet the same standards as all other students in the school."
This question has implications beyond the special education students themselves, because including or separating their test scores from the overall average would affect the entire school's ability to meet NCLB requirements. If a school is not making "adequate yearly progress," based largely on combined test scores, it will be designated as needing improvement. If progress has not been reported over a four-year period, corrective action will be taken, including replacing staff or implementing a new curriculum. After five years with no improvement, the school must be restructured by either replacing all or most of the school staff, turning over operations to the state or a private education company, or reopening the school as a charter school.
A majority (57%) of Americans say that the standardized test scores of special education students should not "be included with the test scores of all other students in determining whether a school is in need of improvement under NCLB." And a similar number -- 56% -- say that a school should not "be designated in need of improvement if the special education students are the only group in that school that fails to make state goals."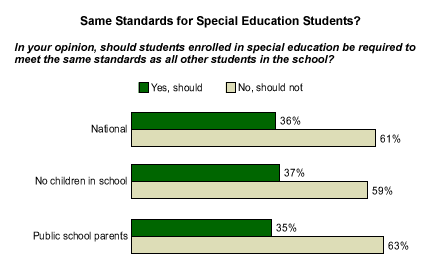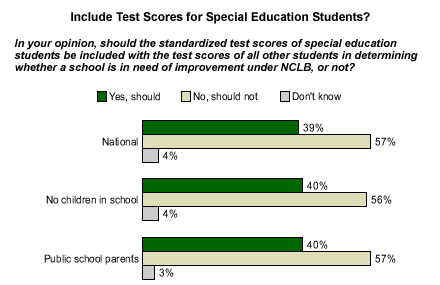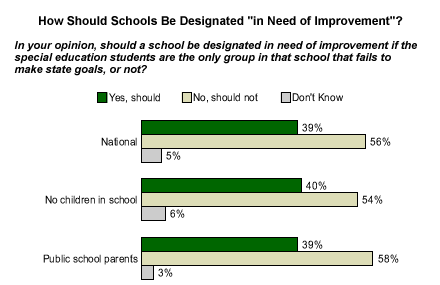 Bottom Line
Solving this issue may be a challenge. Inclusion is an important concept for many in the special education community and test scores are no exception. The National Center on Educational Outcomes, which researches and advises states and federal bodies on educational assessment and accountability, believes that students with disabilities benefit when they are included in accountability systems. "Educators realize that these students also count, just like all other students. They need to make sure that these students learn to very high levels, just like other students. Because they are part of the accountability system, educators' expectations for students with disabilities are more likely to increase."
Julie Lutjeharms, a special education resource teacher in Nebraska, also believes special education students should have their scores included. "Different individuals might worry that these special education children bring down the overall test scores for a particular school or district and that that is not fair," she says. "The fact of the matter is that these special education children belong in that school just like every other child, and all of the scores should be recognized."
*This article contains findings from the 36th Annual Phi Delta Kappa/Gallup Poll of the Public's Attitudes Toward the Public Schools, released on Aug. 24 in Washington, D.C.
*The findings of the survey are based on telephone interviews with a random sample of 1,003 U.S. adults, aged 18 and older, conducted from May 28 to June 18, 2004. For results based on this sample, one can say with 95% confidence that the maximum error attributable to sampling and other random effects is ±3 percentage points.