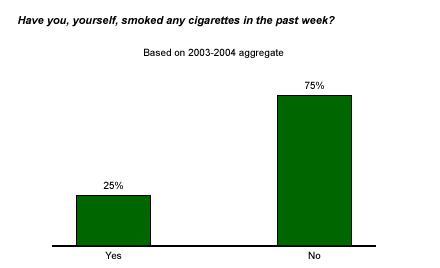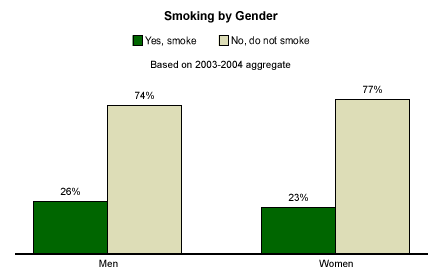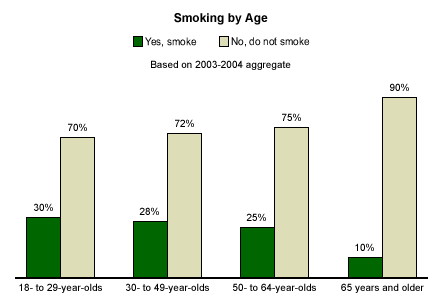 Americans' Opinions About Smoking
Tuesday, December 7, 2004
By Joseph Carroll
How many Americans smoke cigarettes? And, who exactly are these people? To better examine the composition of smokers in the United States, Gallup combined its past four surveys that asked Americans if they have smoked any cigarettes in the past week. The results of more than 4,000 interviews show that one in four Americans (25%) admit that they are smokers, while three in four Americans are not. The trends on smoking have shown a steady decline since Gallup first asked this question in 1944. At that time, 41% of Americans said they smoked. The percentage of smokers in the country remained in the 40% range until the late 1970s. Over the next decade or so, from 1977 to 1988, roughly a third of Americans were smokers. The percentage of smokers in the country began to drop in the late 1980s and has been extremely stable ever since, ranging between 22% and 29%.
Gender
Men are just slightly more likely than women to smoke. Twenty-six percent of men smoke, compared with 23% of women.
Age
The propensity to smoke decreases with age. The data show that 30% of 18- to 29-year-olds smoke, while 28% of 30- to 49-year-olds and 25% of 50- to 64-year-olds smoke. Only 10% of adults aged 65 and older say they have smoked cigarettes in the last week.
Race
One in five non-Hispanic blacks (20%) say they smoke cigarettes, slightly lower than the 25% of non-Hispanic whites who smoke.
Region
People living in the western parts of the country are slightly less likely to smoke than those living elsewhere. Twenty-one percent of Westerners smoke, compared with 25% of Easterners, 24% of Midwesterners, and 26% of Southerners.
Education
Americans with lower levels of education are much more likely to smoke than those with higher levels of education. Nearly one in three Americans (32%) with a high school degree or less smoke, while 26% of those with some college education and 18% of those with college degrees smoke. Only 9% of Americans with a postgraduate education smoke cigarettes.
Political Viewpoints
Democrats are somewhat more likely than Republicans to smoke cigarettes. One in four Democrats (25%) smoke cigarettes, while 21% of Republicans do. Twenty-eight percent of independents smoke.
Income
Those in lower-income households are more inclined to smoke than those in higher-income households. Nineteen percent of Americans in households earning $75,000 per year or more smoke cigarettes. This compares with 23% of those in households earning $50,000 to $74,999 per year, 31% for those earning between $30,000 and $50,000 per year, 24% for those earning between $20,000 and $30,000 per year, and 29% for those earning less than $20,000 annually.
Church Attendance
Fewer than one in six who attend church at least almost every week (16%) say they smoke. This compares with 26% of people who go to church monthly and 32% of those who seldom or never go to church.