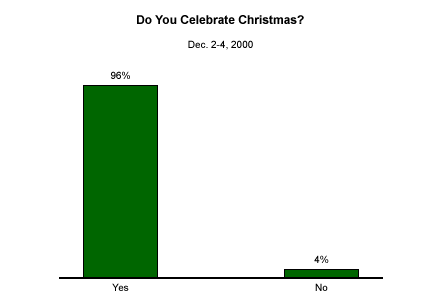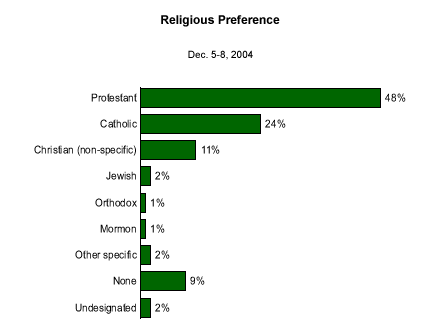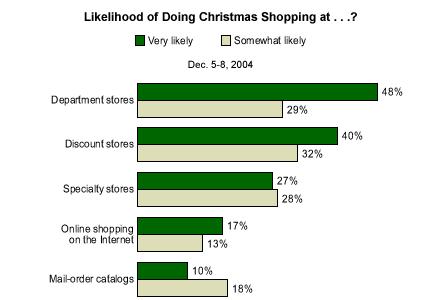 Focus On Christmas
Tuesday, December 21, 2004
by Joseph Carroll
Happy Holidays vs. Merry Christmas
A CNN/USA Today/Gallup poll, conducted Dec. 17-19, finds that, by a 56% to 41% margin, Americans are more likely to wish someone they just met "Merry Christmas" rather than "Happy Holidays."
Nearly 9 in 10 Americans, 88%, say it is OK for people to wish others "Merry Christmas" because it is a way of spreading holiday cheer. Eleven percent say people should avoid wishing others "Merry Christmas" because they might offend someone who does not celebrate Christmas. This sentiment may have something to do with the fact that 96% of Americans have historically told Gallup that they celebrate Christmas.
A separate question explains to Americans that many stores and other public institutions now use the words "Happy Holidays" or "Season's Greetings" rather than "Merry Christmas" in their displays and in their interactions with the public, and asks them whether this is a change for the better or for the worse. Americans are essentially divided, with 44% saying a change for the better and 43% a change for the worse.
Americans' Faith
More than 8 in 10 Americans say they identify with some Christian faith, according to a recent Gallup Poll. This includes 48% who say they are Protestant, 24% who say they are Catholic, 11% who identify themselves generally as Christian, 1% who say they are Orthodox, and 1% who are Mormon. Two percent of Americans identify themselves as Jewish. Two percent say they belong to some other religion, and 9% have no religious affiliation.
Among those who identify themselves as Protestants, 10% are Baptist, 7% are Southern Baptist, 7% are Methodist, 5% are Lutheran, 4% are Presbyterian, 3% belong to the Church of Christ, 2% are Pentecostal, and 2% are Episcopalian.
Forty-five percent of Americans say they have attended church or synagogue in the past seven days. Roughly one in three Americans (35%) say they attend services on a weekly basis, while 9% say they go almost every week and 14% say about once a month. About 4 in 10 Americans, 42%, rarely or never go to church.
Where Are Americans Likely to Shop for Gifts?
Fifty-seven percent of Americans in a 2000 Gallup Poll said they did not enjoy Christmas shopping, and 85% said Christmas is too commercialized. However, Americans are still going out and shopping for Christmas gifts, and most likely are going to department stores or discount stores for gifts this year.
Americans, according to Gallup's Dec. 5-8 survey, are most likely to do Christmas shopping at department stores, with 77% saying it is very (48%) or somewhat (29%) likely that they will shop at these stores. Following department stores are discount stores, with 72% saying it is likely that they will do some shopping there. Specialty stores, like jewelry stores or toy stores, rank third, at 55%. Americans are least likely to do their Christmas shopping online (30% are likely to do this) or through mail order catalogs (28%). Only 5% of Americans say they are not shopping at any of the five venues listed by Gallup in the Christmas shopping question.