Double-digit growth in healthcare insurance premiums. Busloads of seniors heading to Canada for prescription drugs. The phrase, "healthcare crisis," peppered throughout stump speeches of presidential candidates. Gallup data confirm that it hasn't been an easy year for the healthcare industry's public image: Last August, a third of Americans (33%) rated the image of healthcare positively, while half (50%) gave it a negative rating.
So it may come as welcome news to health workers that, though their impression of the system as a whole currently leaves much to be desired, Americans continue to hold the honesty and ethics of medical professionals themselves in high esteem. Gallup's November 2004 Honesty and Ethics poll* shows nurses, pharmacists, and medical doctors among the top five most highly rated professions. At least two-thirds of Americans rate the ethical standards and honesty of these three professions "very high" or "high." Conversely, few Americans gave negative ratings to the honesty and ethics of these three medical professions.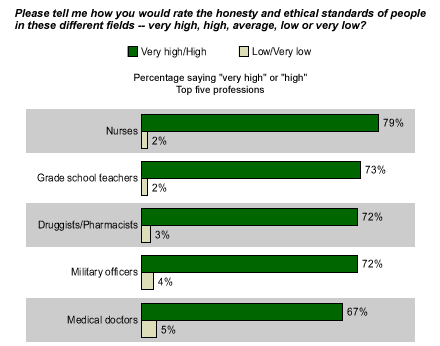 These findings have important implications for hospitals concerned about patient satisfaction. Gallup's inpatient satisfaction research has shown that a patient's interaction with hospital staff members is the primary predictor of that patient's evaluation of his or her overall hospital experience. Nurses, who received the highest honesty and ethics scores this year (they have ranked near or at the top of the list since 1999), have a particularly strong influence on inpatient experiences. This is clear from the individual items on Gallup's patient satisfaction surveys that turn up as key predictors of overall satisfaction:
concern shown by staff
staff treated you as a person, not a medical condition
staff made you feel safe and secure
nurses anticipated needs
staff communicated effectively
nurses helped calm fears
nurses responded to requests
Bottom Line
The high scores given to medical professionals in Gallup's Honesty and Ethics poll suggest that Americans tend to distinguish between the systemic problems plaguing the country's healthcare system, and the integrity and dedication of those working within that system. That means individual hospitals can't automatically use general negativity toward the healthcare industry as an excuse for their image problems. Patients are likely to have positive impressions of medical staff members when they enter the hospital. It is up to the medical staff members to uphold these high expectations during a patient's stay, so patients feel just as positively when they leave the hospital as they felt when they checked in. High levels of patient satisfaction are not something to be gained -- they are something to be lost.
*These results are based on telephone interviews with a randomly selected national sample of 1,015 adults, aged 18 and older, conducted Nov. 19-21, 2004. For results based on this sample, one can say with 95% confidence that the maximum error attributable to sampling and other random effects is ±3 percentage points. In addition to sampling error, question wording and practical difficulties in conducting surveys can introduce error or bias into the findings of public opinion polls.