Ever since housing reforms began in China in 1998, homeownership investments have been rising rapidly. According to Goldman Sachs estimates, investments in residential properties as a percentage of GDP stood at less than 1% before the 1990s, but climbed to nearly 6% of GDP by 2003. Today, bearish observers believe the booming property market in China is showing signs of a classic asset bubble, while the bulls find fundamental reasons to justify the rising prices of Chinese real estate.
Although it may be too early to determine who is right, data from the recent Gallup Poll of China confirm homeownership -- particularly in Shanghai and some other big cities -- is definitely on the rise. The data also suggest increasing interest in the property markets as alternative investments.
Gallup data find the majority of Chinese -- 55% -- are very or somewhat satisfied with their current housing. There is no significant difference between satisfaction levels in urban and rural China, although rural Chinese are slightly less likely to be satisfied with their housing today than they were several years ago (unlike in urban China, where satisfaction levels have remained relatively stable). In 1997, 62% of rural Chinese expressed satisfaction with their current housing; only 54% are of the same opinion now.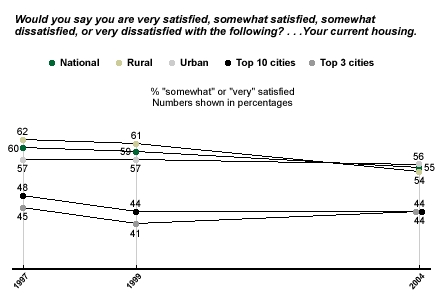 The Gallup survey finds homeownership has increased since 1997. That year, 80% of respondents said they owned their homes; that percentage climbed to 93% in the most recent survey. City dwellers are less likely to be homeowners (which in urban areas tends to mean owning apartments rather than single-family homes) than are rural dwellers, 85% of urban residents own their homes, compared with 97% of rural residents. The big cities of Beijing and Shanghai have the largest rental markets, with between 18% and 40% of residents in these cities being renters.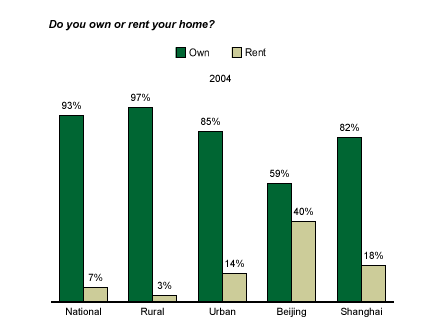 Even though the cities account for a higher share of the rental market, the number of urban homeowners has increased dramatically in recent years -- from 56% of all urban homeowners in 1997 to 85% today. In Shanghai, where the property boom has been most pronounced, homeownership has more than doubled since 1997. In 1997, 36% of Shanghai's population owned the homes they lived in, and that percentage has risen to 82% today.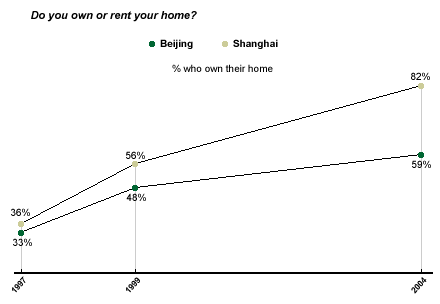 The cities may be lagging behind rural China in homeownership rates, but there is certainly more investment activity in the urban Chinese property markets. While 8% of rural Chinese own a second home such as a vacation home or investment property, almost double that percentage (15%) of urban Chinese own second homes. Again, Shanghai leads the pack with 22% of respondents saying they own a second home.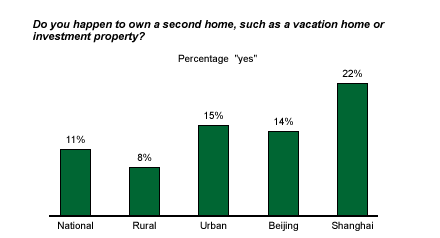 Another measure that reflects the heightened demand for homes in China is the percentage of people who have applied for a personal loan to buy a house. Nineteen percent of Chinese overall who have applied for personal loans have applied for home loans. And in urban China, one in every two people who ever applied for a loan has applied for a home loan.