GALLUP NEWS SERVICE
PRINCETON, NJ -- According to the latest Gallup survey, President George W. Bush's overall job approval rating is at 48%, identical to his rating a week and a half ago and about average for his job approval ratings for the past six weeks. Prior to that, from January of this year until mid-March, Bush's approval averaged about 52%, only a few points higher than it is now.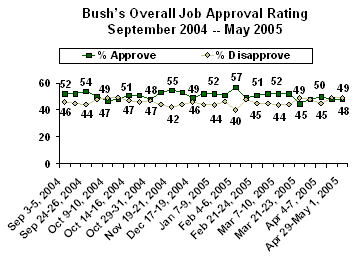 From the end of January 2004 (just after the election campaign officially began with the Iowa caucuses) until the election in November, Bush's job approval rating fluctuated within a narrow range, from a low of 46% to a high of 54%, with most ratings falling between 48% and 52%. Just before the election, 48% of Americans approved and 47% disapproved of the way Bush was handling his job. After the election, his approval moved into more positive territory, though in the past six weeks it has reverted to the pre-election levels.
While Bush's overall job approval rating remains relatively stable, his approval ratings on specific issues have shown declines compared with earlier this year, and many are at or near the low points of his presidency.
With gas prices rising to record levels and public concern about inflation increasing, the public has become more negative in its assessment of the way Bush is handling the economy. Currently, 53% disapprove of his performance in this area, while 43% approve. These numbers are little changed from the 55% disapproval and 41% approval measured in early April, but they are worse than the divided public Gallup measured from before the election in late September 2004 until the end of this February.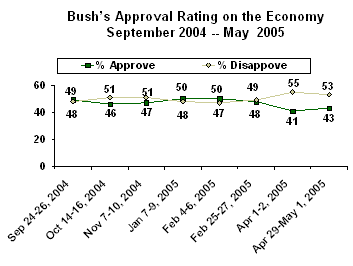 On foreign affairs, the public has also been expressing mixed feelings about Bush's performance. Currently, 45% approve and 49% disapprove of Bush in this area, slightly more negative than the public's rating in late February. In early February, his approval was 51%, six points higher than it is now. Still, there has been little long-term change in the public's assessment of Bush's performance in this regard.
On Iraq, the public has generally been more critical than supportive. Shortly after Bush's re-election, opinion actually worsened rather than improved, and by early January, 56% disapproved and just 42% approved. In early February, following the Iraqi elections, 50% approved and 48% disapproved of Bush's handling of the issue, but three weeks later more Americans disapproved than approved. The current negative rating, 55% disapprove to 42% approve, is similar to the rating from this January.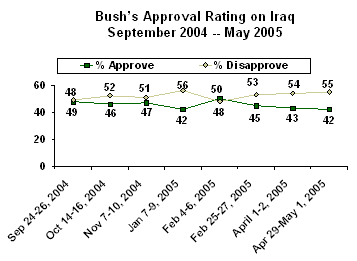 In three other areas Bush fares even worse than he does on the economy, foreign affairs, and the situation in Iraq. Only about a quarter to a third of Americans approve of Bush's handling of Social Security (35%), energy policy (34%), and gas prices (27%).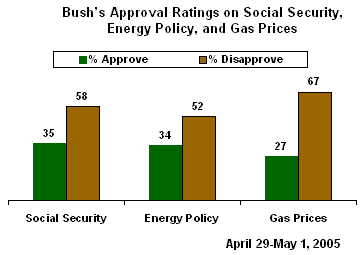 Bush has made Social Security reform his signature domestic issue this year, but the polls show that most Americans do not approve of his efforts. His poor ratings in this area have been very consistent for the past three polls (covering late February to now), which show that only 35% of Americans approve of his handling of that issue. At the beginning of the year, just over 4 in 10 approved, underscoring the conclusion that his highly publicized effort to drum up public support for reforming Social Security has not been successful.
Survey Methods
Results in the current survey are based on telephone interviews with 1,006 national adults, aged 18 and older, conducted April 29-May 1, 2005. For results based on the total sample of national adults, one can say with 95% confidence that the maximum margin of sampling error is ±3 percentage points. For results based on the 492 national adults in the Form A half-sample and 514 national adults in the Form B half-sample, the maximum margins of sampling error are ±5 percentage points.
In addition to sampling error, question wording and practical difficulties in conducting surveys can introduce error or bias into the findings of public opinion polls.