Teens are really starting to get around. Compared with the previous generation, they travel overseas in greater numbers, and more take plane trips. Even those who don't travel overseas cover more territory in the United States.
Roughly one in every four teens (27%) say in a recent Gallup Youth Survey* that they have traveled overseas, versus just 16% in 1986.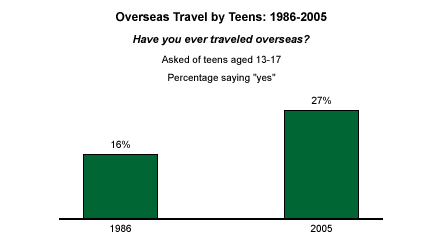 Europe is still the most popular destination, with nearly two-thirds of teens who have traveled overseas (or 17% of all teens) crossing the Atlantic to take in the sights of London, Paris, Rome, etc. In 1986, the proportion of traveling teens who'd been to Europe was similar at 61%.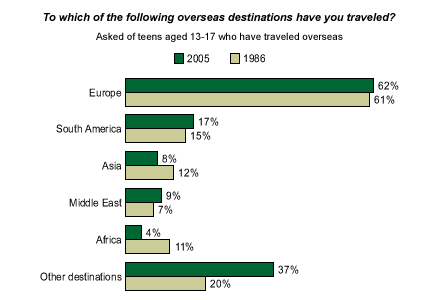 More Travel Opportunities
A growing economy over the last 25 years has surely given more teens travel opportunities. And more high schools, recognizing that broadening students' world views has become increasingly important, are sending students involved in extracurricular activities on overseas tours. Performing in foreign venues, absorbing other cultures, and meeting new people is an enriching experience -- and looks good on college applications. "I went on a choir trip to Prague when I was 11," says Sarah, a 15-year-old from Kentucky. "It was really fun and I would love to do more traveling, especially to Paris. I'll probably join the Navy or the Army so I can travel again."
Organizations such as AFS who host study-abroad programs, and traveling student ambassador tours like those with People-to-People International, are more popular than ever. Ken, a 17-year-old from Minnesota, traveled overseas for three weeks after seventh grade with People-to-People. "We went to Greece, Italy, France, and England," he says. "I had a home-stay in France and really enjoyed that -- especially driving around with the family and seeing how fast people drive there."
Teens, Travel, and Terrorism
In June of 1985, terrorists exploded a bomb in the main terminal in Frankfurt, Germany, killing three people and injuring 42. In October that year, the cruise ship Achille Lauro was hijacked; its passengers and crew were taken hostage, and one American was killed and thrown overboard. On Dec. 27, terrorists assaulted passengers who were waiting to board flights in Rome and Vienna with machine guns and hand grenades, killing 16 people and injuring more than 100. So it's not too surprising that 38% of teens told the Youth Survey in May 1986 that they would refuse to travel overseas that summer if they were given the chance to go because of the threat of terrorism.
Had we asked teens this same question shortly after the Sept. 11, 2001, terrorist attacks we may have received similar, or even more negative, responses. But today, when asked about the opportunity to travel overseas this summer, 91% of teens said they'd be ready and willing to pack their bags and go. Only 7% would be reluctant because of concern about terrorism. "I flew to New York and then Idaho shortly after 9/11 and wasn't at all scared, so I would definitely fly overseas in spite of any terrorist threats," says Sarah.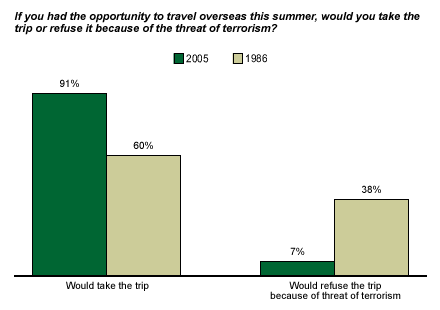 Up, Up, and Away
Air travel is now a common experience for teens -- about three-quarters (74%) have made at least one plane trip in their young lives. That's up substantially from 46% in 1979, the last time teens were asked about air travel. "I love flying," says Michael, a 13-year-old respondent from Long Island, who has flown to Grand Cayman, Barbados, and Bermuda, and other islands. In spite of any terrorism threats, he says he would fly anywhere. "In fact, I flew shortly after Sept. 11 and it was a little frightening because there was so much security, but I'm not bothered anymore. I just enjoy being in the air."
The new survey also re-asked a 1979 question about the farthest distance teens had traveled from home. Even those who have not yet been overseas had logged in more miles than the last generation; more estimate they have traveled between 1,000 and 3,000 miles than did so in 1979. "I've traveled up and down the East Coast all my life visiting family -- from Massachusetts to Florida, and we've been on family ski trips to Vermont," says Michael, a 14-year-old from Florida. He's never traveled overseas, but dreams of visiting "Australia to see kangaroos and wallabies and to Hawaii to see those black-sand beaches I've read so much about."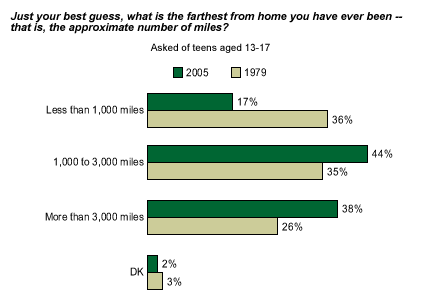 Bottom Line
Although the numbers of teens traveling abroad has risen, 73% of teens still haven't yet taken an opportunity to see the world beyond. Participation in the new global economy almost encourages a broader teaching of international studies in our schools. Much can be done from the classroom -- increasing foreign language studies and setting up international exchange programs with schools around the world may be an excellent starting point for teens whose cultural and economic lives will be connected to the rest of the world to a greater degree than any generation before them.
*These results are based on telephone interviews with a randomly selected national sample of 1,028 teenagers in the Gallup Poll Panel of households, aged 13 to 17, conducted Jan. 17 to Feb. 6, 2005. For results based on this sample, one can say with 95% confidence that the maximum error attributable to sampling and other random effects is ±3 percentage points. In addition to sampling error, question wording and practical difficulties in conducting surveys can introduce error or bias into the findings of public opinion polls.