Great deal
Fair amount
Only a little
Not at all
No opinion

%

%

%

%

%

2018 Mar 1-8
42
30
20
8
*
2017 Mar 1-5
47
30
16
7
1
2016 Mar 2-6
42
31
19
7
*
2015 Mar 5-8
34
34
22
10
*
2014 Mar 6-9 ^
31
35
24
10
--
2013 Mar 7-10
36
33
23
8
*
2012 Mar 8-11
37
36
19
7
1
2011 Mar 3-6
34
34
24
7
*
2010 Mar 4-7
34
34
24
7
1
2008 Mar 6-9
40
34
19
7
1
2007 Mar 11-14
43
33
18
6
*
2006 Mar 13-16
40
37
18
5
*
2005 Mar 7-10
35
30
28
6
1
2004 Mar 8-11
35
27
31
7
*
2003 Mar 24-25
34
34
21
10
1
2002 Mar 4-7
35
31
27
6
1
2001 Mar 5-7
42
35
17
5
1
^ Asked of a half sample; * Less than 0.5%
Gallup
Good job
Poor job
Fair/Mixed (vol.)
No opinion

%

%

%

%

Donald Trump
2018 Mar 1-8
31
60
6
2
2017 Mar 1-5 ^
36
57
4
3
Barack Obama
2016 Mar 2-6
54
39
6
2
2015 Mar 5-8
52
39
5
4
2014 Mar 6-9
51
41
5
3
2013 Mar 7-10
55
34
6
5
2012 Mar 8-11
56
35
6
3
2011 Mar 3-6
55
33
6
6
2010 Mar 4-7
52
33
7
8
2009 Mar 5-8^
79
14
4
3
George W. Bush
2008 Mar 6-9
31
58
7
4
2007 Mar 11-14
30
59
8
3
2006 Mar 13-16
33
55
9
3
2005 Mar 7-10
39
50
8
3
2004 Mar 8-11
41
46
9
4
2003 Mar 3-5
44
43
7
6
2002 Mar 4-7
50
38
7
5
2001 Apr 6-9 ^
49
41
4
6
2001 Mar 5-7 ^
51
38
5
6
^ WORDING: "...will do a good job or a poor job..."
Gallup
Too much
Too little
Right amount
No opinion

%

%

%

%

2018 Mar 1-8
9
62
28
1
2017 Mar 1-5
11
59
26
3
2016 Mar 2-6
12
57
29
2
2015 Mar 5-8
16
48
34
1
2014 Mar 6-9
17
48
34
1
2013 Mar 7-10
16
47
35
2
2012 Mar 8-11
17
51
30
2
2011 Mar 3-6
16
49
33
2
2010 Mar 4-7
15
46
35
4
2006 Mar 13-16 ^
4
62
33
1
2005 Mar 7-10 ^
5
58
34
3
2004 Mar 8-11 ^
5
55
37
3
2003 Mar 3-5 ^
7
51
37
5
2000 Apr 3-9
10
58
30
2
1992 Jan 5-Mar 31
4
68
26
2
^Asked of a half sample
Gallup
Excellent
Good
Only fair
Poor
No opinion

%

%

%

%

%

2018 Mar 1-8
6
34
47
12
1
2017 Mar 1-5
6
40
44
9
1
2016 Mar 2-6
6
37
45
12
1
2015 Mar 5-8
7
43
40
9
1
2014 Mar 6-9
5
39
44
11
*
2013 Mar 7-10
7
41
43
8
*
2012 Mar 8-11
6
38
45
10
1
2011 Mar 3-6
7
38
43
11
*
2010 Mar 4-7
4
42
44
9
1
2009 Mar 5-8
5
34
45
16
*
2008 Mar 6-9
5
35
49
11
*
2007 Mar 11-14
5
35
48
11
1
2006 Mar 13-16
5
35
49
11
*
2005 Mar 7-10
4
37
48
10
1
2004 Mar 8-11
4
39
46
11
*
2003 Mar 3-5
5
36
48
10
1
2002 Mar 4-7
4
43
45
7
1
2001 Mar 5-7
5
41
47
6
1
* Less than 0.5%
Gallup
Getting better
Getting worse
Same (vol.)
No opinion

%

%

%

%

2018 Mar 1-8
33
61
4
2
2017 Mar 1-5
36
57
4
3
2016 Mar 2-6
37
56
5
3
2015 Mar 5-8
41
51
7
1
2014 Mar 6-9
42
50
6
2
2013 Mar 7-10
41
49
7
4
2012 Mar 8-11
42
49
7
2
2011 Mar 3-6
42
48
8
2
2010 Mar 4-7
41
48
8
3
2009 Mar 5-8
41
51
5
2
2008 Mar 6-9
26
68
5
1
2007 Mar 11-14
25
67
7
1
2006 Mar 13-16
25
67
6
2
2005 Mar 7-10
29
63
6
2
2004 Mar 8-11
34
58
6
2
2003 Mar 3-5
33
57
8
2
2002 Mar 4-7
40
54
4
2
2001 Mar 5-7
36
57
5
2
(vol.)=volunteered response
Gallup
Yes
No
No opinion

%

%

%

2018 Mar 1-8
42
57
1
2016 Mar 2-6
42
57
1
2000 Apr 3-9
47
52
1
1999 Apr 13-14
50
48
2
1995 Apr 17-19
63
34
3
1991 Apr 11-14
78
19
3
1990 Apr 5-8
73
24
3
1989 May 4-7
76
20
4
Gallup
Combined results
Strong environmentalist
Not strong environmentalist
Not an environmentalist
No opinion

%

%

%

%

2018 Mar 1-8
25
17
57
1
2016 Mar 2-6
23
19
57
1
2000 Apr 3-9
21
26
52
1
1999 Apr 13-14
25
25
48
2
1995 Apr 17-19
29
34
34
3
1991 Apr 11-14
37
41
19
3
1990 Apr 5-8
35
38
24
3
1989 May 4-7
41
35
20
4
Gallup
Environment
Economic growth
Equal priority (vol.)
No opinion

%

%

%

%

2018 Mar 1-8
57
35
4
4
2017 Mar 1-5
56
35
5
4
2016 Mar 2-6
56
37
4
3
2015 Mar 5-8
46
42
6
5
2014 Mar 6-9
50
41
4
5
2013 Mar 7-10
43
48
4
5
2012 Mar 8-11
41
49
6
4
2011 Mar 3-6
36
54
6
4
2010 May 24-25
50
43
4
3
2010 Mar 4-7
38
53
4
5
2009 Mar 5-8
42
51
5
3
2008 Mar 6-9
49
42
5
3
2007 Mar 11-14
55
37
4
4
2006 Mar 13-16
52
37
6
4
2005 Mar 7-10
53
36
7
4
2004 Mar 8-11
49
44
4
3
2003 Mar 3-5
47
42
7
4
2002 Mar 4-7
54
36
5
5
2001 Mar 5-7
57
33
6
4
2000 Apr 3-9
67
28
2
3
2000 Jan 13-16
70
23
--
7
1999 Apr 13-14
67
28
--
5
1999 Mar 12-14
65
30
--
5
1998 Apr 17-19
68
24
--
8
1997 Jul 25-27
66
27
--
7
1995 Apr 17-19
62
32
--
6
1992 Jan 5-Mar 31
58
26
8
8
1991 Apr 11-14
71
20
--
9
1990 Apr 5-8
71
19
--
10
1984 Sep 28-Oct 1
61
28
--
11
(vol.)=volunteered response
Gallup
Environment
Development of energy supplies
Both equally/Neither/Other (vol.)
No opinion

%

%

%

%

2018 Mar 1-8
59
34
5
2
2017 Mar 1-5
59
34
2
4
2016 Mar 2-6
59
34
3
3
2015 Mar 5-8
49
39
6
5
2014 Mar 6-9
51
40
6
3
2013 Mar 7-10
45
46
6
3
2012 Mar 8-11
44
47
5
4
2011 Mar 3-6
41
50
5
4
2010 May 24-25
55
39
4
2
2010 Mar 4-7
43
50
4
3
2009 Mar 5-8
47
46
4
3
2008 Mar 6-9
50
41
6
3
2007 Mar 11-14
58
34
5
3
2006 Mar 13-16
49
42
6
3
2005 Mar 7-10
52
39
6
3
2004 Mar 8-11
48
44
4
4
2003 Mar 3-5
49
40
7
4
2002 Mar 4-7
52
40
5
3
2001 Mar 5-7
52
36
8
4
(vol.)=volunteered response
Gallup
Favor
Oppose
No opinion

%

%

%

2018 Mar 1-8
45
51
4
2017 Mar 1-5
46
50
4
2014 Mar 6-9
47
51
2
2012 Mar 8-11
52
44
4
2007 Mar 11-14
50
46
4
2006 Mar 13-16
55
40
5
2003 Mar 3-5
43
51
6
2002 Mar 4-7
45
51
4
2001 Mar 5-7
44
51
5
Gallup
Favor
Oppose
No opinion

%

%

%

2018 Mar 1-8
43
55
2
2017 Mar 1-5
46
53
1
2014 Mar 6-9
58
41
1
2012 Mar 8-11
65
34
2
Gallup
Favor
Oppose
No opinion

%

%

%

2018 Mar 1-8
73
26
1
2017 Mar 1-5
69
28
3
2014 Mar 6-9
64
34
2
2012 Mar 8-11
64
33
2
2007 Mar 11-14
82
15
3
2006 Mar 13-16
79
20
2
2003 Mar 3-5
75
21
4
2002 Mar 4-7
78
19
3
2001 Mar 5-7
77
20
3
Gallup
Favor
Oppose
No opinion

%

%

%

2018 Mar 1-8
66
33
1
2014 Mar 6-9
62
35
3
2012 Mar 8-11
62
37
1
2007 Mar 11-14
79
18
2
2006 Mar 13-16
73
25
2
2003 Mar 3-5
73
24
3
2002 Mar 4-7
72
26
2
2001 Mar 5-7
75
23
2
Gallup
Favor
Oppose
No opinion

%

%

%

2018 Mar 1-8
74
25
1
2017 Mar 1-5
67
31
3
2014 Mar 6-9
65
35
1
2012 Mar 8-11
70
29
1
2007 Mar 11-14
84
15
1
2006 Mar 13-16
77
22
1
2003 Mar 3-5
80
19
1
2002 Mar 4-7
83
16
1
2001 Mar 5-7
81
17
2
Gallup
Favor
Oppose
No opinion

%

%

%

2018 Mar 1-8
76
23
1
2017 Mar 1-5
72
26
2
2014 Mar 6-9
67
32
1
2012 Mar 8-11
69
30
1
2007 Mar 11-14
81
17
1
2006 Mar 13-16
77
21
2
2001 Mar 5-7
79
19
2
Gallup
Favor
Oppose
No opinion

%

%

%

2018 Mar 1-8
67
31
2
2014 Mar 6-9
63
35
3
2012 Mar 8-11
65
33
3
2007 Mar 11-14
79
19
2
2006 Mar 13-16
75
23
3
2003 Mar 3-5
75
22
3
Gallup
Favor
Oppose
No opinion

%

%

%

2018 Mar 1-8
58
38
4
2014 Mar 6-9
58
37
4
Gallup
Favor
Oppose
No opinion

%

%

%

2018 Mar 1-8
53
45
2
Gallup
Favor
Oppose
No opinion

%

%

%

2018 Mar 1-8
32
66
2
Gallup
Favor
Oppose
No opinion

%

%

%

2014 Mar 6-9
66
33
1
2012 Mar 8-11
66
33
1
2007 Mar 11-14
86
12
1
2006 Mar 13-16
85
14
1
Gallup
Favor
Oppose
No opinion

%

%

%

2009 Mar 5-8
80
19
1
Gallup
Favor
Oppose
No opinion

%

%

%

2009 Mar 5-8
33
65
2
2002 Mar 4-7
35
62
3
2011 Mar 4-7
35
62
3
Gallup
Favor
Oppose
No opinion

%

%

%

2009 Mar 5-8
88
10
1
Gallup
Favor
Oppose
No opinion

%

%

%

2007 Mar 11-14
41
57
2
2006 Mar 13-16
49
47
4
2003 Mar 3-5
41
55
4
2002 Mar 4-7
40
56
4
2001 Nov 8-11
44
51
5
2001 May 7-9
38
57
5
2001 Mar 5-7
40
56
4
Gallup
Great deal
Fair amount
Only a little
Not at all
No opinion

%

%

%

%

%

Pollution of rivers, lakes and reservoirs
2018 Mar 1-8
55
28
13
3
--
2017 Mar 1-5
57
28
11
4
*
2016 Mar 2-6
56
25
14
5
*
2015 Mar 5-8
47
32
15
6
*
2014 Mar 6-9
53
28
15
3
*
2013 Mar 7-10
46
32
16
6
*
2012 Mar 8-11
48
31
17
4
*
2011 Mar 3-6
46
33
16
6
*
2010 Mar 4-7
46
32
18
4
*
2009 Mar 5-8
52
31
13
4
*
2008 Mar 6-9
50
34
12
4
-
2007 Mar 11-14
53
31
13
3
-
2006 Mar 13-16
51
33
11
5
*
2004 Mar 8-11
48
31
16
5
*
2003 Mar 3-5
51
31
13
5
-
2002 Mar 4-7
53
32
12
3
*
2001 Mar 5-7
58
29
10
3
*
2000 Apr 3-9
66
24
8
2
*
1999 Apr 13-14
61
30
7
2
*
1999 Mar 12-14
55
30
12
3
*
1991 Apr 11-14
67
21
8
3
1
1990 Apr 5-8
64
23
9
4
-
1989 May 4-7
72
19
5
3
1
Air pollution
2018 Mar 1-8
46
30
17
7
--
2017 Mar 1-5
47
31
15
7
--
2016 Mar 2-6
43
31
19
7
--
2015 Mar 5-8
38
33
19
10
*
2014 Mar 6-9
46
27
21
7
-
2013 Mar 7-10
40
30
20
9
-
2012 Mar 8-11
36
35
22
7
*
2011 Mar 3-6
36
36
20
8
*
2010 Mar 4-7
38
32
22
8
*
2009 Mar 5-8
45
31
18
6
*
2008 Mar 6-9
43
35
17
6
-
2007 Mar 11-14
46
33
15
5
*
2006 Mar 13-16
44
34
15
7
*
2004 Mar 8-11
39
30
23
8
*
2003 Mar 3-5
42
32
20
6
*
2002 Mar 4-7
45
33
18
4
*
2001 Mar 5-7
48
34
14
4
*
2000 Apr 3-9
59
29
9
3
*
1999 Apr 13-14
52
35
10
3
*
1999 Mar 12-14
47
33
16
4
*
1997 Oct 27-28
42
34
18
5
1
1991 Apr 11-14
59
28
10
4
*
1990 Apr 5-8
58
29
9
4
*
1989 May 4-7
63
24
8
4
*
The loss of tropical rain forests
2018 Mar 1-8
42
25
22
11
*
2017 Mar 1-5
44
25
21
10
*
2016 Mar 2-6
39
28
20
13
*
2015 Mar 5-8
33
30
21
16
1
2014 Mar 6-9
41
27
22
11
*
2013 Mar 7-10
37
27
23
13
1
2012 Mar 8-11
37
27
24
12
1
2011 Mar 3-6
34
29
21
14
1
2010 Mar 4-7
33
33
22
11
1
2009 Mar 5-8
42
26
21
11
*
2008 Mar 6-9
40
29
20
11
*
2007 Mar 11-14
43
30
17
10
1
2006 Mar 13-16
40
24
22
13
1
2004 Mar 8-11
35
26
23
15
1
2003 Mar 3-5
39
29
21
11
*
2002 Mar 4-7
38
27
21
12
2
2001 Mar 5-7
44
32
15
8
1
2000 Apr 3-9
51
25
14
9
1
1999 Apr 13-14
49
30
14
6
1
1991 Apr 11-14
42
25
21
10
2
1990 Apr 5-8
40
24
19
14
3
1989 May 4-7
42
25
18
12
3
Global warming or climate change
2018 Mar 1-8
43
20
18
18
*
2017 Mar 1-5
45
21
18
16
*
2016 Mar 2-6
37
27
17
19
*
2015 Mar 5-8
32
23
21
24
*
2014 Mar 6-9
34
22
19
24
*
2013 Mar 7-10
33
25
20
23
*
2012 Mar 8-11
30
25
22
23
1
2011 Mar 3-6
25
26
20
28
1
2010 Mar 4-7
28
24
19
29
*
2009 Mar 5-8
34
26
20
20
1
2008 Mar 6-9
37
29
16
17
1
2007 Mar 11-14
41
24
18
16
1
2006 Mar 13-16
36
26
21
15
1
2004 Mar 8-11
26
25
28
19
2
2003 Mar 3-5
28
30
23
17
2
2002 Mar 4-7
29
29
23
17
2
2001 Mar 5-7
33
30
22
13
2
2000 Apr 3-9
40
32
15
12
1
1999 Apr 13-14
34
34
18
12
2
1999 Mar 12-14
28
31
23
16
2
1997 Oct 27-28
24
26
29
17
4
1991 Apr 11-14
35
27
22
12
5
1990 Apr 5-8
30
27
20
16
6
1989 May 4-7
35
28
18
12
7
Pollution of drinking water
2018 Mar 1-8
59
23
12
5
--
2017 Mar 1-5
63
22
11
4
--
2016 Mar 2-6
61
19
13
6
--
2015 Mar 5-8
55
22
15
8
*
2014 Mar 6-9
60
22
13
5
*
2013 Mar 7-10
53
26
14
6
-
2012 Mar 8-11
48
30
15
6
*
2011 Mar 3-6
51
26
16
7
*
2010 Mar 4-7
50
27
17
6
*
2009 Mar 5-8
59
25
11
5
*
2008 Mar 6-9
53
28
13
6
*
2007 Mar 11-14
58
24
12
5
*
2006 Mar 13-16
54
27
12
7
*
2004 Mar 8-11
53
24
17
6
*
2003 Mar 3-5
54
25
15
6
-
2002 Mar 4-7
57
25
13
5
*
2001 Mar 5-7
64
24
9
3
*
2000 Apr 3-9
72
20
6
2
*
1999 Apr 13-14
68
22
7
3
*
1991 Apr 11-4
67
19
10
3
1
1990 Apr 5-8
65
22
9
4
*
Extinction of plant and animal species
2018 Mar 1-8
46
27
18
9
*
2017 Mar 1-5
44
28
18
10
*
2016 Mar 2-6
42
26
22
11
*
2015 Mar 5-8
36
28
22
14
*
2014 Mar 6-9
41
24
24
10
1
2013 Mar 7-10
35
29
22
13
*
2012 Mar 8-11
36
29
23
12
1
2011 Mar 3-6
34
30
23
13
1
2010 Mar 4-7
31
30
24
15
*
2009 Mar 5-8
37
28
22
12
*
2008 Mar 6-9
37
31
20
11
*
2007 Mar 11-14
39
30
19
12
*
2006 Mar 13-16
34
29
23
14
1
2004 Mar 8-11
36
26
23
15
*
2003 Mar 3-5
34
32
21
12
1
2002 Mar 4-7
35
30
22
12
1
2001 Mar 5-7
43
30
19
7
1
2000 Apr 3-9
45
33
14
8
*
Contamination of soil and water by toxic waste
2014 Mar 6-9
53
24
17
5
-
2013 Mar 7-10
46
29
18
7
*
2012 Mar 8-11
50
28
16
5
*
2011 Mar 3-6
48
31
15
5
*
2010 Mar 4-7
44
33
18
5
*
2009 Mar 5-8
52
28
14
5
*
2008 Mar 6-9
50
30
14
6
*
2007 Mar 11-14
52
28
13
7
*
2006 Mar 13-16
52
29
13
6
*
2004 Mar 8-11
48
26
21
5
*
2003 Mar 3-5
51
28
16
5
*
2002 Mar 4-7
53
29
15
3
*
2001 Mar 5-7
58
27
12
3
*
2000 Apr 3-9
64
25
7
4
*
1999 Apr 13-14
63
27
7
3
*
1999 Mar 12-14
55
29
11
5
*
1991 Apr 11-14
62
21
11
5
1
1990 Apr 5-8
63
22
10
5
*
1989 May 4-7
69
21
6
3
*
Urban sprawl and loss of open spaces
2013 Mar 7-10
26
28
29
17
*
2011 Mar 3-6
27
30
27
15
1
2008 Mar 6-9
33
35
19
12
*
2001 Mar 5-7
35
34
19
10
2
2000 Apr 3-9
42
31
14
12
1
Damage to the Earth's ozone layer
2008 Mar 6-9
39
29
19
12
1
2007 Mar 11-14
43
27
19
11
*
2006 Mar 13-16
40
28
19
13
*
2004 Mar 8-11
33
27
26
14
*
2003 Mar 3-5
35
31
21
12
1
2002 Mar 4-7
38
29
21
11
1
2001 Mar 5-7
47
28
16
8
1
2000 Apr 3-9
49
29
14
7
1
1999 Apr 13-14
44
32
15
8
1
1997 Oct 27-28
33
27
25
13
2
1991 Apr 11-14
49
24
16
8
4
1990 Apr 5-8
43
28
15
10
4
1989 May 4-7
51
26
13
8
2
Acid rain
2008 Mar 6-9
23
27
26
23
1
2007 Mar 11-14
25
25
28
20
1
2006 Mar 13-16
24
28
24
23
1
2004 Mar 8-11
20
26
27
26
1
2003 Mar 3-5
24
26
27
21
2
2002 Mar 4-7
25
23
31
19
2
2001 Mar 5-7
28
28
26
16
2
2000 Apr 3-9
34
31
19
15
1
1999 Apr 13-14
29
35
23
11
2
1991 Apr 11-14
34
30
20
14
3
1990 Apr 5-8
34
30
18
14
4
1989 May 4-7
41
27
19
11
3
The loss of natural habitat for wildlife
2008 Mar 6-9
44
33
17
6
*
2001 Mar 5-7
48
33
15
4
*
2000 Apr 3-9
51
31
13
5
*
1999 Apr 13-14
51
31
13
5
*
1991 Apr 11-14
53
27
15
5
1
1990 Apr 5-8
51
30
12
7
*
1989 May 4-7
58
27
9
5
1
Ocean and beach pollution
2001 Mar 5-7
43
34
17
5
1
2000 Apr 3-9
54
30
10
5
1
1999 Apr 13-14
50
32
13
4
1
1999 Mar 12-14
43
32
17
7
1
1991 Apr 11-14
53
26
14
6
1
1990 Apr 5-8
52
27
12
7
2
1989 May 4-7
60
23
11
5
1
* Less than 0.5%
Gallup
Great deal
Fair amount
Only a little
Not at all
No opinion

%

%

%

%

%

2011 Mar 3-6
46
29
17
7
1
2010 Mar 4-7
45
30
18
7
--
2009 Mar 5-8
49
31
14
5
*
2008 Mar 6-9
48
31
15
5
*
2007 Mar 11-14
51
27
16
5
*
2006 Mar 13-16
49
27
14
9
1
2004 Mar 8-11
47
25
20
8
*
2003 Mar 3-5
49
28
15
8
*
2002 Mar 4-7
50
28
17
5
*
* Less than 0.5%
Gallup
Great deal
Fair amount
Only a little
Not at all
No opinion

%

%

%

%

%

2001 Mar 5-7
49
22
19
10
*
2000 Apr 3-9
52
23
16
9
*
1999 Apr 13-14
48
27
16
8
1
1991 Apr 11-14
44
25
20
10
1
1990 Apr 5-8
48
23
17
10
2
1989 May 4-7
54
24
14
7
1
* Less than 0.5%
Gallup
Very well
Fairly well
Not very well
Not at all
No opinion

%

%

%

%

%

2018 Mar 1-8
29
52
15
3
*
2017 Mar 1-5
29
50
19
3
*
2016 Mar 2-6
24
55
16
5
*
2015 Mar 5-8
25
52
19
4
*
2014 Mar 6-9
33
51
14
2
-
2013 Mar 7-10
27
52
18
3
*
2012 Mar 8-11
29
55
12
4
*
2011 Mar 3-6
25
55
15
4
1
2010 Mar 4-7
26
56
15
3
*
2008 Mar 6-9
21
59
18
2
*
2007 Mar 11-14
22
54
19
4
*
2006 Mar 13-16
21
53
20
6
*
2005 Mar 7-10
16
54
24
6
*
2004 Mar 8-11
18
50
26
6
*
2003 Mar 3-5
15
53
27
5
-
2002 Mar 4-7
17
52
25
6
*
2001 Mar 5-7
15
54
24
6
1
1997 Nov 6-9
16
45
28
10
1
1992 Jan
11
42
22
22
3
* Less than 0.5%
Gallup
Already begun
Within a few years
Within lifetime
Affect future
Will never happen
No opinion

%

%

%

%

%

%

2018 Mar 1-8
60
4
5
16
12
3
2017 Mar 1-5
62
4
7
16
9
3
2016 Mar 2-6
59
5
9
17
10
1
2015 Mar 5-8
55
3
8
17
16
1
2014 Mar 6-9
54
3
8
16
18
2
2013 Mar 7-10
54
3
9
15
15
3
2012 Mar 8-11
52
4
10
15
15
2
2011 Mar 3-6
49
4
9
17
18
3
2010 Mar 4-7
50
3
10
16
19
2
2009 Mar 5-8
53
5
10
15
16
2
2008 Mar 6-9
61
4
10
13
11
1
2007 Mar 23-25
60
4
7
15
11
3
2007 Mar 11-14
59
3
8
19
8
3
2006 Mar 13-16
58
5
10
15
8
3
2005 Mar 7-10
54
5
10
19
9
3
2004 Mar 8-11
51
5
12
18
11
3
2003 Mar 3-5
51
6
12
17
10
4
2002 Mar 4-7
53
5
13
17
9
3
2001 Mar 5-7
54
4
13
18
7
4
1997 Nov 6-9
48
3
14
19
9
7
* Less than 0.5%
Gallup
Exaggerated
Correct
Underestimated
No opinion

%

%

%

%

2018 Mar 1-8
33
25
41
1
2017 Mar 1-5
34
28
35
2
2016 Mar 2-6
34
25
40
2
2015 Mar 5-8
42
21
35
2
2014 Mar 6-9
42
23
33
2
2013 Mar 7-10
41
24
33
2
2012 Mar 8-11
42
24
31
3
2011 Mar 3-6
43
26
29
3
2010 Mar 4-7
48
24
25
3
2009 Mar 5-8
41
29
28
2
2008 Mar 6-9
35
33
29
2
2007 Mar 11-14
33
29
35
4
2006 Mar 13-16
30
28
38
4
2005 Mar 7-10
31
29
35
5
2004 Mar 8-11
38
25
33
4
2003 Mar 3-5
33
29
33
5
2002 Mar 4-7
31
32
32
5
2001 Mar 5-7
30
34
32
4
1997 Nov 6-9 ^
31
34
27
8
^ Asked of a half sample
Gallup
Is occurring
Is not occurring
Unsure
No opinion

%

%

%

%

2018 Mar 1-8
66
6
24
4
2017 Mar 1-5
71
5
22
2
2016 Mar 2-6
65
7
25
3
2015 Mar 5-8
62
8
27
3
2014 Mar 6-9
60
8
29
3
2013 Mar 7-10
62
6
28
4
2012 Mar 8-11
58
7
32
3
2011 Mar 3-6
55
8
33
4
2010 Mar 4-7
52
10
36
2
2008 Mar 6-9
65
7
26
3
2006 Mar 13-16
65
3
29
3
2001 Mar 5-7
61
4
30
5
1997 Nov 21-23
48
7
39
6
Gallup
Human activities
Natural causes
No opinion

%

%

%

2018 Mar 1-8
64
33
3
2017 Mar 1-5
68
29
3
2016 Mar 2-6
65
31
4
2015 Mar 5-8
55
41
4
2014 Mar 6-9
57
40
3
2013 Mar 7-10
57
39
4
2012 Mar 8-11
53
41
6
2011 Mar 3-6
52
43
5
2010 Mar 4-7
50
46
5
2008 Mar 6-9
58
38
5
2007 Mar 11-14
61
35
5
2006 Mar 13-16
58
36
6
2003 Mar 3-5
61
33
6
Gallup
Yes
No
No opinion

%

%

%

2018 Mar 1-8
45
54
1
2017 Mar 1-5
42
57
1
2016 Mar 2-6
41
57
2
2015 Mar 5-8
37
62
1
2014 Mar 6-9
36
64
1
2013 Mar 7-10
34
64
1
2012 Mar 8-11
38
61
1
2010 Mar 4-7
32
67
2
2009 Mar 5-8
38
60
2
2008 Mar 6-9
40
58
2
2006 Mar 13-16
35
62
2
2002 Mar 4-7
33
65
2
2001 Mar 5-7
31
66
3
1997 Nov 6-9 ^
25
69
6
^ Asked of a half sample
Gallup
2018 Mar

1-8

2017 Mar

1-5

2016 Mar

2-6

2015 Mar

5-8

2014 Mar

6-9

2013 Mar

7-10

2012 Mar

8-11

%

%

%

%

%

%

%

Colder than usual
29
13
10
51
66
19
4
(Due to climate change)
n/a
(6)
(4)
(19)
(19)
n/a
n/a
(Due to normal year-to-year variation in temperatures)
n/a
(7)
(6)
(31)
(46)
n/a
n/a
(Unspecified)
n/a
(*)
(*)
(1)
(1)
n/a
n/a
About the same
33
22
26
29
19
45
16
Warmer than usual
36
64
63
18
13
34
79
(Due to global warming)
n/a
(35)
(34)
(9)
n/a
(20)
(30)
(Due to normal year-to-year variation in temperatures)
n/a
(27)
(26)
(8)
n/a
(13)
(46)
(Unspecified)
n/a
(3)
(3)
(1)
n/a
(1)
(3)
No opinion
2
1
1
2
2
2
1
Gallup
Very satisfied
Somewhat satisfied
Somewhat dissatisfied
Very dissatisfied
No opinion

%

%

%

%

%

2018
12
33
29
23
4
2017
13
39
28
16
4
2016
10
43
29
14
4
2015
13
39
30
14
4
2014
10
45
27
13
5
2013
11
46
27
12
5
2012
8
43
30
13
6
2008
11
36
31
18
3
2007
9
37
27
23
4
2006
11
41
27
18
4
2005
10
44
26
16
4
2004
9
43
31
14
3
2003
10
45
28
14
3
2002
9
47
26
15
3
2001
8
48
27
13
4
Gallup
Active participant
Sympathetic, but not active
Neutral
Unsympathetic
No opinion

%

%

%

%

%

2017 Mar 1-5
17
45
28
8
2
2015 Mar 5-8
16
41
30
11
1
2014 Mar 6-9
18
42
26
10
3
2013 Mar 7-10
17
42
29
10
2
2012 Mar 8-11
17
40
30
11
2
2011 Mar 3-6
20
42
27
9
2
2010 Mar 4-7
19
42
28
10
1
2008 Mar 6-9
22
47
25
6
1
2007 Mar 11-14
21
49
23
5
2
2006 Mar 13-16
14
48
29
7
2
2005 Mar 7-10
16
49
28
5
2
2004 Mar 8-11
14
47
30
8
1
2003 Mar 3-5
14
47
32
6
1
2002 Mar 4-7
19
51
24
5
1
2001 Mar 5-7
18
50
25
5
2
2000 Apr 3-9
16
55
23
5
1
Gallup
Yes, have heard
No, have not
No opinion

%

%

%

2016 Mar 2-6
63
37
*
* Less than 0.5%
Gallup
Accurate
Not accurate
No opinion

%

%

%

2016 Mar 2-6
69
27
4
Gallup
Human-caused climate change
Natural changes
Reports not accurate (vol.)
No opinion

%

%

%

%

2016 Mar 2-6
49
46
2
3
(vol.)=volunteered response
Gallup
Next, I am going to read you a list of possible threats to the vital interests of the United States in the next 10 years. For each one, please tell me if you see this as a critical threat, an important but not critical threat, or not an important threat at all. Climate change
Critical
Important
Not important
No opinion

%

%

%

%

2016 Feb 3-7
50
28
21
1
* Less than 0.5%
Gallup
Yes, is
No, is not
No opinion

%

%

%

2014 Mar 6-9
25
75
1
2013 Mar 7-10
30
68
1
2002 Mar 4-7
47
52
1
1999 Aug 3-4
50
49
1
(vol.)=volunteered response
Gallup
Based on national adults
2014 Mar

6-9

2013 Mar

7-10

Yes, experiencing drought
25
30
(Due to global warming)
(9)
(11)
(Due to normal year-to-year variation in rainfall)
(15)
(17)
(Unspecified)
(1)
(2)
No, not experiencing drought
75
68
No opinion
1
1
(vol.)=volunteered response
Gallup
Possible to take actions to slow effects
Part of natural process that can't be altered
No opinion

%

%

%

2013 Mar 7-10
56
40
5
Gallup
Definitely more good
Probaby more good
Probably more harm
Definitely more harm
No opinion

%

%

%

%

%

2010 Mar 4-7
22
40
23
13
3
2007 Mar 11-14
22
44
21
10
3
2005 Mar 7-10
22
47
19
9
3
2000 Apr 3-9
33
42
12
9
4
1992 Jan 5-Mar 31
33
43
11
3
11
Gallup
Definitely hurt
Probably hurt
No effect
Probably help
Definitely help
No opinion

%

%

%

%

%

%

2010 Mar 4-7
20
29
18
24
6
3
2009 Dec 11-13
19
23
17
27
9
5
Gallup
Favor
Oppose
No opinion

%

%

%

2009 Dec 11-13
55
38
7
Gallup
Immediate, drastic action
Some additional actions
Same action
No opinion

%

%

%

%

2008 Mar 6-9
34
52
13
1
2007 Mar 11-14
38
48
13
1
2003 Mar 3-5
23
56
20
1
2002 Mar 4-7
26
58
14
2
2001 Mar 5-7
27
56
15
2
1995 Apr 17-19
35
48
15
2
Gallup
Major changes
Minor changes
No changes
No opinion

%

%

%

%

2008 Mar 6-9
28
55
17
*
2003 Mar 3-5 ^
23
61
15
1
2000 Apr 3-9
31
58
11
*
* Less than 0.5%; ^ Asked of a half sample
Gallup
Mar

6-9

, 2008

%

Recycle/Recycle more
39
Drive less/Consolidate trips/Carpool
17
Buy biodegradable products
14
Use less electricity/Conserve energy
10
Drive more fuel-efficient car/Maintain car
9
Buy/Use more "green" products
7
Use energy-saving light bulbs
7
Eat more organic/home-grown foods
5
Conserve water
5
Upgrade to energy-saving appliances in home
4
Don't litter
3
Make home more energy efficient -- install new windows, insulation, solar panels, etc.
2
Other
7
None/Nothing
2
No opinion
12
Responses add to more than 100% due to multiple mentions
Gallup
Can be controlled this way
More drastic measures needed
No opinion

%

%

%

2007 Mar 23-25
30
58
11
Gallup
Most important factor
Important
Should not take into account
No opinion

%

%

%

%

2007 Mar 23-25
13
70
15
2
Gallup
Excellent
Good
Only fair
Poor
No opinion

%

%

%

%

%

2007 Mar 23-25
7
52
34
5
1
Gallup
Great deal
Only some
Hardly any
No opinion

%

%

%

%

2007 Mar 11-14
18
60
21
1
2002 Mar 4-7
27
60
12
1
2001 Mar 5-7 ^
25
65
8
2
2000 Apr 3-9 #
26
64
9
1
1999 Apr 13-14 #
36
55
8
1
1995 Apr 17-19 #
24
61
14
1
1991 Apr 11-14 #
18
61
19
1
1990 Apr 5-8 #
14
63
21
2
^ Asked of a half sample; # WORDING: "...in the past few decades -- say since 1970...."
Gallup
Great deal
Only some
Hardly any
No opinion

%

%

%

%

2007 Mar 11-14
15
57
26
1
2002 Mar 4-7 ^
17
61
21
1
2001 Mar 5-7
15
65
19
1
2000 Apr 3-9
18
60
21
1
1999 Apr 13-14
18
62
18
2
1991 Apr 11-14
19
60
18
2
1990 Apr 5-8
18
58
22
2
^ Asked of a half sample
Gallup
Major cause
Minor cause
Not a cause
No opinion

%

%

%

%

2006 Mar 13-16
35
33
26
6
Gallup
Great deal
Moderate amount
Slight amount
None at all
No opinion

%

%

%

%

%

Federal environmental agencies like the EPA
2005 Mar 7-10
22
42
25
7
4
2000 Apr 3-9
27
45
18
9
1
Large corporations
2005 Mar 7-10
7
17
31
44
1
2000 Apr 3-9
9
28
33
29
1
State envrionmental agencies
2005 Mar 7-10
16
48
28
6
2
2000 Apr 3-9
21
51
19
8
1
National environmental organizations
2005 Mar 7-10
25
42
22
8
3
2000 Apr 3-9
34
44
17
7
1
The U.S. Congress
2005 Mar 7-10
11
34
39
14
2
2000 Apr 3-9
10
38
31
20
1
Local environmental organizations
2005 Mar 7-10
26
43
22
6
3
2000 Apr 3-9
28
46
19
6
1
Small businesses
2005 Mar 7-10
15
30
35
18
2
2000 Apr 3-9
13
35
34
18
*
Local government agencies
2005 Mar 7-10
11
40
37
10
2
2000 Apr 3-9
12
47
28
13
*
The Republican Party
2005 Mar 7-10
9
32
30
26
3
2000 Apr 3-9
10
33
32
24
1
The Democratic Party
2005 Mar 7-10
15
37
29
16
3
2000 Apr 3-9
15
41
26
17
1
* Less than 0.5%
Gallup
Subscribe to receive weekly Gallup News alerts.
Never miss our latest insights.
Recommended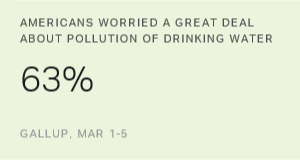 Majorities of Americans report worrying "a great deal" about the pollution of drinking water (63%) and of rivers, lakes and reservoirs (57%) -- the highest levels recorded since 2001.
In the debate over "paper vs. plastic" shopping bags, about three in four Americans think paper is the more environmentally friendly choice.
Americans are slightly more likely to be dissatisfied (52%) than satisfied (45%) with the quality of the environment in the U.S.