Graduation is upon us -- time, once again, for high school seniors to ponder the future and consider their career options. Since 1977, the Gallup Youth Survey* has asked teens for their top three career aspirations, and then published a top 10 list from the results. There's good news for the nation's education community -- this year, teacher is on a par with doctor and lawyer for the top spot on teens' list of career picks.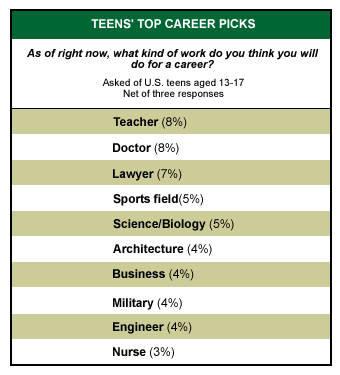 Top Picks
Whether it's because of a genuine love of the game or the lure of big bucks, for the first time since 1977, a career in the sports field is mentioned along with teacher, doctor, architecture, and engineer among boys' top picks. Although girls' participation in sports programs now rivals that of boys, girls have never expressed a strong desire to make sports a career -- probably in part because there are few female professional sports leagues. It's not on girls' top 10 list this year, but the sports field did appear on the list in 2003.
Teaching has consistently appeared on the top 10 list for girls -- and it is among girls' top picks this year, along with lawyer and doctor. Teaching was on the boys' list in the original 1977 poll, but then dropped off until 2003, and appears again this year. This could be a positive development because male teachers are in short supply, especially in low-income, urban school districts where children are often raised in female-headed households. Strong male role models can often make the difference between success and failure for children without a father at home. (See "Male Role Models Missing From the Classroom" in Related Items.)
A military career has consistently appeared on the boys' top 10 list, but has never appeared on the list for girls. The month of May, when teens are graduating from high school and formulating their plans for the future, is normally a peak recruiting period for the military. The Army's recruiting goals are off for the third month in a row, and the Marines have been short of their recruiting targets since January -- so signing bonuses and other perks for the all-volunteer military may be forthcoming as never before, offering opportunities for career training and education to interested teens.
Just as the military has never appeared on the girls' top 10 list of career choices, nursing has never made the boys' list. However, the need for nurses is growing more urgent, as the number of older Americans -- the heaviest users of healthcare services -- is projected to grow from 35 million today to more than 70 million in the next 25 years. The U.S. Department of Health and Human Services reports registered nursing graduates declined 26% from 1995 to 2000 and they project the shortfall in nurses to go from nearly 150,000 today to more than 800,000 by the year 2020.
*These results are based on telephone interviews with a randomly selected national sample of 1,028 teenagers in the Gallup Poll Panel of households, aged 13 to 17, conducted Jan. 17 to Feb. 6, 2005. For results based on this sample, one can say with 95% confidence that the maximum error attributable to sampling and other random effects is ±3 percentage points. In addition to sampling error, question wording and practical difficulties in conducting surveys can introduce error or bias into the findings of public opinion polls.