This article is part of a weeklong series analyzing how mobile technology is affecting politics, business, and well-being.
PRINCETON, NJ -- Although online and smartphone shopping are a clear threat to traditional brick-and-mortar retail stores, more than half of Americans say the amount of shopping they do in person at retail stores has not been affected by mobile technology. While a not insignificant 19% admit they now shop less at retail stores as a result of the rise of mobile technology, 22% say they are now doing more shopping in person at retail stores.
The results are based on a March 21-23 Gallup poll that measured the extent to which mobile technology, including smartphones and tablet computers, is transforming Americans' lives. Gallup has examined the effect of mobile technology on U.S. political life, employee engagement, and interpersonal communication.
Technological advances have created challenges for retailers, in part because Internet sellers can often offer the same product at cheaper prices because of lower overhead costs. Less expensive online pricing has led to concerns of retail store "showrooming," when consumers visit retail stores to examine a product, but then they purchase it online.
However, retailers have also taken advantage of electronic communications by allowing customers to pick up items they bought online in the store. And retailers have made the most of electronic communications and social networking websites to target customers arguably more effectively than they have been able to do with traditional mail, print, radio, and television advertising.
At this point, with roughly seven in 10 Americans using some form of mobile technology, the effects of mobile technology on in-store retail shopping seem to balance each other out, at least based on consumers' self-reports.
Notably, 18- to 29-year-olds are nearly twice as likely to say that mobile technology has led to an increase (29%) rather than a decrease (15%) in their shopping at retail stores. For all other age groups, it is a wash.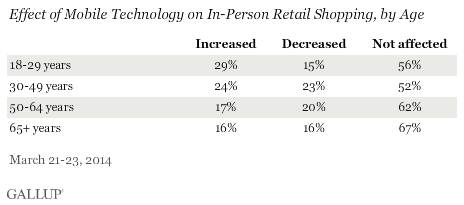 The exact reason for younger adults doing more in-person shopping is not clear, but one factor may be that Gallup has found 18- to 29-year-olds are much less likely than older adults to have credit cards, which would limit their ability to shop online.
Upper-income Americans are the only income group that reports a net decrease in their in-person retail shopping as a result of mobile technology, as slightly more say they are shopping less (28%) rather than more (23%) at stores. This income group is also the least likely to say their shopping habits have not changed.
That upper-income Americans are more likely to report their retail shopping habits have been affected by mobile technology is consistent with the finding that upper-income Americans are more likely to possess technology devices such as smartphones and tablets.
Implications
Although a significant subset of Americans say they are now doing less in-person shopping at retail stores as the result of the rise of mobile technology, just as many say they are now doing more in-person shopping. What is unclear is whether consumers are spending more online than at retail stores overall and how much of their spending they used to do in stores is being transferred to online.
Presumably, those who are shopping more in person may be looking up products online and then buying them in person. Or, they may have been prompted to go to a local store by a sale or special offer sent by email, text message, or social networking site to their smartphone or tablet.
While Internet shopping offers the convenience of not having to travel to a store to buy items a consumer may need or want, in-person shopping is still the preferred channel for many consumers who want to interact with the product itself before purchasing. Retail stores also provide immediate gratification for consumers who can return home and use or enjoy the items they purchased rather than waiting several days for the items to be delivered to them after purchase.
Read a related article at the Gallup Business Journal.
Survey Methods
Results for this Gallup poll are based on telephone interviews conducted March 21-23, 2014, on the Gallup Daily tracking survey, with a random sample of 1,505 adults, aged 18 and older, living in all 50 U.S. states and the District of Columbia.
For results based on the total sample of national adults, the margin of sampling error is ±3 percentage points at the 95% confidence level.
Interviews are conducted with respondents on landline telephones and cellular phones, with interviews conducted in Spanish for respondents who are primarily Spanish-speaking. Each sample of national adults includes a minimum quota of 50% cellphone respondents and 50% landline respondents, with additional minimum quotas by time zone within region. Landline and cellular telephone numbers are selected using random-digit-dial methods. Landline respondents are chosen at random within each household on the basis of which member had the most recent birthday.
Samples are weighted to correct for unequal selection probability, nonresponse, and double coverage of landline and cell users in the two sampling frames. They are also weighted to match the national demographics of gender, age, race, Hispanic ethnicity, education, region, population density, and phone status (cellphone only/landline only/both, and cellphone mostly). Demographic weighting targets are based on the most recent Current Population Survey figures for the aged 18 and older U.S. population. Phone status targets are based on the most recent National Health Interview Survey. Population density targets are based on the most recent U.S. census. All reported margins of sampling error include the computed design effects for weighting.
In addition to sampling error, question wording and practical difficulties in conducting surveys can introduce error or bias into the findings of public opinion polls.
View survey methodology, complete question responses, and trends.
For more details on Gallup's polling methodology, visit www.gallup.com.