It has been nearly four years since President George W. Bush enacted No Child Left Behind (NCLB), the far-reaching education reform law intended to raise student achievement. Yet lack of knowledge about NCLB persists among the majority of Americans. According to the 2005 Phi Delta Kappa/Gallup Poll of the Public's Attitudes Toward the Public Schools*, the percentage of Americans claiming "a great deal" or "a fair amount" of knowledge about NCLB has nearly doubled from 24% in 2003 to 40% today. Still, 59% of respondents say they know "very little" or "nothing at all" about the law.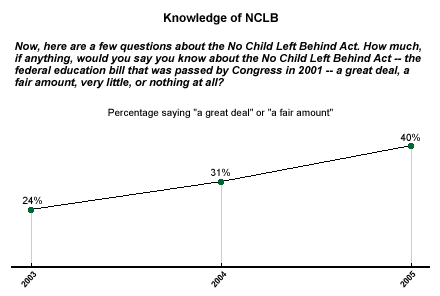 Americans are currently about equally split in their evaluations of the law. Twenty-eight percent of respondents say they have a "very" or "somewhat" favorable opinion of it, while 27% have a "somewhat" or "very" unfavorable opinion. But the plurality of Americans, 45%, say they don't know enough about NCLB to have an opinion one way or another. In 2003, 18% of Americans had a favorable opinion of the law, 13% an unfavorable opinion, and 69% were unable to rate it.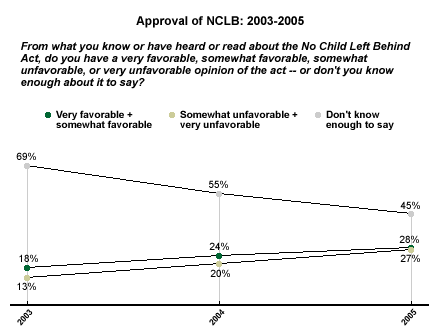 Noble Goals; Complex Strategies
Few Americans would argue with the four pillars of NCLB: stronger accountability for results, more freedom for states and communities, proven education methods, and more choices for parents.
But the strategies implemented to address those goals are fairly complicated, as are the problems that have arisen from the law. For example, mandated test scores for students with academic disabilities were originally grouped with those of all students and just 1% of the total school population could qualify for modified assessments. This practice often resulted in otherwise successful schools failing to make the adequate yearly progress that NCLB mandates.
Acknowledging that the law needs more flexibility, U.S. Secretary of Education Margaret Spellings announced new implementation guidelines earlier this year, which promise a more workable path to student achievement. States will now have the flexibility to give modified assessments to more students with "persistent academic disabilities."
Will Greater Knowledge Equal Higher Approval?
As Americans slowly grow more familiar with the goals and strategies of NCLB, how is public opinion likely to change? It's possible support will weaken or strengthen, given that even those Americans who are familiar with the law are divided on whether it is good or bad. Forty-two percent of those who claim to know at least a fair amount about NCLB give it an unfavorable rating, while 42% of those familiar with NCLB have a favorable opinion of it.
Bottom Line
Unfavorable views of NCLB may be linked to the negative publicity surrounding the funding of the law. Many states, while supportive of NCLB goals, say federal funding for the mandated standardized testing is inadequate. Last month, Connecticut became the first state to sue the federal government regarding the funding level for NCLB. According to State Attorney General Richard Blumenthal, NCLB is illegal because the federal government is mandating expensive testing and programs it doesn't pay for. According to The Associated Press, Connecticut Education Commissioner Betty Sternberg estimates federal funding will fall $41.6 million short of paying for the mandated testing and other programs through 2008.
Despite the criticism of the law and attempts to modify it, there appears to be some progress in education since the NCLB law was passed. The National Assessment of Educational Progress reported in July that math scores among 9-year-olds and 13-year-olds were the highest ever recorded. The College Board reported last week that scores on the math portion of the SAT college entrance exam saw a modest jump this year to the highest-ever average for that portion of the test. More positive news like that could raise public approval of NCLB.
*This article contains findings from the 37th Annual Phi Delta Kappa/Gallup Poll of the Public's Attitudes Toward the Public Schools, released on Aug. 23 in Washington, D.C.
The findings of the survey are based on telephone interviews with a random sample of 1,000 U.S. adults, aged 18 and older, conducted from June 9 to June 26, 2005. For results based on this sample, one can say with 95% confidence that the maximum error attributable to sampling and other random effects is ±3 percentage points.