It's been a difficult summer for the labor movement. In late July, three major unions representing 4.6 million workers split from AFL-CIO, the country's largest labor federation, amid complaints that AFL-CIO leaders were focusing too much on politics and not enough on recruiting new members. Northwest Airlines employees have been striking since Aug. 20 and a resolution is still nowhere in sight. Union membership has declined gradually since the middle of the 20th century -- from an average of 15% of Americans in the mid-1950s to 9% in a recent poll. Membership levels have held steady for the past 20 years.
But the news isn't all bad for labor leaders. An early August Gallup Poll shows a majority of Americans (58%) approve of labor unions, and according to an Aug. 28-30 CNN/USA Today/Gallup poll*, most Americans believe unions are good for the economy, companies that have unionized workforces, and union members themselves.
Whom Do Unions Help?
Gallup asked U.S. adults whether unions "mostly help" or "mostly hurt" several U.S. institutions.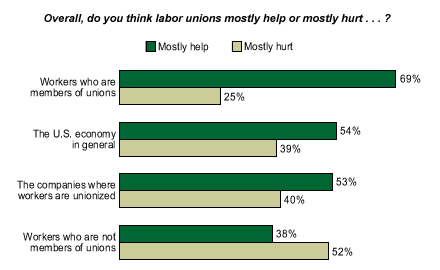 Slim majorities of Americans believe unions help the U.S. economy (54%) and companies where workers are unionized (53%). Respondents are less convinced that unions help non-unionized workers -- 38% think they mostly help and 52% think they mostly hurt.
Although a firm majority of Americans believe unions help their members, the percentage of Americans who say so has fallen slightly since the question was last asked two years ago, possibly because of the highly publicized AFL-CIO split. In August 2003, 76% of Americans said unions help unionized workers, compared with 69% in August 2005.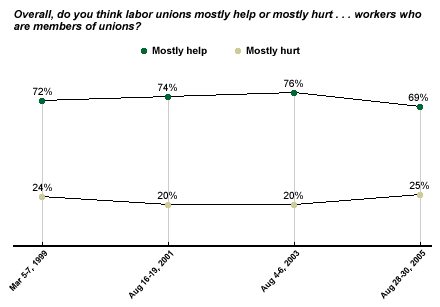 Union Sympathy Up
Gallup also asked Americans where their sympathies have tended to lie in recent labor disputes. Fifty-two percent of Americans say that over the last two or three years, their sympathies have generally been with the unions, while 34% say their sympathies have been with the companies.
In addition to the most recent asking, Gallup asked this question several times in 1952, as well as once in 1999, once in 2001, and once in 2002. The most recent results represent the first time a majority of Americans have said their sympathies tend to be with the unions during labor disputes, although Americans have always expressed more sympathy toward unions than companies.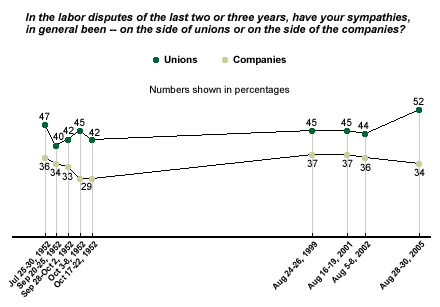 Unions are strongly aligned with the Democratic Party, so it's no surprise that self-identified Democrats are far more likely than Republicans to express positive views of, and to sympathize with, unions. Sympathies toward unions also differ by race and gender (nonwhites and women are more likely to side with unions than are their white and male counterparts).
Bottom Line
While many observers have predicted that the recent AFL-CIO split will further weaken labor unions in the United States, others argue that the split will actually cause union activity to increase. Edward Hertenstein, head of labor education at the University of Illinois in Champaign, predicts the rival union groups will rev up organizing activities in order to compete with one another.
*Results are based on telephone interviews with 1,007 national adults, aged 18 and older, conducted Aug. 28-30, 2005. For results based on the total sample of national adults, one can say with 95% confidence that the margin of sampling error is ±3 percentage points.