"Middle school was never like this," says Aaron, a 14-year-old Pennsylvania freshman who finds he's getting quite an education since he made the leap to high school. "Fighting, bullying, and gang problems are everywhere."
Results from the latest Gallup Youth Survey* reveal Aaron isn't alone in his experience. Teens most often mention "violence, fighting, and school safety," when asked to name the biggest problem their schools must deal with. Safety issues garnered the most mentions (13%), nearly twice as many as any other specific problem, including lack of funding, overcrowded classrooms, use of drugs and alcohol, and lack of student effort.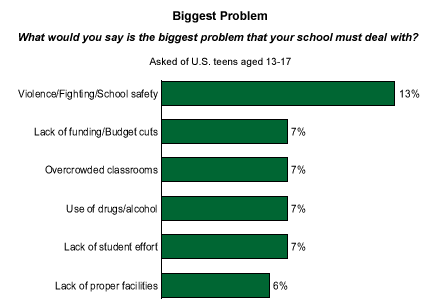 According to a new report, Indicators of School Crime and Safety: 2005, violent crime rates in the nation's schools are down to half what they were in 1992. The annual report, a joint study by the Bureau of Justice Statistics and National Center for Education Statistics (NCES), looks at crime that takes place in schools as well as on the way to and from schools. In 1992, 48 students per 1,000 between the ages of 12 and 18 were victims of violent crime, compared with 28 per 1,000 in 2003, the last year for which NCES statistics are available.
National statistics may show that teens are less likely to be victims of violent crimes at school today, but teens still see violence as a big problem. "Teens don't usually have the insight to think on the macro level about their schools," says Jessica Siegel, an English teacher at Abraham Lincoln High School in Brooklyn, N.Y. Siegel says she's not surprised that safety springs to students' minds. "Adolescence is a volatile time and teen's responses are about what's closest to their heart, what's most immediate."
Greg, a 15-year-old sophomore from Pennsylvania is acutely aware of day-to-day hostility at his large urban school. "Bullying is the big problem at my school," he says. "No one bothers me, but when my friends are bullied and they sometimes fight back -- it doesn't do any good."
Do You Feel Safe in This School?
Using a 5-point scale, with 1 being "strongly disagree" and 5 being "strongly agree," teens were asked to rate the extent to which they agree that they feel safe at school. Eighty percent choose a "4" or "5," including 47% who choose a "5." Boys are more likely than girls to agree that they feel safe: 87% of boys give a rating of "4" or "5" vs. 73% of girls.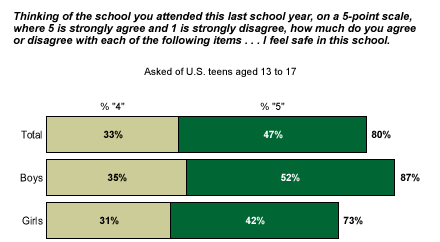 Bottom Line
When U.S. adults were asked to name the biggest problem in their local schools in this year's Phi Delta Kappa/Gallup survey on education issues, lack of funding was the top issue. (See "Funding Tops Public's List of School Woes" in Related Items.) Overcrowded schools, discipline issues, use of drugs, and violence, each mentioned by roughly 10% of Americans, were all distant runners-up. From Siegel's point of view, funding is the top issue.
"My feeling is that it is all connected," she says. "To me funding is the biggest issue because in order to improve education, we have to hire more teachers and reduce class sizes. Anyone who sends their children to private schools, their first question is: 'What is the teacher-student ratio?'" Siegel's high school -- with its large minority and immigrant population -- has an average class size of 34. "And it isn't 'capped' yet," worries the 12-year veteran of the New York public schools. "They keep allowing more students to enroll."
*These results are based on Web surveys with a randomly selected national sample of 600 teenagers in the Gallup Poll Panel of households, aged 13 to 17, conducted July 6 to Sept. 4, 2005. For results based on this sample, one can say with 95% confidence that the maximum error attributable to sampling and other random effects ±4 percentage points. In addition to sampling error, question wording and practical difficulties in conducting surveys can introduce error or bias into the findings of public opinion polls.