Sue Johnson's kindergarten classroom in Lincoln, Neb., looks just like any other kindergarten classroom -- art projects dot one wall and oversized alphabet letters stretch across another. But Johnson's kindergartners are a little different: She teaches at an English-language learner (ELL) magnet and her class includes students from a dozen different countries. Over the last three decades, the faces -- and voices -- have changed dramatically in America's public schools.
A majority of Americans say there seem to be more children from other countries attending the public schools in their communities today than in the past, according to this year's Phi Delta Kappa/Gallup poll* on public education. Three in 10 say the number is about the same, and only 3% say there are fewer than in the past.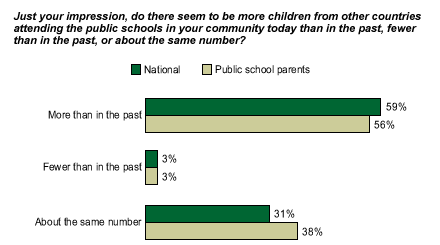 Although it doesn't provide a perfect snapshot of how many students are immigrants or children of immigrants, Census figures show the percentage of public school students considered part of a racial or ethnic minority group nearly doubled between 1972 and 2003, from 22% to 42%. Nearly all of that growth has come from Hispanics and minorities other than blacks. In 1972, Hispanic students made up 6% of public school enrollment; in 2003, these students made up 19%. Students from minority groups other than blacks represented 1% in 1972 and 7% in 2003.
Americans in the West are more likely than those living in any other region to say more children from other countries seem to be attending their public schools than in the past; 68% of Westerners say this, compared with 61% in the South, 51% in the Midwest, and 55% in the East. This makes sense, given that the minority public school enrollment in the West exceeded white enrollment in 2003.
Lost or Found in Translation?
According to 2003-2004 Department of Education figures, 1 in 10 public school students are English-language learners, students whose first language is not English and who are in the process of learning English. These ELL students speak more than 460 languages, with Spanish and Asian languages the most common. The percentage of ELL students has risen 41% in the last decade and is expected to more than double in the next 20 years. This, compounded with No Child Left Behind requirements for students with limited English proficiency, presents quite a challenge for the nation's educators.
What's the best way for the public schools to deal with non-English-speaking students? According to the PDK/Gallup poll, 61% of Americans say these students should be required to learn English in public school classes before enrolling in regular classes, 19% say students should be required to learn English in special classes at the parents' expense, and 16% say public schools should be required to provide instruction in the students' native languages.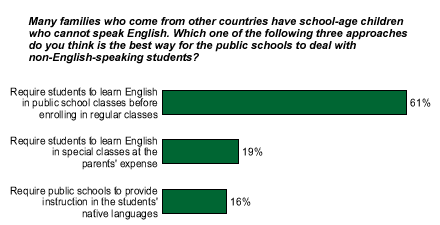 Schools' Answers
Schools have been struggling to find the best answer to this question themselves. Many offer English-as-a-second-language (ESL) programs, in which students are immersed in English, but are given help as needed in their native languages. Another approach is transitional bilingual education: ELL students are taught some subjects in their native languages while learning English. However, that approach has fallen out of favor in several states where voters opted to replace it with English-immersion programs, in which students are taught entirely in English. Yet another method, two-way bilingual education or two-way immersion, is gaining popularity in U.S. public schools. In these classes, ELL and native English-speaking students are team-taught in both languages.
Johnson says the ELL students at her school are taught in English. One of the biggest challenges, Johnson says, is to make sure her students understand what she's saying as she's teaching. She uses body language and picture graphs, and is very dramatic, deliberate, and repetitive when teaching. Sometimes, she says, getting the point across clearly means going over to students, holding their hands, and doing.
No Child Left Behind doesn't dictate a specific method for teaching ELLs, but Education Secretary Margaret Spellings acknowledged in early December that the way the concepts are taught "can make or break a child's future"; instruction is one of the most important variables. The "elephant in the dining room," Spellings said, was that the right approach for English-language learners hasn't been found yet, but she stressed that it needs to be found soon. Before the elephant gets any bigger.
*This article contains findings from the 37th Annual Phi Delta Kappa/Gallup Poll of the Public's Attitudes Toward the Public Schools, released on Aug. 23 in Washington, D.C.
The findings of the survey are based on telephone interviews with a random sample of 1,000 U.S. adults, aged 18 and older, conducted from June 9-26, 2005. For results based on this sample, one can say with 95% confidence that the maximum error attributable to sampling and other random effects ±3 percentage points.