GALLUP NEWS SERVICE
PRINCETON, NJ -- Alan Greenspan officially retires after more than 18 years as Chairman of the Board of Governors of the Federal Reserve System tomorrow. A recent CNN/USA Today/Gallup poll finds that nearly two in three Americans approve of the way Greenspan has handled his job, while about one in five disapprove. A review of Gallup polling on Greenspan over the years reveals that the public's confidence in Greenspan to recommend the right thing for the economy has deteriorated in recent years, though a majority of Americans still expressed confidence in him last April. And, when asked to rate their overall opinion of Greenspan, Americans have historically been much more positive than negative in their assessment.
Greenspan's Approval Ratings
The Jan. 20-22 poll finds that 65% of Americans approve of the way Greenspan has handled his job as Federal Reserve chairman, while 21% disapprove and the rest have no opinion.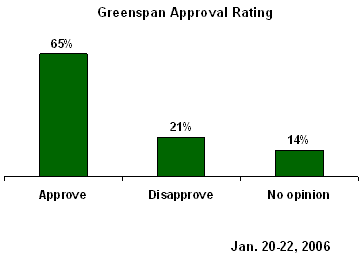 Even though a majority of all Americans say they approve of Greenspan, the poll shows some variations in approval by household income and party affiliation.
Roughly half of adults living in households earning less than $30,000 per year say they approve of Greenspan. This compares with a 62% approval rating for those earning between $30,000 and $75,000 per year, and an overwhelming 82% rating for those earning $75,000 or more per year.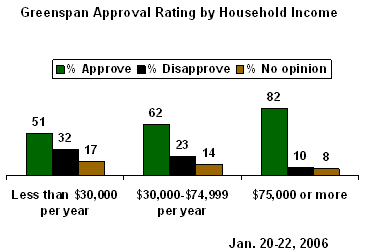 Republicans are somewhat more likely than Democrats to say they approve of the way Greenspan has handled his responsibilities. Three in four Republicans (75%) approve, compared with 62% of independents and 60% of Democrats.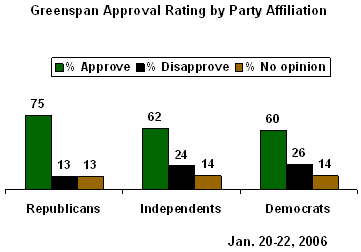 Public Confidence in Greenspan
In April 2001, Gallup asked Americans to assess how much confidence they have in Greenspan, as well as other leaders in the country, to recommend the right thing for the economy. The poll found that roughly three in four Americans said they had "a great deal" or "fair amount" of confidence in Greenspan. The question has been repeated each year since, and expressed confidence in Greenspan has decreased in each poll, coinciding with a drop in the public's overall economic optimism. Most recently, in April 2005, 56% expressed this level of confidence in Greenspan.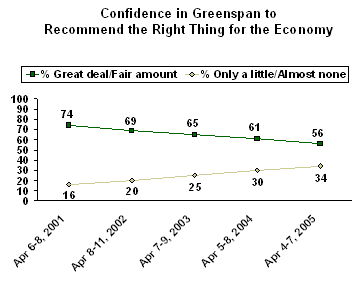 Still, Americans had more confidence in Greenspan last April than they did in President George W. Bush (with a 51% rating), the Republican leaders in Congress (47%), or the Democratic leaders in Congress (42%). Greenspan has typically ranked at the top of this economic confidence list, with the exception of 2002, when Americans were slightly more likely to express confidence in Bush than Greenspan, and 2003, when Greenspan and Bush were tied.
Greenspan's Favorable Ratings
Gallup also periodically asked Americans whether they had a favorable or unfavorable opinion of Greenspan, and in all those polls, Americans were much more positive than negative in their assessment of him. In 1997, when the question was first asked, 52% of Americans said they had a favorable opinion of Greenspan, while 11% had an unfavorable opinion and 37% had no opinion. In 2003, when the question was last asked, 63% rated him favorably, 14% unfavorably, and 23% did not know enough about him to give a rating.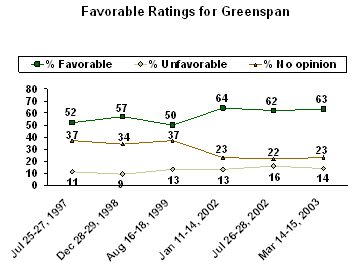 Survey Methods
Results are based on telephone interviews with 1,006 national adults, aged 18 and older, conducted Jan. 20-22, 2006. For results based on the total sample of national adults, one can say with 95% confidence that the maximum margin of sampling error is ±3 percentage points. In addition to sampling error, question wording and practical difficulties in conducting surveys can introduce error or bias into the findings of public opinion polls.