GALLUP NEWS SERVICE
PRINCETON, NJ -- The threat of terrorism, the war in Iraq, foreign ownership of U.S. properties, U.S. dependence on foreign oil, and illegal immigration underscore the extent to which the United States is enmeshed in the international landscape. Gallup polling shows a majority of Americans have been dissatisfied with the United States' position in the world since 2004. An Apr. 7-9, 2006 USA Today/Gallup poll explored the possibility that this increasing dissatisfaction is promoting a more isolationist view among the American public.
Americans' preference for an isolationist approach to foreign policy -- that is, wanting the United States stay out of international affairs -- is not much different than it has been in recent decades. However, by comparison with earlier years (1964-1972), Americans are more likely to not want the United States to get involved. There is also a strong public sentiment for the United States to devote more attention than it does to domestic problems. Those with consistent isolationist views outnumber those with consistent internationalist views by nearly two-to-one, with non-whites, Democrats, and lower educated Americans most likely to be classified as isolationists.
Should the United States Mind Its Own Business?
Gallup's historical trend question designed to measure isolationist sentiment was first asked in 1964. It asks the respondents whether they agree or disagree that "the U.S. should mind its own business internationally and let other countries get along as best as they can on their own." Currently, 46% of Americans agree and favor an isolationist perspective while 51% disagree.
The percentage taking the isolationist view is higher now than in the 1960s and 1970s, but is about the same that Gallup measured from 1992-2000.
Several Pew Research Center polls fill in the gap in the Gallup trend line between 2000 and 2006, a notable period given the Sept. 11, 2001 terrorist attacks against the United States. The Pew polls, which asked the same Gallup trend question, find a shift away from an isolationist stance shortly after the attacks. In December 2002, just 30% of Americans agreed with the isolationist point of view; in March 2003, 33% did. However, by October 2005, a Pew poll found sentiment shifting back toward isolationism, with 42% agreeing that the United States should let other countries get along on their own.
Should the United States Take Care of Its Problems First?
A second question in the recent Gallup Poll asked Americans whether they agree that the United States "shouldn't think so much in international terms but concentrate more on our own national problems and building up our strength and prosperity at home." Seventy percent agree with the statement while 27% disagree. The majority of Americans have always taken this view, though it was more widely held in January of 1992 as the economy was struggling (82%), and less widely held in 1964 shortly after Congress passed the Gulf of Tonkin resolution that gave President Lyndon Johnson authority to send U.S. troops to Vietnam (54%).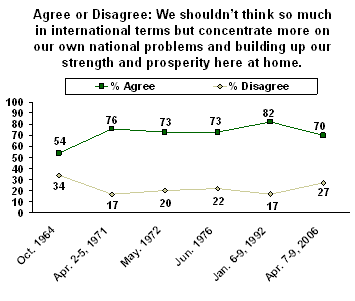 The Dec. 2002 Pew Center poll showed movement in favor of an international approach on this question as well, with 65% agreeing and 31% disagreeing at that time.
Isolationist Sentiment in the United States
Responses to the two questions can be combined to get a sense of how many Americans hold consistent isolationist views and how many hold consistent internationalist views. The analysis shows that 43% of Americans can be considered isolationist -- they agree the U.S. should let other countries get along on their own and agree that the U.S. should concentrate more on domestic problems. In contrast, 24% can be considered internationalist because they disagree with both statements. The remaining 33% hold mixed views.
In 1992, 41% of Americans could be classified as isolationists, 14% as internationalists, and 45% had mixed views. So in the last 15 years, isolationist sentiment in the United States has held fairly steady, while internationalist sentiment has grown.
Non-whites, those with less formal education, and Democrats are among the groups most likely to be classified as isolationists today. Even though non-whites and those with lower education tend to be Democratic, those characteristics are still associated with a more isolationist viewpoint when party affiliation is taken into account.
Americans' Perspective on the U.S. Role in International Affairs by Subgroup
Isolationist

Mixed

Inter-
nationalist

%

%

%

All Americans

43

33

24

Men

40

34

27

Women

45

34

21

White

38

35

27

Non-white

60

28

12

18 to 29 years old

51

19

29

30 to 49 years old

42

34

24

50 to 64 years old

36

37

27

65 years and older

48

37

15

East

45

30

26

Midwest

39

41

20

South

45

32

24

West

42

32

26

Urban

44

34

22

Suburban

39

34

27

Rural

52

30

18

High school or less

54

31

15

Some college

42

35

23

College graduate

29

36

35

Post-graduate

29

34

37

Less than $30,000

58

26

17

$30,000-less than $75,000

44

34

21

$75,000 or more

27

38

35

Democrat

57

27

16

Independent

41

42

17

Republican

28

31

41

Liberal

51

32

17

Moderate

44

36

20

Conservative

37

32

31
Survey Methods
These results are based on telephone interviews with a randomly selected national sample of 1,004 adults, 18 years and older, conducted Apr. 7-9, 2006. For results based on this sample, one can say with 95% confidence that the maximum error attributable to sampling and other random effects is ±3 percentage points. In addition to sampling error, question wording and practical difficulties in conducting surveys can introduce error or bias into the findings of public opinion polls.
6. Please tell me whether you agree or disagree with each of the following statements: [RANDOM ORDER]
A. The U.S. should mind its own business internationally and let other countries get along as best they can on their own.
Agree

Disagree

No
opinion

%

%

%

2006 Apr 7-9

46

51

2

2000 Jan 13-16

46

50

4

1993 Mar 29-31

42

55

3

1992 Jan 6-9

44

53

3

1976 Jun

43

47

10

1972 May

36

54

10

1964 Sep

20

70

10
B. We shouldn't think so much in international terms but concentrate more on our own national problems and building up our strength and prosperity here at home
Agree

Disagree

No
opinion

2006 Apr 7-9

70

27

2

1992 Jan 6-9

82

17

1

1976 Jun

73

22

5

1972 May

73

20

7

1971 Apr 2-5

76

17

7

1964 Oct

54

34

12
7. When it comes to making decisions on treaties and other policies about the role of the U.S. in the world today, do you think President Bush [ROTATED: should pay more attention (or) should pay less attention] to the views of other countries?
Pay more
attention

Pay less
attention

Paying right
amount
(vol.)

No
opinion

%

%

%

%

2006 Apr 7-9

56

38

3

3

(Vol.) Volunteered response
8. Do you believe increased trade between the United States and other countries mostly helps or mostly hurts -- [ITEMS ROTATED]?
A. American workers
Mostly
helps

Mostly
hurts

No
opinion

%

%

%

2006 Apr 7-9

30

65

6

1999 Nov 18-21 ^

35

59

6

^ Asked of a half sample
B. American companies
Mostly
helps

Mostly
hurts

No
opinion

%

%

%

2006 Apr 7-9

44

50

6

1999 Nov 18-21 ^

56

39

5

^ Asked of a half sample