GALLUP NEWS SERVICE
PRINCETON, NJ -- Former President Bill Clinton now has a more favorable image in the eyes of Americans than does his wife, New York Sen. Hillary Clinton, according to a June 23-25 USA Today/Gallup poll. One major reason is the gender gap in views of Hillary Clinton that is not found in ratings of her husband. Men and women have equally favorable views of Bill Clinton, but Hillary Clinton has an image problem among men. Bill Clinton fares better among both Republicans and Democrats.
Clintons' Favorable Ratings
The poll finds that 59% of Americans have a favorable opinion of Bill Clinton, while 37% have an unfavorable opinion. Hillary Clinton's favorable rating is somewhat lower, at 51%, and 44% view her unfavorably. The net positive rating (the percentage favorable minus the percentage unfavorable) is higher for Bill Clinton (22 points) than for Hillary Clinton (7 points).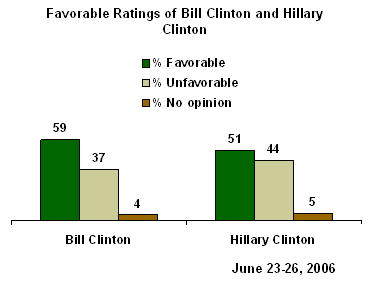 The latest favorable ratings for Bill Clinton show little change since last fall, and are among the highest Gallup has measured for him since he left the White House in 2001. (The 60% favorable rating in October 2005 was his highest on record since 2001, just one point higher than the current measure.)
During his eight years as president, Clinton's favorable ratings fluctuated broadly between a low point of 42% and a high point of 66%. Clinton's favorable ratings fell below 50% for much of the time after he initially left office, partly attributable to his controversial issuance of pardons in his last days in the White House. His ratings started to improve in 2003.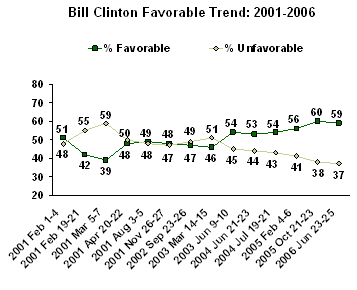 Hillary Clinton's latest favorable ratings are basically unchanged since last fall (at 51% today, compared with 54% in October 2005). As was true for her husband, Hillary Clinton's ratings varied significantly from 1993 through 2000. Hillary Clinton received her highest favorable rating of 67% in late December 1998, during the Clinton impeachment. Her lowest favorable rating while in the White House was 43% in January 1996.
In recent years, Hillary Clinton's favorable ratings have shown only modest fluctuations, ranging between 51% and 56%.
In the years that Gallup has measured opinions of the Clintons, there have been times when Bill Clinton has been viewed more favorably and times when Hillary Clinton has been viewed more favorably.
At the start of Clinton's first term in the White House, both were rated similarly. By 1995, Americans much more positively rated Bill Clinton than Hillary Clinton, most likely resulting from Whitewater and healthcare reform issues. Then, in 1998, likely because of the Monica Lewinsky scandal and impeachment hearings, Americans rated Hillary Clinton more favorably rather than her husband. In the years immediately after leaving office, both have again been rated similarly, but since last fall, Bill Clinton is once again being viewed more favorably than his wife is.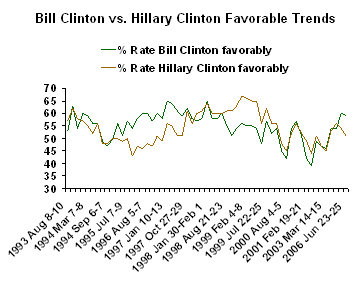 Men and women are equally likely to rate Bill Clinton favorably, but views of Hillary Clinton are much more negative among men than women.
Nearly 6 in 10 men and women say they have a favorable opinion of Bill Clinton, and roughly the same percentage of women (58%) rate Hillary Clinton favorably. Hillary Clinton's problem is with men, who are significantly more negative than positive in their assessment of her, with 43% rating her favorably and 52% unfavorably.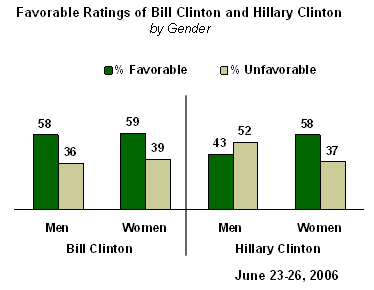 Most Republicans have a negative opinion of both Clintons, and most Democrats have a positive opinion. But, Bill Clinton is rated more favorably than Hillary Clinton among both Republicans and Democrats; roughly the same percentage of independents view the Clintons favorably.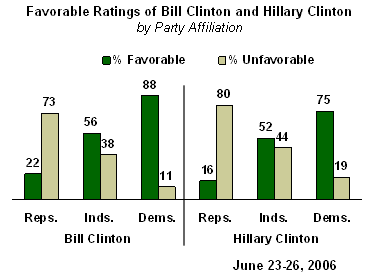 As the graph illustrates, 22% of Republicans rate Bill Clinton favorably, while a slightly lower percentage, 16%, feel this way about Hillary Clinton. Likewise, 88% of Democrats view Bill Clinton favorably, compared with 75% for Hillary Clinton. The favorable ratings among independents for Bill and Hillary Clinton are at 56% and 52%, respectively.
Survey Methods
The latest results are based on telephone interviews with a randomly selected national sample of 1,000 adults, aged 18 and older, conducted June 23-25, 2006. For results based on this sample, one can say with 95% confidence that the maximum error attributable to sampling and other random effects is ±3 percentage points. In addition to sampling error, question wording and practical difficulties in conducting surveys can introduce error or bias into the findings of public opinion polls.