GALLUP NEWS SERVICE
PRINCETON, NJ -- The late Gerald Ford had one of the lowest average job approval ratings among all presidents since World War II, according to a review of historical Gallup Polls. Ford assumed the presidency after Richard Nixon resigned in 1974. He started with high job approval ratings, but his decision to pardon Nixon for the Watergate affair sent his ratings sharply downward. Ford struggled to get majority approval ratings after that. Despite these mediocre job ratings, Ford polled better than challenger Ronald Reagan throughout most of the 1976 Republican presidential nomination campaign, pulling away in the early summer of 1976. And, although Ford trailed Democratic nominee Jimmy Carter by as much as 33 percentage points in the general election campaign, he managed to close that deficit, before losing a close election.
Ford is the only U.S. president who never topped Gallup's "most admired man" list while occupying the Oval Office. Americans became more positive about Ford after he left office, and his retrospective job approval ratings are quite positive. Still, fewer Americans believe his presidency will be remembered as "outstanding" or "above average" than say this about any other post-World War II president except Nixon.
Presidential Approval
Ford took office on Aug. 9, 1974, after Nixon's resignation. Ford's first job approval rating was a robust 71%, benefiting from a likely rally effect following Nixon's leaving office. No president since then has had as high an initial approval rating, although no president since Ford has entered office in the middle of another president's elected term. Two other presidents who came into office during another's term -- Harry Truman (87%) and Lyndon Johnson (74%) -- also had very high initial approval ratings.
Initial Gallup Approval Ratings,
Presidents Truman to George W. Bush

Poll dates

Approval
rating

Truman

June 1-5, 1945

87%

Eisenhower

Feb 1-5, 1953

68%

Kennedy

Feb 10-15, 1961

72%

Johnson

Dec 5-10, 1963

78%

Nixon

Jan 23-28, 1969

59%

Ford

Aug 16-19, 1974

71%

Carter

Feb 4-7, 1977

66%

Reagan

Jan 30-Feb 2, 1981

51%

George H. W. Bush

Jan 24-26, 1989

51%

Clinton

Jan 24-26, 1993

58%

George W. Bush

Feb 1-4, 2001

57%
Ford's job approval rating plummeted to 50% in late September 1974, after he pardoned Nixon. By January 1975, his approval rating had fallen below 40%, and it remained at that level until April 1975. His lowest approval ratings were 37% readings in January and March 1975.
On May 12, 1975, Cambodian Khmer Rouge forces seized the U.S. ship SS Mayaguez and held the American crew hostage. Ford ordered military action to rescue the crew, which was released while the United States was undertaking that action. Roughly 40 U.S. military personnel lost their lives in the brief fighting. A late May/early June Gallup Poll saw Ford's approval rating spike from 40% to 51%. It remains one of the largest "rallies" in presidential approval Gallup has ever measured. (The largest rally on record is a 39-point jump in George W. Bush's job approval rating immediately after the Sept. 11 terror attacks.)
Ford's rally was short-lived -- by August 1975 his approval rating fell below 50%, and by November it was back to about 40%.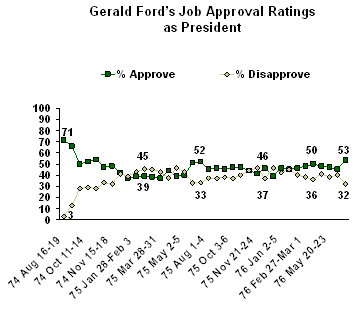 Ford began the election year of 1976 with a 46% approval rating, an ominous sign for a sitting president seeking re-election. His rating reached only as high as 50% (in March) before the election that year. Gallup did not measure Ford's approval rating from July to November 1976, so his last approval rating before the election was 45% in June. Other presidents with lower approval ratings than Ford lost their re-election bids (Truman was a notable exception), while George W. Bush won in 2004 with a similar 48% rating. As has been typical for recent defeated presidents, Ford got an apparent "sympathy bounce" after the election, and his final job rating before leaving office was 53% in December 1976.
Ford averaged a 51.1% job approval rating during his first, partial year in office (August 1974 through January 1975), 44.1% his second year (and first full year, January 1975 to January 1976), and 48.8% his third year.

His average approval rating for his entire term was 47%, one of the lowest since World War II. Truman (45%) and Carter (46%) had slightly lower averages, but all other presidents had better averages than Ford, including Nixon, who averaged 49%. The other post-World War II presidents had averages exceeding 50%.
Average Approval Ratings,
Presidents Truman to George W. Bush

Dates of presidency

Average

Number
of readings

Truman

Apr 1945-Jan 1953

45.4%

68

Eisenhower

Jan 1953-Jan 1961

65.0%

119

Kennedy

Jan 1961-Nov 1963

70.1%

40

Johnson

Nov 1963-Jan 1969

55.1%

83

Nixon

Jan 1969-Aug 1974

49.0%

96

Ford

Aug 1974-Jan 1977

47.2%

36

Carter

Jan 1977-Jan 1981

45.5%

91

Reagan

Jan 1981-Jan 1989

52.8%

135

George H.W. Bush

Jan 1989-Jan 1993

60.9%

113

Clinton

Jan 1993-Jan 2001

55.1%

217

George W. Bush

Jan 2001-present

55.3%

226
The 1976 Election
Given his mediocre approval ratings, Ford faced a difficult bid to be elected president in his own right. Additionally, because he was an "accidental" president -- elected neither as president nor as vice president -- his party's presidential nomination was not assured, as it is for most incumbents.
Republican Nomination Campaign
Reagan, the former California governor, challenged Ford for the 1976 Republican presidential nomination. Ford held a solid lead over Reagan and other prospective challengers throughout most of 1975 in Gallup's nomination preference polling of rank-and-file Republicans. In November 1975, shortly after he officially announced his candidacy, Reagan overtook Ford by 40% to 32%. That proved to be temporary, as Ford regained the lead over the field in early January 1976.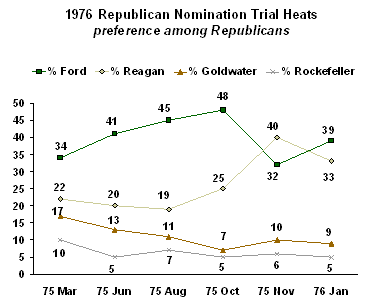 With only Reagan and Ford as viable candidates, Gallup asked Republicans for their preferences between the two men for the duration of the nomination campaign. Ford led throughout on this measure, though Reagan narrowed the gap on several occasions. Ford led by 20 points or more through most of the spring, before Reagan pulled closer in late May and early June. However, after the primaries were over, Ford's lead again expanded to more than 20 points, and in the final test just a few weeks before the Republican convention, he led Reagan by a 61% to 35% margin. Despite Ford's large lead among rank-and-file Republicans, the nomination was still in doubt during the party's convention, and he won a narrow vote over Reagan among the delegates.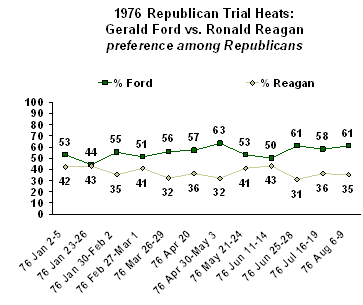 General Election Campaign
In presidential trial-heat matchups between Ford and Carter, Ford trailed the eventual Democratic nominee by small margins in March, April, and early May. By late May, Carter opened up a double-digit lead and maintained it until late September. Carter's lead swelled to as much as 33 points, 62% to 29% among registered voters, after the Democratic convention that year. Ford cut into the margin after the Republican convention, reducing a 25-point (57% to 32%) early August deficit to 13 points (50% to 37%).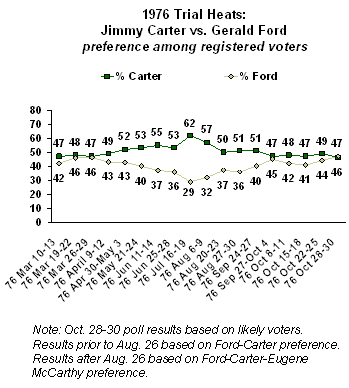 In a poll conducted immediately after their first debate, Carter maintained a double-digit lead. But Ford chipped away at that lead and before the second debate a poll showed the two in a statistical dead heat (Carter 47%, Ford 45%). However, in the next debate Ford incorrectly asserted that Eastern Europe was not under Soviet domination, and Carter pulled ahead, 48% to 42%. Carter continued to lead the race for the next few weeks, but Ford made up additional ground following the third debate in late October, again pulling even.
In the final pre-election poll, Gallup's numbers indicated a statistical dead heat among likely voters, with Ford at 49% and Carter 48% (the unallocated numbers had Ford at 47% and Carter at 46%). The actual outcome was 50% for Carter and 48% for Ford. The election was so close that it was not certain that Carter would win until the morning after Election Day.
The Nixon Pardon
Perhaps the most consequential decision of Ford's presidency was his pardon of Nixon. Prior to his decision to do so, a Gallup Poll found a majority of Americans opposed to a Nixon pardon (53% to 38%). Nearly two years after Ford pardoned Nixon, opinion was the same -- a June 1976 poll found 55% of Americans saying Ford did the "wrong thing" in pardoning Nixon, compared with 35% who said he did the "right thing."
Over time, Americans grew more accepting of the Nixon pardon. Gallup repeated the question in 1982, and found a divided public -- 46% said Ford did the right thing, and 46% said he did the wrong thing. When the question was asked again, in 1986, opinion had shifted: a majority said Ford did the right thing (54% to 39%).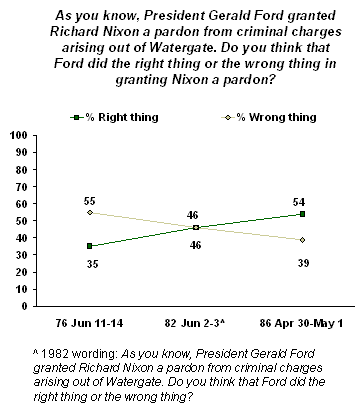 Ford Never Most Admired
Ford holds the dubious distinction of being the only sitting president since 1946 never to be named as the "most admired man" while in office. In Gallup's yearly update, Ford placed in the top 10 list of most admired men nine times, but never topped the list. That includes top 10 finishes one time while vice president (1973), two times while president (1974 and 1975; the question was not asked in 1976), and six more times after leaving office. He last made the top 10 most admired list in 1982. His best showing was a third-place finish in 1974, behind his Secretary of State Henry Kissinger and the Rev. Billy Graham. Kissinger rated as the most admired man the two times the question was asked while Ford was president.
Ford in Retrospect
Gallup periodically asks Americans for retrospective judgments on past presidents' performance while in office. Ford is not rated poorly, but he is also not rated as positively as other former presidents.
In June 2006, Gallup asked Americans for a retrospective approval rating on past presidents. Sixty percent said they approved of the way Ford handled his job, with 26% disapproving and 14% not having an opinion. Ford ranked in the middle of this list -- John F. Kennedy and Reagan had higher ratings, while Johnson and Nixon had lower ratings. Ford's ratings are similar to those of Bill Clinton, Carter, and the elder George Bush.
Retrospective Approval Ratings of Past Presidents,
June 2006 Gallup Poll

Approve

Disapprove

No
opinion

%

%

%

John F. Kennedy

84

9

7

Ronald Reagan

71

27

2

Jimmy Carter

61

34

5

Bill Clinton

61

38

1

Gerald Ford

60

26

14

The elder George Bush

56

42

3

Lyndon Johnson

41

41

18

Richard Nixon

28

65

6
Ford's scores on this measure improved in more recent years. From 1990 to 1993, an average of 54% of Americans approved of his presidency. Since 1999, an average of 64% have.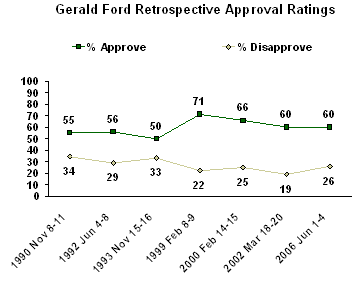 That pattern is not atypical. Carter and Reagan have been rated more positively since 1999 than before. Opinions of Nixon, Kennedy, and Johnson have been more stable over time.
In addition to these retrospective views, Gallup has also asked Americans for their views on how past presidents will "go down in history." Earlier this month, just 23% of Americans said Ford would go down in history as an "outstanding" (6%) or "above average" (17%) president. On the other hand, only 12% said Ford was "below average" or "poor." Only Ronald Reagan (10%) had a lower percentage of negative reviews among the last six presidents.
The consensus among Americans is that Ford was an "average" president -- 60% gave this response.
Gallup asked a more inclusive list of presidents in June 2004, with Ford being regarded similarly in that poll.
Historical Judgments of Past Presidents,
June 2004 Gallup Poll

Out-
standing

Above
average

Average

Below
average/
Poor

%

%

%

%

Franklin D. Roosevelt

24

53

17

2

John F. Kennedy

23

55

19

2

Ronald Reagan

15

43

31

10

Bill Clinton

9

29

31

31

George W. Bush

6

25

30

38

Jimmy Carter

5

22

48

24

George H.W. Bush

3

23

55

18

Richard Nixon

3

11

34

51

Lyndon Johnson

2

16

51

24

Gerald Ford

2

12

66

17
Survey Methods
Results prior to 1990 are based on in-person interviews with approximately 1,500 national adults per sample. Results since 1990 are based on telephone interviews with approximately 1,000 national adults per sample.
Do you approve or disapprove of the way Gerald Ford is handling his job as president?
Approve

Disapprove

No
opinion

%

%

%

1974

1974 Aug 16-19

71

3

26

1974 Sep 6-9

66

13

21

1974 Sep 27-30

50

28

22

1974 Oct 11-14

52

29

19

1974 Oct 18-21

54

28

18

1974 Nov 8-11

47

33

20

1974 Nov 15-18

48

32

20

1974 Dec 6-9

42

41

17

1975

1975 Jan 10-13

37

39

24

1975 Jan 28-Feb 3

39

43

18

1975 Feb 28-Mar 2

39

45

16

1975 Mar 7-10

38

45

17

1975 Mar 28-31

37

43

20

1975 Apr 4-7

44

37

19

1975 Apr 18-21

39

46

15

1975 May 2-5

40

43

17

1975 May 30-Jun 2

51

33

16

1975 Jun 27-30

52

33

15

1975 Aug 1-4

45

37

18

1975 Aug 15-18

46

37

17

1975 Sep 12-15

45

38

17

1975 Oct 3-6

47

37

16

1975 Oct 17-20

47

40

13

1975 Oct 31-Nov 3

44

44

12

1975 Nov 21-24

41

46

13

1975 Dec 5-8

46

37

17

1976

1976 Jan 2-5

46

42

12

1976 Jan 23-26

45

45

10

1976 Jan 30-Feb 2

46

40

14

1976 Feb 27-Mar 1

48

38

14

1976 Mar 19-22

50

36

14

1976 Apr 9-12

48

41

11

1976 May 20-23

47

38

15

1976 Jun 11-14

45

40

15

1976 Dec 10-13

53

32

15
How do you think each of the following presidents will go down in history -- as an outstanding president, above average, average, below average, or poor? [RANDOM ORDER]
Gerald Ford
Out-
standing

Above
average

Average

Below
average

Poor

No
opinion

2006 Dec 8-10

6%

17

60

9

3

5

2004 Jun 3-6

2%

12

66

13

4

3

1976 Dec 10-13

5%

20

50

15

7

4
From what you have heard, read, or remember about some of our past presidents, please tell me if you approve or disapprove of the way each of the following handled their job as president.
Gerald Ford
Approve

Disapprove

No
opinion

%

%

%

2006 Jun 1-4

60

26

14

2002 Mar 18-20

60

19

21

2000 Feb 14-15

66

25

9

1999 Feb 8-9

71

22

7

1993 Nov 15-16

50

33

17

1992 Jun 4-8

56

29

15

1990 Nov 8-11

55

34

11