GALLUP NEWS SERVICE
PRINCETON, NJ -- U.S. Sen. Joe Lieberman has faced mounting difficulties among fellow Democrats in his home state of Connecticut over his pro-Iraq war stance, possibly culminating in his defeat in the Connecticut Democratic primary election for his seat that takes place on Tuesday. Local polling suggests he may very well lose that election to ardently anti-war challenger Ned Lamont. Although many pundits insist all politics is local, new Gallup polling shows that Lieberman's reputation has been sinking among Democrats nationally, not just among those from his home state.
The latest USA Today/Gallup poll finds Lieberman with the worst ratings from Democrats nationally since Gallup first measured his image in 2000. As a result, he is now more popular with Republicans than with supporters of his own party. Among Republicans and Republican "leaners," a plurality of 46% view Lieberman favorably, while 27% view him unfavorably. Democrats are more evenly divided in their attitudes, with 38% viewing him favorably and 32% unfavorably.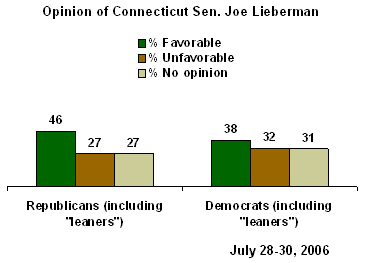 Overall, 40% of Americans view Lieberman favorably, while 29% have an unfavorable view and 31% have no opinion. Although there have been significant shifts in the way partisan groups view him, his overall rating now is similar to where he has stood with the general public for the past three years.
A Hard Fall
Lieberman enjoyed his peak of favorability with U.S. Democrats around the time he came to national prominence as Al Gore's vice presidential running mate in the 2000 election. In four Gallup Polls conducted between August 2000 and March 2001, more than 6 in 10 Democrats held a favorable view of Lieberman, and no more than 11% had an unfavorable view.
At the same time, he was the toast of Connecticut, with one state poll conducted in September 2000 showing him with an 88% job approval rating from Connecticut Democrats. By state law, Lieberman was able to run for re-election to the U.S. Senate at the same time he ran for vice president, and he beat his Republican challenger by a nearly 2-to-1 margin.
Today, Lieberman has a far different image profile. Lieberman's favorable-to-unfavorable ratio among Democrats nationwide began to shrink in 2003. The shrinking accelerated in January 2004, when the percentage of Democrats viewing him favorably fell below 50% for the first time. Today, his support base is even lower, with slightly more than a third of Democrats viewing him favorably.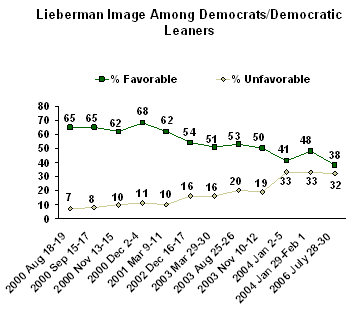 On his home turf, a new Quinnipiac University poll puts Lieberman 13 points behind his opponent among likely Connecticut Democratic primary voters: 54% for Lamont vs. 41% for Lieberman. Lieberman's support has unraveled quickly, as in late July he trailed Lamont by just 4 points, and in June he led by 15 points.
No Decline Among Republicans
Lieberman's support among national Republicans has not followed the same downward trajectory it has among Democrats. The percentage of Republicans viewing him favorably has alternated between short-lived declines and short-lived increases, but in a broad sense his numbers have varied in a fairly small range from 28% to 46%. Currently, his support among Republicans is on the upswing.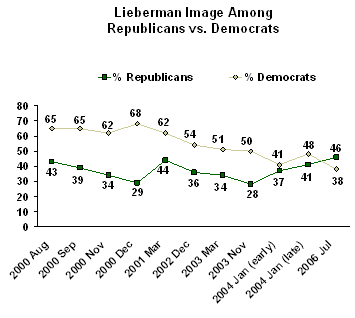 In other words, over time, Lieberman's image has declined among supporters of his own party, but has not changed in a consistent fashion among supporters of the opposing party. The once solidly liberal state senator and Connecticut attorney general has adopted a more moderate image since he's been in the U.S. Senate, and that has increasingly irked the left wing of his party. Being donned Bush's favorite Democrat -- sealed with a kiss at the 2005 State of the Union -- has become emblematic of all that Lieberman's critics say is wrong with the senator.
Iraq, Iraq, Iraq
Whether he goes down to defeat or pulls out a victory in Tuesday's Connecticut senate primary, Lieberman is going to symbolize that the Iraq war is uppermost on Americans' minds relative to this fall's congressional elections. To the extent issues matter, and they clearly do matter in the Lieberman-Lamont race, Iraq appears positioned to outweigh whatever other concerns Americans may have, including perennial heavyweights such as the economy, terrorism, and healthcare, as well as current hot buttons such as immigration, gas prices, and same-sex marriage.
Gallup's June 23-25 poll shows that 55% of Americans -- including 59% of Democrats and 49% of Republicans -- say the situation in Iraq will be extremely important to their vote for Congress this year.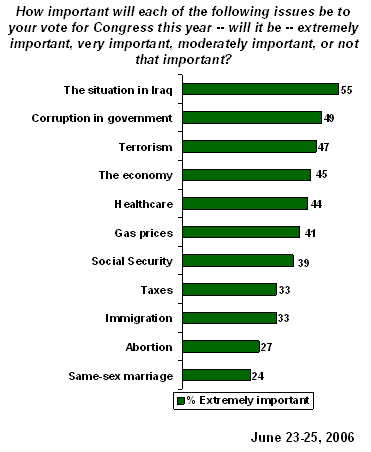 It is clear that Lieberman is at odds with the vast majority of Democrats, who overwhelmingly oppose the war -- 82% say it was a mistake for the United States to send troops, according to the latest Gallup Poll. However, there are no precise data that verify that Democrats nationally are lukewarm on Lieberman specifically because of his unflinching support for the Iraq war.
The poll shows Democrats who oppose the Iraq war are not much more negative about Lieberman than the relatively small percentage of Democrats who support the war.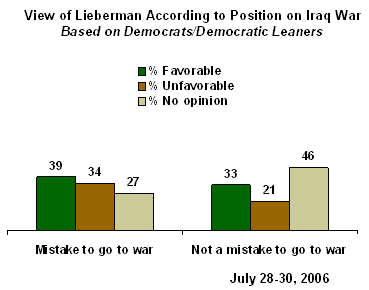 The small sample sizes involved in this analysis do not provide the ability to draw firm conclusions about the factors underlying Lieberman's image. That a large proportion of both pro- and anti-war Democrats have no opinion about Lieberman suggests they are not highly familiar with the senator or his issue positions, and casts doubt on the notion that his problems are specific to Iraq and not also based on more general factors.
Survey Methods
These results are based on telephone interviews with a randomly selected national sample of 1,007 adults, aged 18 and older, conducted July 28-30, 2006. For results based on this sample, one can say with 95% confidence that the maximum error attributable to sampling and other random effects is ±3 percentage points. In addition to sampling error, question wording and practical difficulties in conducting surveys can introduce error or bias into the findings of public opinion polls.
3. Next, we'd like to get your overall opinion of some people in the news. As I read each name, please say if you have a favorable or unfavorable opinion of these people -- or if you have never heard of them. How about -- [ITEMS A-D ROTATED, THEN ITEMS E-F ROTATED]?
D. Connecticut Senator, Joe Lieberman
Favorable

Unfavorable

Never
heard of

No
opinion

%

%

%

%

2006 Jul 28-30

40

29

13

18

2004 Jan 29-Feb 1 ^

45

35

8

12

2004 Jan 2-5

38

37

10

15

2003 Nov 10-12

39

28

15

18

2003 Mar 29-30

41

26

13

20

2002 Dec 16-17

44

24

16

16

2001 Mar 9-11 †

52

20

10

18

2000 Dec 2-4

47

30

11

12

2000 Nov 13-15

48

23

8

21

2000 Nov 13-15 (RV)

50

23

8

19

2000 Sep 15-17 (RV)

52

17

9

22

2000 Aug 18-19 (RV)

58

12

9

21

^WORDING: Joe Lieberman

†WORDING: Senator Joe Lieberman

‡Asked of Democrats or Democratic leaners only

(RV) Based on registered voters