GALLUP NEWS SERVICE
PRINCETON, NJ -- The Democrats' strong showing in Tuesday's elections underscored basic voter attitudes that have been apparent in Gallup surveys all year. Americans have given President George W. Bush and the Republican-controlled Congress low job-performance ratings -- in the case of Bush, the lowest for a president in a midterm election since 1950. The significant majority of Americans are dissatisfied with the way things are going in the United States. And Americans have consistently named the war in Iraq -- which the Bush administration initiated, sustained, and defended -- as the country's top problem.
The Election Environment
The public's level of satisfaction "with the way things are going in the United States" was at 35% in Gallup's last poll before the election, which means that more than 6 out of 10 Americans were dissatisfied with the way things are going. Only 26% of Americans approved of the job Congress is doing. President Bush's job approval rating was at 38% just before the election and has generally been below 40% all year.
All of these indicators have historically predicted a shift away from the party in power in Washington. In fact, these attitudes are highly similar to those in place in 1994, the last midterm election in which voters brought about a wholesale change in control of Congress.
President Bush was -- perhaps more so than usual -- a focus of voter attention this year. Gallup's final poll before the election indicated that voters were significantly more likely to say their vote was a signal of opposition to Bush rather than a signal of support for him. More broadly, more than half of voters said they wanted their vote to send a message about the president (in either direction).
There are several reasons midterm-election voters might be particularly focused on Bush this year. The overall political environment is more polarized than in previous times in U.S. history. Bush himself is a more polarizing figure. The president has been closely identified with the war in Iraq, and Gallup surveys have consistently shown that Americans perceive the war in Iraq to be the nation's top problem. Furthermore, a number of Democratic candidates around the country made Bush the issue, featuring their Republican opponents' connection to the president as a central part of television commercials.
The vote pattern this year was fairly well established early on. Gallup asked registered voters 18 times in 2006 to indicate which party's candidate they would be voting for in their district. The average among registered voters was 52% voting for the Democratic candidate and 40% voting for the Republican candidate. Gallup's final pre-election poll, conducted Nov. 2-5, mirrored these numbers almost exactly, with a 51% to 40% registered-voter advantage for Democrats (among likely voters, Gallup's final estimate was 51% Democrat to 44% Republican, with 5% undecided or third-party voters). In short, despite the usual ups and downs from week to week, particularly in the last two months of the campaign, the election ended up very close to where it had been all year.
Anti-Incumbency
The Republicans were vulnerable this year because of the basic fact that people blame the party in power when they are upset with the state of the nation. With Republicans in control of both the presidency and Congress, the target of voter discontent is clear. Not only were national conditions seen as bad this year, but Congress has been plagued by a series of ethical scandals, for the most part involving members of the majority Republican Party.
Gallup polling all year has shown congressional job approval ratings near historical lows. The final pre-election figures were 26% approval and 63% disapproval. That is only slightly better than the lowest congressional approval rating Gallup has ever measured, 18% in 1992.
Also, the polls have shown less support for re-electing incumbents than in prior years. While recent polling showed a majority of Americans still saying their own incumbent member of Congress deserved re-election, the 53% holding this view was significantly lower than what Gallup found in 1998 (68%) and 2002 (64%), when there was relatively little turnover in Congress, but the same as 1994, when Republicans made huge gains in both the House of Representatives and the Senate.
While Americans are usually much more likely to say their own member of Congress deserves re-election than to say that about most members, the sentiment toward making changes in Congress was also unusually high this year. Just 39% of Americans (and only 33% of likely voters) said most members of Congress deserved another term in office. In 1998 and 2002, a majority of Americans endorsed another term for most members, while in 1994 just 39% did so.
Party leaders and candidates who are facing a strong tide going against their party usually like to find hope in the notion that "all politics is local" and that elections will be decided on local issues, not national ones. This year, however, voters were nearly twice as likely to say that national issues (39%) rather than local or state issues (20%) "will make the biggest difference in how [they] vote" this year. In addition to local and national issues, 23% said their vote would be mostly determined by the candidate's character and experience, and 13% by the candidate's political party.
In the 2002 midterm elections, as many voters said local issues (27%) as national issues (27%) would decide their vote, with candidate character besting both (32%). When the same question was asked in 1998 by the Pew Research Center, and in 1994 by Princeton Survey Research Associates, the greatest number of voters said local issues were most important to their vote.
Given that the greatest number of voters this year were focused on national issues and that the national issues favored the Democrats, Republicans had a very stiff challenge in stemming the Democratic tide.
Democrats Shrink Republican Turnout Advantage
The Democrats went toe to toe with the Republicans in voter turnout on Tuesday, a switch from previous midterm elections, when Republicans held a comfortable advantage in the percentage of their voter base coming out on Election Day. The extent of underlying popular support for Democratic candidates for Congress (evidenced by a strong lead among registered voters) would have likely delivered a majority of seats in Congress to the Democrats even if they had trailed Republicans in a more typical turnout pattern. But by trimming the Republicans' usual turnout advantage, the Democrats enhanced their seat gains considerably.
According to Gallup's final pre-election survey, a similar proportion of Republicans and Democrats were poised to vote on Tuesday: 45% of Republicans and 43% of Democrats. This two-point Republican edge is smaller than the seven-point turnout advantage enjoyed by the Republicans in the two previous midterm elections, and the nine-point GOP advantage seen in 1994.
Percentage of Each Party Likely to Vote,
According to Final Pre-Midterm Election Poll
Based on national adults

Republicans

Democrats

%

%

2006

45

43

2002

43

36

1998

43

36

1994

49

40
The overall finding of a reduced Republican advantage on turnout is confirmed by the results of a specific turnout question asking voters how much thought they have given to the upcoming election. In previous midterm years, this "thought" variable has been a strong discriminator between Republicans and Democrats, detecting the greater likelihood of Republicans to turn out to vote. While Republicans retained an edge this year, it was tempered compared with recent elections.
According to the final 2006 pre-election survey, 60% of Republicans nationally said they had given quite a lot of or some thought to the election (as opposed to only a little or no thought). The Democrats came close to this level, with 56% having given the election at least some thought. By contrast, in 2002, Republicans led the Democrats by 10 points on this measure (54% to 44%), in 1998 by 6 points (59% to 53%), and in 1994 by 11 points (65% to 54%).
Percentage Having Given Quite a Lot of/Some Thought to the Election, According to Final Pre-Midterm Election Poll
Based on national adults

Republicans

Democrats

%

%

2006

60

56

2002

54

44

1998

59

53

1994

65

54
Phone Banking Didn't Materialize as Silver Bullet
Karl Rove's "72-hour plan" was designed to boost Republican turnout in key districts through vast grassroots "get-out-the vote" (GOTV) operations, but only after first profiling voters via phone banks and other means in order to identify Republicans' core supporters. Prior to the election, the Bush team dismissed polls showing the Democrats headed for victory by pointing to the pending impact of this micropolitical strategy.
Given the number of states with close races, not to mention numerous competitive congressional districts, the Republican GOTV advantage ought to have been evident in national polling. However, a pair of questions included on Gallup's Nov. 2-5 survey found no difference in the percentage of voters saying they had been contacted up to that point by a Republican trying to encourage them to vote Republican versus a Democrat trying to get them to vote Democratic.
A little less than one-third of all registered voters (32%) said they had been personally contacted by a Republican or on behalf of a Republican candidate, and an identical number said they were contacted by or on behalf of the Democrats. That figure includes those saying they were contacted by both parties (20%) or only by one party (12% each). A total of 44% were contacted by one party or the other, or both.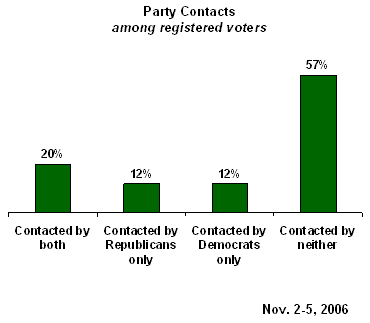 The picture is the same among likely voters: 27% were contacted by both parties while 15% were contacted by one party or the other.
Most of these voter contacts occurred by phone. In the case of Republican contacts, 25% of registered voters said they were contacted by telephone, 3% in person, and 4% via both approaches. With respect to Democratic contacts, 24% of registered voters recall being contacted by telephone, 3% in person, and 4% in both ways.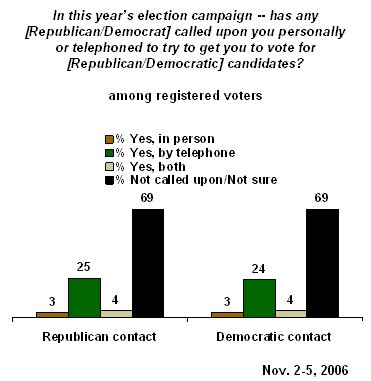 Survey Methods
These results are based on telephone interviews with a randomly selected national sample of 1,007 adults, aged 18 and older, conducted Nov. 2-5, 2006. For results based on this sample, one can say with 95% confidence that the maximum error attributable to sampling and other random effects is ±3 percentage points. In addition to sampling error, question wording and practical difficulties in conducting surveys can introduce error or bias into the findings of public opinion polls.