GALLUP NEWS SERVICE
PRINCETON, NJ -- The recent midterm elections swept the Republicans out of control of Congress and will greatly change the power structure in Washington. Democrat Nancy Pelosi will take over leadership of the U.S. House and Democrat Harry Reid will lead the U.S. Senate. Americans' opinions of Pelosi have improved considerably after the elections, particularly as a result of people shifting from having no opinion of her to having a favorable one. Pelosi's ratings have improved most among women, Democrats, and liberals. Reid remains an unfamiliar figure to most Americans, but the public does view him slightly more positively now than before the elections.
The Nov. 9-12 USA Today/Gallup poll clearly shows that incoming House Speaker Pelosi's profile has been raised after the elections. Thirty-eight percent of Americans say they have a favorable opinion of her, while 24% have an unfavorable view and 38% are not familiar enough with her to give an opinion. Prior to the election, Pelosi's favorable rating was 26%, with a roughly equal percentage (28%) holding a negative view of her, and 46% unable to give a rating.
In the four readings taken prior to the fall elections, dating back to January 2003 when Pelosi became House minority leader, Americans' views of her were about equally positive and negative. Now, her favorable rating outnumbers her unfavorable rating by 14 percentage points.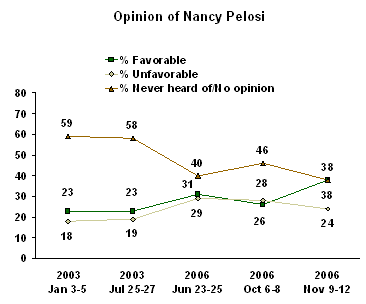 The increase in Pelosi's favorable rating is most evident in regard to Democrats and liberals, among whom it has jumped by 17 percentage points since October. Even Republicans and conservatives give her higher favorable ratings now than before the elections, though their opinions remain decidedly more negative than positive (11% favorable, 59% unfavorable among Republicans and 23% favorable, 44% unfavorable among conservatives). Pelosi's unfavorable rating also increased slightly among Republicans, from 54% to 59%, but did not change among conservatives.
Pelosi will be the first female speaker of the House in U.S. history, and women now rate her more positively than they did before the elections. Pelosi's favorable rating among women increased by 15 percentage points, from 25% to 40%, while among men the increase was about half that size (from 27% to 35%).
Changes in Favorable Ratings of Nancy Pelosi,
October-November Gallup Polls




% Favorable

Oct 6-8

Nov 9-12

Change

%

%

pct. pts.

Democrats

44

61

+17

Independents

23

34

+11

Republicans

6

11

+5

Liberals

43

60

+17

Moderates

31

39

+8

Conservatives

10

23

+13

Men

27

35

+8

Women

25

40

+15
Reid will become Senate majority leader when the new Congress begins in January. He took over as minority leader after the previous Democratic leader, Tom Daschle, was defeated in the 2004 elections. Given Reid's limited time in a congressional leadership role, it is not surprising that the American public does not know him well. The poll finds that 53% of Americans are not familiar enough with Reid to rate him. Currently, more Americans have a positive (27%) than a negative (19%) view of Reid.
Like Pelosi, past ratings of Reid had been about equally positive and negative. The last time Gallup asked about Reid, in May 2005, he had a 22% favorable and 19% unfavorable rating, with 59% unable to rate him. Thus, his favorable rating has increased by five points and his unfavorable rating has not changed in the last 18 months.
Reid's post-election bump is smaller than Pelosi's. That may result from the greater media attention accorded to Pelosi than Reid leading up to the elections. Democrats and liberals now have a more positive view of Reid than in 2005. However, unlike Pelosi, Reid's favorable ratings among Republicans and conservatives have not improved.
Changes in Favorable Ratings of Harry Reid,
2005-2006 Gallup Polls




% Favorable




May 2005

Nov 2006

Change

%

%

pct. pts.

Democrats

31

41

+10

Independents

21

24

+3

Republicans

12

12

0

Liberals

31

40

+9

Moderates

21

29

+8

Conservatives

17

18

+1

Men

25

29

+4

Women

19

25

+6
Survey Methods
These results are based on telephone interviews with a randomly selected national sample of 1,004 adults, aged 18 and older, conducted Nov. 9-12, 2006. For results based on this sample, one can say with 95% confidence that the maximum error attributable to sampling and other random effects is ±3 percentage points. In addition to sampling error, question wording and practical difficulties in conducting surveys can introduce error or bias into the findings of public opinion polls.
40. Next, we'd like to get your overall opinion of some people in the news. As I read each name, please say if you have a favorable or unfavorable opinion of these people -- or if you have never heard of them. How about -- [ITEMS D-E READ IN RANDOM ORDER]?
D. House Democratic Leader, Nancy Pelosi
Favor-
able

Unfavor-
able

Never
heard of

No
opinion

%

%

%

%

2006 Nov 9-12

38

24

18

20

2006 Oct 6-8

26

28

29

17

2006 Jun 23-25

31

29

27

13

2003 Jul 25-27

23

19

42

16

2003 Jan 3-5

23

18

39

20
E. Senate Democratic Leader, Harry Reid
Favor-
able

Unfavor-
able

Never
heard of

No
opinion

%

%

%

%

2006 Nov 9-12

27

19

33

20

2005 May 20-22

22

19

42

17

2005 Apr 29-May 1

21

18

44

17