GALLUP NEWS SERVICE
PRINCETON, NJ -- A recent Gallup Poll finds two in three Americans endorse the re-establishment of diplomatic ties between the United States and Cuba. Americans' support for diplomacy with the island nation is higher now than it has been in recent years, but Americans have been more likely to support rather than oppose relations for the better part of the past three decades. A majority of both Democrats and Republicans support the idea, although support is somewhat stronger among Democrats. While Americans support a diplomatic relationship with Cuba, a review of Gallup polling finds that a strong majority of Americans have tended to view the country unfavorably over the past 10 years.
Fidel Castro came into power in Cuba in 1959 and shortly thereafter created a one-party communist government to rule the nation. In October 1960, the United States began its embargo against Cuba and in January 1961, the government broke off diplomatic relations with Cuba. More than 40 years later, both of these measures are still in effect.
Diplomacy With Cuba?
Gallup's Dec. 8-10 poll finds that 67% of Americans favor the United States re-establishing diplomatic relations with Cuba, while 27% oppose this notion. Over the past 32 years, a majority of Americans have consistently said they support establishing diplomatic ties with Cuba, with the exception of one poll conducted in 1996.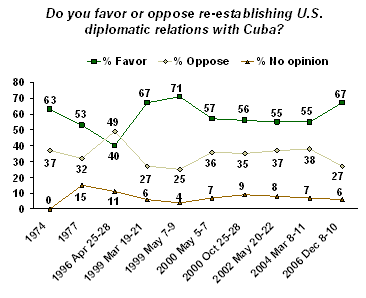 In 1974, when this question was first asked, 63% of Americans endorsed the idea of diplomacy between the United States and Cuba. This sentiment dropped some in 1977, with 53% of Americans supporting it. By 1996, Americans were more opposed (49%) than in favor (40%). This poll was conducted shortly after an incident in February 1996, in which the Cuban military shot down two U.S. civilian planes over international waters, killing four people. After this incident disappeared from the headlines, support for re-establishing ties with Cuba started to increase, reaching its high point of 71% in 1999. From 2000 through 2004, public support declined into the mid-50% range, but it has now increased again in the latest poll, to 67%.
Public support for re-establishing diplomatic ties with Cuba varies by partisanship. Fifty-nine percent of Republicans support diplomatic ties with Cuba, lower than the 71% among independents and the 69% among Democrats. Over the past 10 years, Democrats have typically been more likely than Republicans to support renewal of a diplomatic relationship. Independents' support usually mirrors the higher level of support found among Democrats.
Percentage Saying Favor Re-Establishing Diplomatic Relations With Cuba
by Party Affiliation

Republicans

Independents

Democrats

%

%

%

2006 Dec

59

71

69

2004 Mar

50

58

57

2002 May

49

60

56

2000 Oct

51

55

62

2000 May

47

60

63

1999 May

65

73

73

1999 Mar

68

66

68

1996 Apr

33

46

43
Opinion of Cuba
Gallup annually asks Americans to assess whether they have a favorable or unfavorable opinion of various countries around the world. The latest results show that Cuba rates near the bottom of the list of 22 nations tested in Gallup's Feb. 6-9 survey, ranking above only Iraq, the Palestinian Authority, North Korea, and Iran in the eyes of Americans.
The most recent poll found that 21% of Americans have a favorable opinion of Cuba, while a strong majority, 71%, have an unfavorable opinion. Americans' ratings of Cuba are down this year in comparison with readings taken since 2001. However, Americans have never rated Cuba very positively in the past 10 years that Gallup has asked this question about the country. The percentage of Americans rating Cuba favorably has fluctuated between 10% and 32% over this time period, averaging 25%.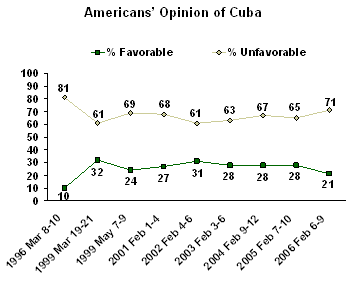 Next week, Gallup will examine Cubans' ratings of their own government and their views of potential commerce with the United States.
Survey Methods
Results are based on telephone interviews with 1,009 national adults, aged 18 and older, conducted Dec. 8-10, 2006. For results based on the total sample of national adults, one can say with 95% confidence that the margin of sampling error is ±3 percentage points. In addition to sampling error, question wording and practical difficulties in conducting surveys can introduce error or bias into the findings of public opinion polls.