GALLUP NEWS SERVICE
PRINCETON, NJ -- Last year, former President Jimmy Carter published the book Palestine : Peace Not Apartheid. Since hitting bookshelves, the book has caused much controversy, specifically because of Carter's comparison of conditions in the Middle East for the Palestinians to the apartheid that existed in South Africa, until recently, for blacks.
A recent Gallup Poll indicates that Carter's book has had little impact on the American public. Carter retains a very positive image in the eyes of the American public. In fact, he is rated more positively than either of the two living former presidents, George H.W. Bush and Bill Clinton. Only a small proportion of Americans have been following the controversy over Palestine: Peace Not Apartheid and few have an opinion of the book either way. Those who do have an opinion are equally likely to be mostly favorable as they are to be mostly unfavorable.
Americans' Overall Opinion of Jimmy Carter
Gallup's Feb. 9-11, 2007 poll asked Americans to rate their overall opinion of the three living former presidents. Americans are quite positive in their ratings of all three presidents, but slightly more so in their views of Carter. Sixty-nine percent of Americans say they have a favorable opinion of Carter, compared with a 62% favorable rating for Bush and a 63% favorable rating for Clinton.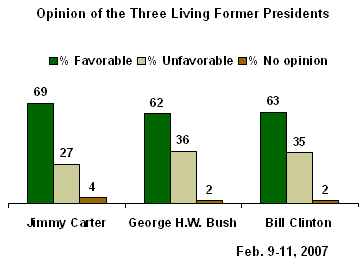 Political attitudes shape opinions of these three former presidents, but Carter is the only one of the three to be rated favorably by a majority of Republicans, independents, and Democrats -- and also by a majority of self-described conservatives, moderates, and liberals.
Fifty-nine percent of conservatives have a favorable opinion of Carter, as do 72% of moderates and 80% of liberals. Bush is viewed more negatively among liberals, with only 42% rating him favorably; Clinton is viewed favorably by just 42% of conservatives.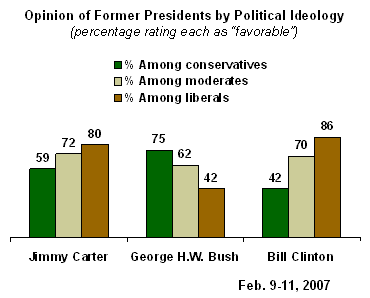 Carter's favorable ratings are similar among the three party groups with 56% of Republicans, 68% of independents, and 81% of Democrats rating him favorably. Only 42% of Democrats have a favorable opinion of Bush and just 30% of Republicans view Clinton favorably. Roughly 9 in 10 of their respective parties' faithful have positive opinions of Bush and Clinton.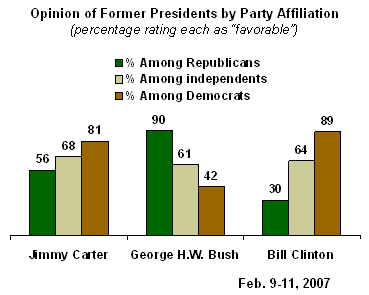 Opinion of Carter's New Book
In an earlier poll, conducted Feb. 1-4, 2007, Gallup found only about one in five Americans saying they are following the news about Carter's new book either "very closely" (6%) or "somewhat closely" (15%). Nearly 8 in 10 Americans are not following this story closely, including more than half of Americans (53%) who are not following it at all.
The poll also asked Americans for their overall view of the book. Given the low level of attention being paid to the controversy, it comes as no surprise that a majority of Americans either have a neutral opinion of the book (40%) or have no opinion at all (24%). Meanwhile, 17% say they have a mostly favorable and 18% say they have a mostly unfavorable opinion of Carter's book.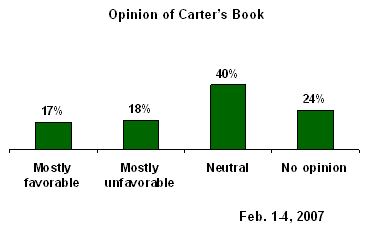 Americans who are following the controversy very or somewhat closely are divided in their views of it; 41% have a mostly favorable opinion of the book and 35% have a mostly unfavorable opinion.
Perceptions of Carter's book vary significantly by self-described political ideology. Conservatives are more likely to have a negative (29%) rather than positive (10%) view of the book while liberals are much more likely to have a favorable (36%) than unfavorable (11%) view of it. Moderates are evenly divided in their views. A majority of all three groups either give a neutral opinion or no opinion about the book.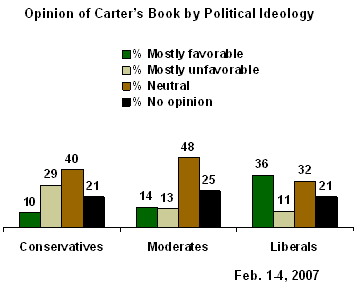 Republicans are much more likely to take a negative view of Carter's book, while Democrats are more likely to take a positive view of the book. Just 3% of Republicans say their opinion of the book is mostly favorable while 36% say it is mostly unfavorable. The results are essentially opposite among Democrats: 28% have a favorable view and 7% an unfavorable view.
It is unclear to what degree these views simply reflect basic partisan attitudes -- or reflect actual awareness of and opinions of the content of the book.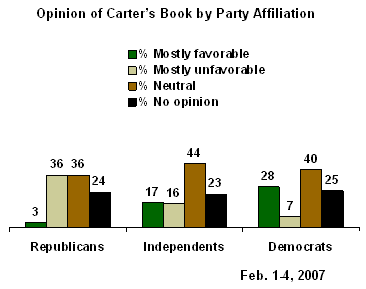 Attention Paid to Carter's New Book in Historical Perspective
Over the past 16 years, Gallup has asked Americans to rate how closely they have been following various news stories, from the 9/11 terrorist attacks, to the death of Princess Diana, to the trials of celebrities such as Michael Jackson and Kobe Bryant. Carter's book ranks near the bottom of all of the stories tested over the years. In fact, the only news event measured by Gallup that Americans paid less attention to was the CBS show Survivor after it premiered in 2000.
Liberals (35%) are much more likely than conservatives (17%) or moderates (20%) to say they are following the news of Carter's book very or somewhat closely. Democrats, independents, and Republicans are equally likely to follow the news about the book, with one in five respondents in each party group saying this.
Survey Methods
Results are based on telephone interviews with 1,006 national adults, aged 18 and older, conducted Feb. 9-11, 2007, and 1,007 national adults, aged 18 and older, conducted Feb. 1-4, 2007. For results based on the total sample of national adults, one can say with 95% confidence that the maximum margin of sampling error is ±3 percentage points.
In addition to sampling error, question wording and practical difficulties in conducting surveys can introduce error or bias into the findings of public opinion polls.