GALLUP NEWS SERVICE
PRINCETON, NJ -- British Prime Minister Tony Blair recently stated that the British government will withdraw 1,600 British troops from Iraq in the next few months. Blair also plans to step down as the leader of the government later this year.
According to the March 2-4, 2007, USA Today/Gallup poll, nearly two in three Americans, 65%, say they have a favorable opinion of Blair, while only 20% have an unfavorable opinion of him. Although Blair still rates highly in the eyes of the public, his current rating is among his lowest on record and is down substantially from the previous reading in July 2005.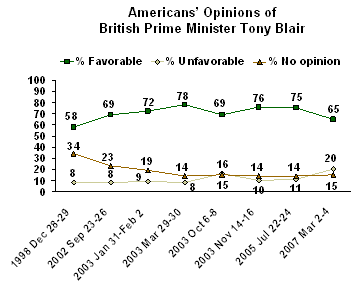 Gallup has only periodically measured opinions of the British prime minister over the past nine years. In December 1998, 58% of Americans rated Blair favorably. That marks his lowest rating, but that same poll found 34% with no opinion of him at all. By 2002, Blair's favorable rating increased to 69%, and shortly after the start of the Iraq war in 2003, his rating reached 78%, his highest rating to date. In three subsequent polls conducted in late 2003 and in 2005, his favorable ratings ranged between 69% and 76%.
Americans' positive views of Blair may be attributed to their very positive views of Great Britain more generally: Since 1989, at least 8 in 10 Americans have told Gallup that they have a favorable opinion of that country. In the latest poll, conducted in early February, 89% of Americans expressed this sentiment.
Eighty-one percent of Republicans in the current poll say they have a favorable opinion of Blair, much higher than the 60% favorable rating among independents and the 57% among Democrats. Since 2002, Republicans have been much more likely than independents or Democrats to rate Blair favorably, although a majority of all three groups consistently rate him positively. (In 1998, the three groups rated Blair similarly.) A comparison between the current results and the previous results in 2005 indicates that Blair's favorable rating deteriorated most among Democrats, dropping from 70% to 57%, but showed only modest variation among Republicans.
With Democrats' views of Blair lower now than they were in 2005, it seems likely that the prime minister's support for the war in Iraq, along with Democrats' disapproval of the war, has contributed to the overall decline in Blair's favorable rating.
Survey Methods
Results are based on telephone interviews with 1,010 national adults, aged 18 and older, conducted March 2-4, 2007. For results based on the total sample of national adults, one can say with 95% confidence that the maximum margin of sampling error is ±3 percentage points. In addition to sampling error, question wording and practical difficulties in conducting surveys can introduce error or bias into the findings of public opinion polls.
8. Next, we'd like to get your overall opinion of some people in the news. As I read each name, please say if you have a favorable or unfavorable opinion of these people -- or if you have never heard of them. How about -- [British Prime Minister, Tony Blair]?

Favorable


Unfavorable

Never
heard of

No
opinion

%

%

%

%

2007 Mar 2-4

65

20

6

9

2005 Jul 22-24

75

11

6

8

2003 Nov 14-16

76

10

7

7

2003 Oct 6-8

69

16

8

7

2003 Mar 29-30

78

8

7

7

2003 Jan 31-Feb 2

72

9

11

8

2002 Sep 23-26

69

8

14

9

1998 Dec 28-29

58

8

18

16