GALLUP NEWS SERVICE
PRINCETON, NJ -- Sen. Hillary Clinton remains the dominant presidential front-runner among Democrats nationally, with twice the support as her nearest challenger. Sen. Barack Obama, former Sen. John Edwards, and former Vice President Al Gore are tightly bunched in second place, with all other candidates in low single digits. If Gore is removed from the ballot and his supporters' second-place choices substituted, Clinton's lead becomes even more dominant, with Obama and Edwards tied far behind.
These data were collected April 2-5, just as reports of Obama's first-quarter fundraising success were made public. The survey results suggest that while Obama may have had a great deal of financial momentum in the past quarter, it was not matched by any increase in voter support. 
Basic Results
The basic trends over five Gallup Polls conducted among Democrats nationally this year are as follows: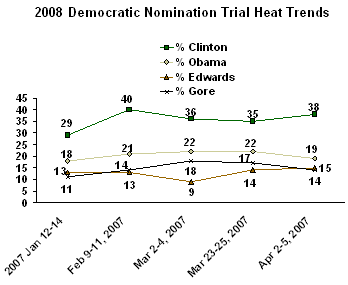 Although the exact percentages vary from poll to poll, as we would expect given the relatively modest sample sizes of Democrats involved in each poll (between 450 and 500), Clinton remains the dominant leader, far outpacing any of her rivals.
The trend for Obama has been relatively static. The Illinois senator ends up in this latest April poll essentially where he was last January; Obama gets exactly half of the vote given to Clinton.
Edwards has held his own during this time. He has averaged 13% across the five polls, and ends up at 15%. Edwards had one slightly weaker showing in early March, but in the next poll, taken shortly after his announcement that he would continue his campaign despite his wife Elizabeth's recurrence of cancer, his standing recovered.
Unannounced candidate Gore pulls in 14% of the vote of Democrats in this poll. He may have received a slight boost in polls conducted after his Oscar appearance, but the benefits he received appear to have subsided. 
There are no signs of any major movement on the part of any of the third tier of announced or potential candidates, including Wesley Clark, Joe Biden, Bill Richardson, and Christopher Dodd.
(Asked of Democrats and independents who lean to the Democratic Party) Next, I'm going to read a list of people who may be running in the Democratic primary for president in the next election.  After I read all the names, please tell me which of those candidates you would be most likely to support for the Democratic nomination for President in the year 2008, or if you would support someone else. [ROTATED: Delaware Senator, Joe Biden; Retired General, Wesley Clark; New York Senator, Hillary Rodham Clinton; Connecticut Senator, Christopher Dodd; Former North Carolina Senator, John Edwards; Former Vice President, Al Gore; Former Alaska Senator, Mike Gravel; Ohio Congressman, Dennis Kucinich; Illinois Senator, Barack Obama; New Mexico Governor, Bill Richardson; The Reverend, Al Sharpton]
BASED ON 491 DEMOCRATS AND DEMOCRATIC LEANERS
Apr
2-5,
2007

Mar
23-25,
2007

Mar
2-4,
2007

Feb
9-11,
2007

Jan
12-14,
2007

Dec
11-14,
2006

%

%

%

%

%

%

Hillary Rodham Clinton

38

35

36

40

29

33

Barack Obama

19

22

22

21

18

20

John Edwards

15

14

9

13

13

8

Al Gore

14

17

18

14

11

12

Wesley Clark

3

1

2

1

2

2

Bill Richardson

2

3

1

4

3

2

Joe Biden

1

1

3

1

5

3

Mike Gravel

1

--

1

*

N/A

N/A

Dennis Kucinich

*

*

--

*

*

*

Al Sharpton

*

--

*

--

1

N/A

Christopher Dodd

*

--

*

1

1

1

Tom Vilsack

N/A

N/A

N/A

*

*

1

John Kerry

N/A

N/A

N/A

N/A

8

6

 

 

 

 

 

 

Other

2

*

1

*

2

3

None

1

2

3

1

2

3

All/any

--

--

*

--

*

1

No opinion

5

4

4

3

4

5

 

N/A: Not asked.

Contact Gallup for full trend.
Whether Gore eventually ends up jumping into the campaign for president is an unknown factor at this point. He has said he has "no plans" to run and has not been campaigning nor fundraising.
The table represents the preferences of Democrats and Democratic-leaning independents with Gore removed, accomplished by substituting the second-place choice of the 14% of Democrats who supported Gore as their first choice: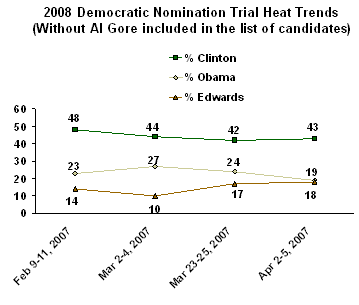 Here the extent of Clinton's lead among Democrats becomes even clearer. Clinton is in essence the runaway front-runner, with Obama and Edwards tied for second far behind, with less than half of Clinton's support.
Bottom Line
The race for the Democratic nomination at this point is still highly fluid. Candidates are dropping in and out of the race, with others hovering outside giving no firm sign yet of their intentions. Clinton's continued dominance as the front-runner across the five Gallup Polls conducted so far this year (and for that matter in national polls going back to 2005) is therefore remarkable. There has been some movement from poll to poll, as would be expected, but to this date, no other candidate has challenged her hegemony over the process.
The first-quarter fundraising reports announced last week provided an additional quantitative indicator of where the Democratic candidates stand in the race for their party's nomination. Obama received a good deal of positive press for his ability to come close to matching Clinton's first-quarter monetary total. The latest Gallup Poll was in the field when these results were made public; future polling will show whether publicity about fundraising has an effect on rank-and-file voters.
As of early April, the data show that despite holding his own with Clinton on the fundraising front, Obama continues to trail her by a considerable distance in national Democratic preferences, as do Edwards, Gore, and other third-tier candidates.  
Survey Methods
Results are based on telephone interviews with 1,008 national adults, aged 18 and older, conducted April 2-5, 2007. For results based on the total sample of national adults, one can say with 95% confidence that the margin of sampling error is ±3 percentage points.
For results based on the sample of 491 Democrats or Democratic leaners, the maximum margin of sampling error is ±5 percentage points.
In addition to sampling error, question wording and practical difficulties in conducting surveys can introduce error or bias into the findings of public opinion polls