GALLUP NEWS SERVICE
PRINCETON, NJ -- Former Republican Speaker of the House Newt Gingrich would face a serious uphill battle to be elected president, should he decide to run. So far, Gingrich has not taken any official steps to enter the race, though he has hinted that he may jump in later this year. Overall, Americans have a negative view of Gingrich, with unfavorable opinions of him outnumbering favorable ones by nearly two to one. When a recent Gallup Panel survey asked respondents for their top-of-mind thoughts on Gingrich, most of the comments had a negative tone to them. Gingrich is viewed more positively than negatively by Republicans, but is rated much less positively among this group than potential nomination rivals Rudy Giuliani and John McCain.
Opinions of Gingrich
The latest USA Today/Gallup poll finds 27% of Americans with a favorable opinion and 48% with an unfavorable opinion of Gingrich. One in four does not have an opinion of him.
Americans' ratings of Gingrich have never been particularly positive. Only once since 1994 have more Americans viewed him favorably than unfavorably -- and that was by a small 29% to 25% margin shortly after the Republicans took control of Congress in the 1994 midterm elections under his leadership. His high favorable rating was just 42% in October 1998. His negatives were above 60% throughout much of 1997.
Republicans are much more positive about Gingrich than are independents or Democrats. In the latest poll, 46% of Republicans view him favorably, compared with 26% of independents and 9% of Democrats. Historically, Gingrich has often had favorable ratings above the 50% level among Republicans, topping out at 61% on several occasions. Democrats have always viewed him negatively, and his favorable ratings among them have typically been below 20%.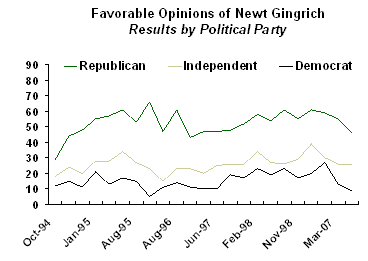 Even with a more positive than negative image among Republicans, Gingrich is at a competitive disadvantage against his would-be rivals for the Republican presidential nomination. His 46% favorable rating among Republicans pales in comparison to the 74% for Giuliani and also trails the 58% for McCain. Although Gingrich's favorable rating among Republican identifiers is higher than the 39% rating for Mitt Romney and 36% rating for Fred Thompson, their unfavorable ratings are much lower than Gingrich's. (This is mainly because a substantial proportion of Republicans are not familiar enough with Romney and Thompson to rate them.)
Gingrich is the only Republican candidate whose favorable-to-unfavorable ratio is less than two to one. Thompson's is better than three to one and Giuliani's is better than six to one.
Favorable Ratings of Republican Presidential Candidates
Results Among Republicans
June 1-3, 2007 USA Today/Gallup Poll

Favorable

Unfavorable

No
opinion

Ratio of
favorable to
unfavorable

%

%

%

 

Rudy Giuliani

74

12

13

6.2

John McCain

58

29

13

2.0

Newt Gingrich

46

32

22

1.4

Mitt Romney

39

16

45

2.4

Fred Thompson

36

11

53

3.3
Given this, it is no surprise that Gingrich has not proven to be a strong contender in the Republican presidential nomination preferences. He has averaged 7% support among Republicans and Republican-leaning independents in Gallup trial heats since mid-April, putting him roughly in fifth place behind Giuliani, McCain, Thompson, and Romney.
Preference for Republican Presidential Nomination
Results Among Republicans and Republican-Leaning Independents

Average
percentage
from
last four
polls

Jun 1-3,
2007

May 10-13,
2007

May 4-6,
2007

Apr 13-15,
2007

%

%

%

%

%

Rudy Giuliani

33

32

29

34

35

John McCain

21

19

23

20

22

Fred Thompson

12

11

12

13

10

Mitt Romney

9

12

8

7

9

Newt Gingrich

7

8

6

8

7
Top-of-Mind Impressions of Gingrich
In the May 21-24, 2007 Gallup Panel survey, respondents were asked "What comes to your mind when you think about Newt Gingrich?" The most common response, mentioned by 11%, was simply that the respondent "doesn't like him." Six percent say he is not electable. Some of the positive-oriented comments included liking him (4%) and that he is intelligent or smart (3%). Roughly one in three Americans did not mention anything in response to the question.
Next, we'd like to learn about your impressions about a
leading Republican who may run for president in 2008.
What comes to your mind when you think about Newt
Gingrich?[OPEN-ENDED]

2007
May 21-24

%

Don't like him

11

He's not electable/wouldn't get enough votes

6

Lack of experience/wouldn't be good for the job

5

Conservative

5

I like him/good guy

4

I wouldn't vote for him

4

Intelligent/smart

3

Dishonest/crooked

3

Would make a good president

3

He is washed up/a has-been

2

He's okay/fine

2

Former Speaker of the House

2

Radical/loose cannon

2

Too much baggage/bad past exposure

2

Experienced/qualified

2

Republican

1

Contract with America

1

Negative

1

Strong/good leadership

1

He is an idiot/joke

1

Hypocrite

1

 

Other

9

Not familiar with (vol.)

27

No opinion

7

(vol.) = Volunteered response

Note: Percentages add to more than 100% due to multiple responses.
An analysis of these comments shows that 38% of all respondents -- and a majority (57%) of those who provided a response -- mention something negative about Gingrich. Only 12% of all respondents and 18% of those who provided a response said something positive about Gingrich. Another 20% say something factual or neutral in tone (i.e., "Former Speaker of the House") or whose tone cannot be determined as positive or negative (i.e., "Republican").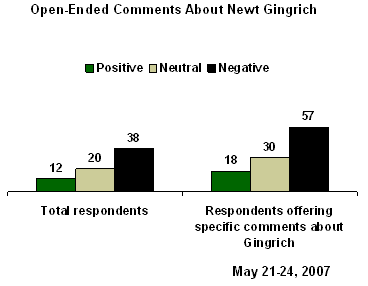 Even Republicans are more likely to say something negative than positive about Gingrich. Democrats' and independents' comments are decidedly more negative than positive.
Bottom Line
Clearly, these data suggest that a Gingrich presidency appears to be a long shot should he officially make a bid for the White House. The former Speaker of the House would need to dramatically increase positive perceptions of himself to contend for the Republican nomination -- let alone the presidency, assuming that voters would not vote for a candidate they view negatively.
As it stands, Gingrich is one of only a few of the leading candidates of either party whose favorable ratings among the general public are currently more negative than positive (Romney and Hillary Clinton are the others). Of these three, he is the only one whose ratings are substantially more negative than positive.
Survey Methods
These results are based on telephone interviews with a randomly selected national sample of 1,007 adults, aged 18 and older, conducted June 1-3, 2007. For results based on this sample, one can say with 95% confidence that the maximum error attributable to sampling and other random effects is ±3 percentage points.
Results for the sample of 329 Republicans have a maximum margin of sampling error of ±6 percentage points.
Results for this panel study are based on telephone interviews with 1,007 national adults, aged 18 and older, conducted May 21-24, 2007. Respondents were drawn from Gallup's household panel, which was originally recruited through random selection methods. The final sample is weighted so it is representative of U.S. adults nationwide. For results based on the total sample of national adults, one can say with 95% confidence that the maximum margin of sampling error is ±4 percentage points.
In addition to sampling error, question wording and practical difficulties in conducting surveys can introduce error or bias into the findings of public opinion polls.
5. Next, we'd like to get your overall opinion of some people in the news. As I read each name, please say if you have a favorable or unfavorable opinion of these people -- or if you have never heard of them. How about -- [RANDOM ORDER]?
F. Newt Gingrich
Favorable

Un-
favorable

Never
heard
of

No
opinion

%

%

%

%

2007 Jun 1-3

27

48

11

14

 

 

 

 

2007 Mar 23-25

29

48

9

14

2007 Mar 2-4

29

49

10

12

2003 Jul 25-27 ^

39

42

8

11

1998 Dec 28-29 †

38

51

2

9

1998 Nov 20-22 †

32

53

4

11

1998 Oct 9-12 †

42

49

2

7

1998 Jun 5-7

32

53

5

10

1998 Feb 13-15

37

48

4

11

1997 Dec 18-21 †

30

55

6

9

1997 Oct 27-29 †

30

58

3

9

1997 Jun 26-29

25

61

4

10

1997 Apr 18-20

24

62

6

8

1997 Jan 3-5

25

61

5

9

1996 Aug 5-7 ?

32

56

5

7

1996 Mar 15-17

24

58

6

12

1996 Jan 12-15

31

57

4

8

1995 Aug 4-7

31

47

6

16

1995 Apr 17-19 †

37

51

4

8

1995 Mar 17-19 †

33

47

6

14

1995 Jan 16-18

34

37

9

20

1994 Dec 28-30 ‡

27

35

14

24

1994 Nov 28-29 ‡

29

25

22

24

1994 Oct 7-9 ?

19

22

42

17

^ WORDING: Former Speaker of the House, Newt Gingrich

† WORDING: Speaker of the House, Newt Gingrich

? Based on registered voters.

‡ WORDING: Incoming Speaker of the House, Newt Gingrich

? WORDING: House Minority Leader, Newt Gingrich