GALLUP NEWS SERVICE
PRINCETON, NJ -- Three indicators of the public's mood, updated in a June 11-14, 2007, Gallup Poll, present a grim picture: Only 24% of Americans are satisfied with the way things are going in the country, 32% approve of the job George W. Bush is doing as president, and 24% approve of the job Congress is doing. These ratings have been generally depressed for more than a year, but descended into the current low range in just the past few months.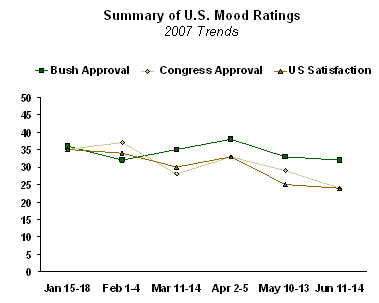 So what's wrong? One place to look for answers is Gallup's "Most Important Problem" measure in which respondents are asked to name, unaided, what they think is the most important issue facing the country. Since the question was established in 1939, it has served as a useful barometer of the issues concerning the public. Since January 2001, Gallup has updated the Most Important Problem measure each month as part of the Gallup Poll Social Series. According to this month's survey, 34% of Americans mention Iraq as the nation's top problem. No other single issue comes close being mentioned this frequently. The only other issue mentioned by more than 10% of Americans is immigration, at 15%.
A handful of other issues are named by at least 5% of Americans, including healthcare (9%) and dissatisfaction with government (9%). Even though fuel prices hit record highs last month and remain high by historical standards, only 7% mention the issue today as the nation's top problem -- much less than the peak of 22% in 2006. (Americans may be growing accustomed to seasonal spikes in the price of gas.)
The trend in Most Important Problem since January of this year suggests that increased public concern about fuel prices and immigration may be to blame for the recent downturn in Americans' mood. The percentage mentioning fuel prices has gradually increased from 1% in January to 7% today. Concern about immigration has swelled from 6% to 15% over the same period of time, with most of the increase occurring in the past two months. There has been little change in mentions of the Iraq war since January, as well as in mentions of the economy generally, suggesting neither of these otherwise important issues are the cause for the recent slump in mood.
The full list of issues named as Most Important Problem is shown at the end of this report.
Top Mentioned "Most Important Problems" Facing the Country
Recent Trend




Jun
11-14,
2007

May
10-13,
2007

Apr
2-5,
2007

Mar
11-14,
2007

Feb
1-4,
2007

Jan
15-18,
2007

%

%

%

%

%

%

Situation in Iraq/war

34

33

33

35

38

36

Immigration/illegal aliens

15

11

9

8

5

6

Healthcare

9

8

10

8

8

8

Dissatisfaction with government

9

7

9

8

7

7

Fuel/Oil prices

7

7

5

3

3

1

Economy in general

6

6

8

7

7

4

Ethics/moral/religious decline

6

6

5

5

4

5

Education

5

3

5

4

3

6

Poverty/hunger/homelessness

5

6

4

5

3

5
Still, as shown in the graph below, the percentages mentioning fuel prices and immigration today are lower than their peaks in 2006. Thus, it is not entirely clear that these are the culprits.
The graph uses public dissatisfaction as the indicator of Americans' mood. (Except for a period following the 2006 midterm elections when Congress approval was temporarily elevated, the trends in public ratings of Bush, Congress, and satisfaction with the country have been fairly uniform.)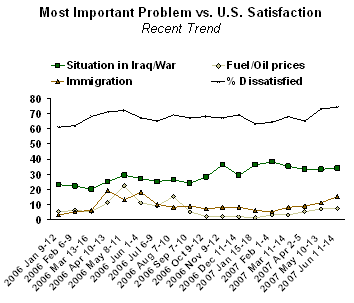 Americans' mood has been in decline for several years now, from an annual average of 60% in 2000 to 30% thus far in 2007. Apart from helping explain the dip over the past few months, Gallup's Most Important Problem trend can shed light on the reasons for the broader decline.
The chart below summarizes mentions of several issues as the nation's Most Important Problem on an annual basis from 2000 through 2007. Economic concerns rose between 2000 and 2003, from 7% to 27%, but have since receded. Terrorism emerged as a concern in 2001 and peaked at 24% in 2002, but has since subsided. Meanwhile, mentions of the situation in Iraq as the top-mentioned problem have marched steadily upward in almost perfect parallel (0.98 correlation) with the percentage of Americans saying they are dissatisfied with the way things are going in the country.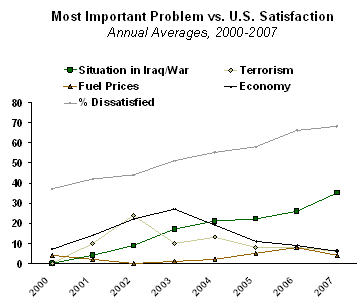 Iraq isn't as dominant of an issue on the Most Important Problem list as other issues have been historically. The percentages naming crime, drugs, race relations, environment, war, Vietnam, and terrorism have all exceeded 40% at various times. However, other than crime and Vietnam, none of these were sustained concerns as is Iraq. Iraq has been the top-ranked issue continuously for more than three years.
Bottom Line
The major increase in public dissatisfaction with the country from January 2000 to today may have been initially linked to concerns about the economy, but since 2005 it appears that Iraq has taken over as the primary driver of discontent. Other issues may still matter, however. Mentions of Iraq have been fairly flat in 2007, while mentions of immigration and fuel prices have edged upward, possibly explaining why ratings of Congress, Bush, and public satisfaction with the country have declined further since April.
Survey Methods
Results are based on telephone interviews with 1,007 national adults, aged 18 and older, conducted June 11-14, 2007. For results based on the total sample of national adults, one can say with 95% confidence that the maximum margin of sampling error is ±3 percentage points. In addition to sampling error, question wording and practical difficulties in conducting surveys can introduce error or bias into the findings of public opinion polls.
4. What do you think is the most important problem facing this country today? [Open-ended]




Jun
11-14,
2007

May
10-13,
2007

Apr
2-5,
2007

Mar
11-14,
2007

Feb
1-4,
2007

Jan
15-18,
2007

Dec
11-14,
2006

%

%

%

%

%

%

%

ECONOMIC
PROBLEMS
(NET)

24

23

23

20

22

17

16

Fuel/Oil Prices

7

7

5

3

3

1

2

Economy in general

6

6

8

7

7

4

5

Unemployment/jobs

4

4

5

3

4

5

3

Federal budget deficit/
federal debt

2

2

2

2

2

2

2

Lack of money

1

2

1

1

1

1

1

Taxes

1

*

2

1

1

1

1

Corporate corruption

1

1

*

*

1

*

*

High cost of living/
inflation

1

1

1

1

1

1

1

Gap between
rich and poor

1

*

1

2

2

1

1

Wage issues

*

1

1

*

1

1

*

Foreign trade/
trade deficit

*

1

*

*

*

*

1

 

 

 

 

 

 

 

NON-
ECONOMIC
PROBLEMS
(NET)

83

82

84

83

82

84

87

Situation in Iraq/war

34

33

33

35

38

36

29

Immigration/
illegal aliens

15

11

9

8

5

6

8

Poor healthcare/
hospitals;
high cost of healthcare

9

8

10

8

8

8

6

Dissatisfaction with
government/Congress/
politicians/candidates;
Poor leadership;
corruption

9

7

9

8

7

7

9

Ethics/moral/
religious/family
decline; dishonesty;
lack of integrity

6

6

5

5

4

5

6

Education/
poor education/
access to education

5

3

5

4

3

6

3

Poverty/hunger/
homelessness

5

6

4

5

3

5

4

Terrorism

4

7

5

5

7

6

6

Environment/
pollution

2

2

3

2

5

2

2

Lack of energy
sources;
the energy crisis

2

2

1

2

1

1

3

National security

2

1

2

1

1

2

2

Lack of respect
for each other

2

2

1

1

1

1

2

International
issues/ problems

1

1

2

2

2

1

2

Foreign aid/
focus overseas

1

2

4

1

3

1

3

Crime/violence

1

3

2

1

1

3

2

Social Security

1

*

*

1

*

1

1

Race relations/
racism

1

*

*

*

*

*

1

Guns/gun control

1

1

--

*

--

*

--

The media

1

1

1

*

*

1

*

Unifying the
country

1

1

1

1

1

2

1

Judicial system/
courts/laws

1

1

1

1

*

1

2

Welfare

1

1

1

*

*

1

*

Drugs

*

1

1

1

2

2

2

Children's
behavior/
way they
are raised

*

1

1

1

*

1

*

Election year/
presidential
choices/
election reform

*

*

*

1

*

*

*

Care for
the elderly

*

1

*

*

*

*

*

Abortion

*

*

1

*

*

*

1

Medicare

*

*

1

1

*

1

1

Lack of
military defense

*

*

*

*

*

*

--

Natural disaster
relief effort
and funding

*

*

--

*

*

*

*

War in
the Middle East

*

--

1

*

1

1

2

Abuse of power

--

*

*

*

*

*

1

Homosexuality/
gay rights issues

--

*

--

*

*

*

1

AIDS

--

--

--

--

*

--

--

 

 

 

 

 

 

 

Other
non-economic

2

2

2

4

4

4

2

 

 

 

 

 

 

 

No opinion

3

3

2

3

3

4

2

Total

138%

132%

137%

124%

123%

126%

123%

* = Less than 0.5%