GALLUP NEWS SERVICE
PRINCETON, NJ -- A new Gallup Poll finds New York Senator Hillary Clinton's strengthened frontrunner status in the Democratic field for the 2008 Democratic presidential nomination holding firm, following an early August survey in which she stretched her mid-July 12-point lead over Illinois Senator Barack Obama to 22 points. The latest Gallup Poll, conducted Aug. 13-16, 2007, finds public support for the Democratic nomination at 48% for Clinton and 25% for Obama, giving Clinton a 23-point lead.
Support for former North Carolina senator John Edwards, in third place with 13%, is similar to what he has received since May. However, support for the bottom tier of candidates appears to be dropping off compared with June and July. At 2%, support for New Mexico Governor Bill Richardson is not lower by a statistically significant margin than the 4% he received in early August, but it is lower than his readings of 5% in June and July. Similarly, Delaware Senator Joe Biden's current 1% is his weakest showing of the year, and below his high of 4% in July. Ohio Representative Dennis Kucinich and Connecticut Senator Chris Dodd remain mired in the 1%-2% range.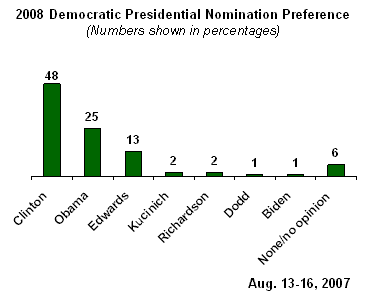 These results are based on responses from Democrats and independents who lean toward the Democratic Party, and the assumption that former vice president Al Gore will not be a candidate for the nomination. With Gore included as a possible candidate, Clinton still enjoys a solid 21-point lead over Obama (42% vs. 21%), while Gore competes with Edwards for third place. These results are also very similar to those found earlier in August.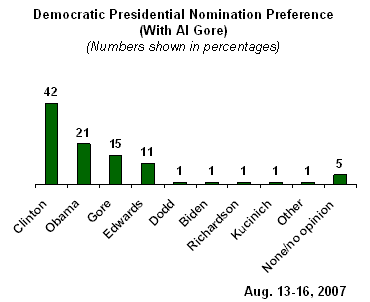 Clinton has led Obama by a significant margin in all but one Gallup Poll trial heat since February. She started off the year with a 25-point lead over Obama. That narrowed to an average of 12 points between mid-April and July, including one June survey in which Gallup found the race essentially tied. However, support for Clinton surged earlier this month to 48%, up from 40% in June, and remains at that level in the latest poll. Support for Obama has been more stable, falling in the 25%-28% range.
Gallup also observes this pattern in a separate question asking Democrats who they would vote for should the Democratic field narrow down to just Clinton and Obama. Clinton now leads Obama by 27 points on this measure, 61% to 34%. In mid-July, she held a much smaller 12-point lead; however, the current spread is similar to where she stood earlier this year.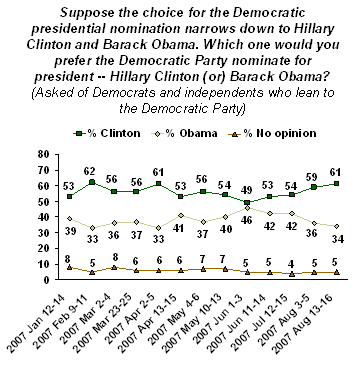 According to a combined dataset of the two August surveys, Clinton leads Obama for her party's nomination among Democratic women as well as Democratic men, with all age groups, and in all four major regions of the country. However, on a relative basis, she is particularly strong among women, in the East and South, and among older Democrats.
Support for Leading Democrats
by Major Democratic Subgroups
August 2007

Clinton

Obama

Clinton lead

Gender

%

%

 

Men

42

27

+15

Women

53

24

+29

 

 

 

Region

 

 

 

East

51

25

+26

Midwest

42

28

+14

South

55

18

+37

West

43

35

+8

 

 

 

Age

 

 

 

18-34

45

37

+8

35-54

48

24

+24

55+

51

20

+31
Looking in greater detail at the demographics, Clinton has a substantial lead among women 50 years of age and older, as well as sizeable leads among younger women and men 50 and older. However, she is in a near tie with Obama among 18- to 49-year-old men.
Support for Leading Democrats
by Major Democratic Subgroups
August 2007

Clinton

Obama

Clinton lead

%

%

 

Men, 18-49

37

34

+3

Men, 50+

48

20

+28

Women, 18-49

50

30

+20

Women, 50+

57

18

+39
Clinton does about equally well among Democratic voters who say they are extremely likely to vote in next year's primaries and those who indicate they are less likely to vote.
Support for Leading Democrats
by Major Democratic Subgroups
August 2007

Clinton

Obama

Clinton lead

%

%

 

Extremely likely

49

28

+21

Very/Somewhat/Not likely

47

21

+26
Bottom Line
Gallup's early August survey was conducted shortly after a widely publicized foreign policy speech by Obama in which he made some statements about the United States' war on terrorism and relations with leaders of hostile countries, which drew a broad range of criticism from both sides of the political aisle. To the extent that firestorm was responsible for the increase in support for Clinton's candidacy noted at the time is unclear. Given the results of the new poll, one thing is clear, however: Clinton's surge was neither a fluke of sampling error, nor merely a fleeting reaction by voters to something on the campaign trail.
Survey Methods
Results are based on telephone interviews with 1,019 national adults, aged 18 and older, conducted Aug. 13-16, 2007. For results based on the total sample of national adults, one can say with 95% confidence that the maximum margin of sampling error is ±3 percentage points.
For results based on the sample of 468 Democrats or Democratic leaners, the maximum margin of sampling error is ±5 percentage points.
In addition to sampling error, question wording and practical difficulties in conducting surveys can introduce error or bias into the findings of public opinion polls.