GALLUP NEWS SERVICE
PRINCETON, NJ -- The 2000 presidential election is shaping up to be strongly divided along gender lines, and to a greater degree than has been seen for any other such contest in at least a half century. Gallup's latest national survey of likely voters, conducted April 28-30, shows men favoring Republican candidate George W. Bush over the Democrat, Al Gore, by 58% to 37% -- a 21-point margin. By contrast, women in the same survey favor Gore over Bush by 50% to 42% -- an 8-point margin. That swing in support represents a 29-point "gender gap" separating men and women in their vote preferences, and is generally consistent with the gender voting patterns Gallup has seen since January of this year.
For years the gender gap has been a familiar theme in election analysis, particularly since 1984, when large gender voting differences emerged in the election between Republican incumbent President Ronald Reagan and Democratic challenger Walter Mondale. That year, Gallup's final pre-election survey documented an 18-point gender gap in the vote. However, in contrast with Election 2000, a majority of both men and women sided with the same candidate (Reagan) in the 1984 election. The gender gap emerged because men favored Reagan over Mondale by a 28-point margin, 64% to 36%, compared to women, who favored Reagan by just 10 points, 55% to 45%.
Gallup polls going back to President Eisenhower's first election show that relatively large gender gaps -- on the order of 10 or more points -- were evident in 1952, 1956, 1976, 1980, 1984 and 1996. Smaller gender gaps were seen in 1960, 1964, 1968, 1972, 1988 and 1992.
Nothing, however, comes close to the gender gap evident in the present election, in terms of both its size and the fact that men and women are throwing their support to different candidates. The 18-point gender gap in 1984 comes closest to what is seen today, but as noted, a majority of men and women favored the same candidate in that contest, making the significance of the gap far less important.
Have Women Always Been More Democratic in Their Voting?
Looking at Gallup's long-term pre-election trends, it seems clear that women have tended to vote more Democratic than men have in recent years, starting with the 1980 presidential election. Prior to 1964, women tended to vote more Republican than did men. Between 1964 and 1976, men and women were roughly similar in their vote, with 1976 standing out as an exception. In that year, Gallup polls showed women voting more Republican, with a majority of women favoring Republican presidential candidate Gerald Ford and a majority of men favoring Democrat Jimmy Carter.
Have Men and Women Often Sided With Different Candidates?
Since 1980, Republicans have won three presidential elections (1980, 1984 and 1988) and Democrats have won two elections (1992 and 1996). In each case the plurality or majority of men and women sided with the same candidate, although by varying margins. In 1980, both men and women favored Reagan over Carter, but men by a 15-point margin, compared to only a 5-point margin among women -- representing a 10-point gender gap. As noted, 1984 saw an 18-point gender gap, with both men and women voting to re-elect Reagan, but men by a much larger margin than women. In 1988, both men and women favored Republican George Bush over Democrat Michael Dukakis; however, Bush led among men by 12 points, compared to just 4 points among women -- an 8-point gender gap. In 1992, both men and women favored Democrat Bill Clinton over the incumbent Republican president, George Bush. However, women favored Clinton by a slightly wider margin than men did -- resulting in a 4-point gender gap. Finally, in 1996, Gallup showed Clinton winning re-election over Republican challenger Bob Dole by just a 1-point margin among men, but by 15 points among women -- yielding a 14-point gender gap.
In this context, the current voting patterns by gender are remarkable, with Texas Governor Bush leading Vice President Gore by 21 points among men, and Gore leading Bush by 8 points among women.
The last time men and women sided with different candidates was 1976, when a majority of men backed Jimmy Carter and a majority of women backed Gerald Ford. Prior to that, there are only two other examples of divergent vote choices. In 1968, men tended to side with Republican Richard Nixon over Democrat Hubert Humphrey by a 2-point margin, 43% to 41%, and women sided with Humphrey over Nixon by a 2-point margin, 45% to 43%. And in 1960, men sided with Democrat John F. Kennedy by 4 points, 52% to 48%, and women backed Republican Richard Nixon by 2 points, 51% to 49%. In each of these three cases (1960, 1968 and 1976), the vote choice of men prevailed, with Kennedy, Nixon and Carter winning their respective elections. Thus, there is no example in Gallup election trends dating back to 1952 of a president being elected solely on the basis of the women's vote, while there are three examples of the election being decided by men.
Is Bush Underperforming Among Women, or Overperforming Among Men?
One election that puts George W. Bush's current standing with the genders in context is 1992. Coincidentally, in that election President George Bush, facing Bill Clinton, suffered an identical deficit among women as does his son today (8 points). However, a sharp contrast is evident in the vote pattern of the two Bushes among men. In 1992, men favored Clinton by a 4-point margin, 41% to 37%. Today, men favor George W. Bush by a 21-point margin. Of course, the senior Bush lost the 1992 election to Clinton by 6 percentage points. By contrast, Bush the junior currently leads Al Gore by 5 percentage points. In these terms it therefore appears George W. Bush is overperforming among men, rather than underperforming among women.
Is the Gender Gap Stable in 2000?
Men's solid preference for George W. Bush over Al Gore has been a constant factor in Gallup's 2000 Election polls, dating back more than a year. Men have favored Bush over Gore by a 20-point or greater margin in 20 out of 28 Gallup election polls taken since March 1999. By contrast, the candidate preference of women has switched from favoring Bush to now favoring Gore. Women favored Bush throughout 1999 and into early January 2000. However, once the primary election season started in January, Gore picked up support among women, and has generally managed to hold their support ever since.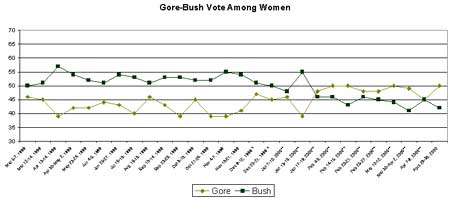 Survey Methods
The latest results are based on telephone interviews with a randomly selected national sample of 499 likely voters, 18 years and older, conducted April 28-30, 2000. For results based on this sample, one can say with 95 percent confidence that the maximum error attributable to sampling and other random effects is plus or minus 5 percentage points. In addition to sampling error, question wording and practical difficulties in conducting surveys can introduce error or bias into the findings of public opinion polls.
VOTE FOR PRESIDENT BY GENDER, 1952-2000

All Trends Through 1996 Based on Final Pre-Election Gallup Surveys

National

Men

Women

Gender Gap

%

%

%

%

April 28-30, 2000

Democrat: Gore

44

37

50

Republican: Bush

49

58

42

GAP

-5

-21

8

29

1996

Democrat: Clinton

49

45

53

Republican: Dole

41

44

38

GAP

8

1

15

14

1992

Democrat: Clinton

43

41

46

Republican: Bush

38

37

38

GAP

5

4

8

4

1988

Democrat: Dukakis

46

44

48

Republican: Bush

54

56

52

GAP

-8

-12

-4

8

1984

Democrat: Mondale

41

36

45

Republican: Reagan

59

64

55

GAP

-18

-28

-10

18

1980

Democrat: Carter

41

38

44

Republican: Reagan

51

53

49

GAP

-10

-15

-5

10

1976

Democrat: Carter

50

53

48

Republican: Ford

48

45

51

GAP

2

8

-3

11

1972

Democrat: McGovern

38

37

38

Republican: Nixon

61

63

62

GAP

-23

-26

-24

2

1968

Democrat: Humphrey

42.7

41

45

Republican: Nixon

43.4

43

43

GAP

-0.7

-2

2

4

1964

Democrat: Johnson

61

60

62

Republican: Goldwater

39

40

38

GAP

22

20

24

4

1960

Democrat: Kennedy

49.9

52

49

Republican: Nixon

49.8

48

51

GAP

0.1

4

-2

6

1956

Democrat: Stevenson

42

45

39

Republican: Eisenhower

58

55

61

GAP

-16

-10

-22

12

1952

Democrat: Stevenson

44

47

42

Republican: Eisenhower

55

53

58

GAP

-11

-6

-16

10