GALLUP NEWS SERVICE
PRINCETON, NJ -- President George W. Bush has now completed his first six months in office -- January 20 to July 19. A Gallup poll review of his job approval ratings during this time shows an average of 58% across his first quarter, and 56% across the second quarter. The public's view of the Bush administration, from this big picture perspective, has been quite stable -- so far. Bush's overall six-month job approval average is 57%.
George W. Bush's Job Approval Rating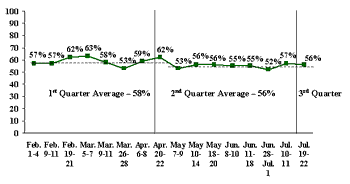 This stability stands in contrast to the last two presidents, whose first to second quarter averages changed significantly. Bill Clinton dropped from a 55% average in his first quarter to 44% in the second quarter of his term in 1993. George Bush, the current president's father, went from 57% in his first quarter in office in 1989 to 64% in the second quarter. Ronald Reagan, Richard Nixon, John F. Kennedy and Dwight D. Eisenhower had, like the current president, quite stable averages across their first two quarters in office. Jimmy Carter's average fell five points from the first to the second quarter in his first year in office, 1977.
Job Approval Ratings of Presidents
in Their First and Second Quarters
(Percent Who Approve)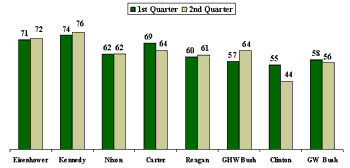 Survey Methods
These results are based on a series of surveys, each of which is based on telephone interviews with randomly selected national samples of approximately 1,000 adults, 18 years and older. For the results based on any specific survey sample, one can say with 95 percent confidence that the maximum error attributable to sampling and other random effects is plus or minus 3 percentage points. For results that are combined to provide quarterly averages, the sampling error is smaller. In addition to sampling error, question wording and practical difficulties in conducting surveys can introduce error or bias into the findings of public opinion polls.