It's no secret that qualified nurses are in short supply. As Dr. Michael Greenberg commented in American Medical News, "The U.S. Department of the Interior spends millions of dollars to protect our nation's endangered species. It writes long lists of plants and animals whose populations are dangerously low and hires scientists to figure out ways to increase their numbers. Too bad they haven't turned their attention to nurses."
Healthcare executives have been actively recruiting nurses worldwide, but considering the profession's high turnover rate, retention efforts are just as important. According to Sandra Feldman, president of the American Federation of Teachers (AFT), "Hospitals have to do what it takes to retain the nurses they have, try to bring back those that have left in frustration, and recruit new people into the profession." Unfortunately, the prognosis isn't great. The Journal of the American Medical Association projects that by 2020 the U.S. will face a 20% deficit in the number of employed nurses versus projected need.
The Manager Is the Key
In a November 1999 study, the Nursing Executive Center found that more than 40% of nurses who were satisfied with their immediate manager considered leaving their current employer in the last year. For those who were dissatisfied with their managers, the figure rose to 90%.
Assuming a competitive salary and a similar environment, Gallup's research indicates good managers are the lynchpins to retention. Nurses leave people, not organizations.
In 2000, Gallup administered its Q12 employee engagement survey to registered nurses (RNs) at 152 hospitals across the country. The Q12 questions measure employee engagement and link directly to critical performance outcomes, including productivity, employee retention, customer retention, safety and profitability. During this nursing shortage, successfully retaining staff is essential and the nursing manager is instrumental in achieving this. Developing a personal relationship with staff and helping to provide a positive work environment are their fundamental duties. Not only will this reduce turnover, it can lead to a healthier bottom line.
Using the GrandMean results (the combined average score for each of the 12 core questions), hospitals were divided into two categories -- the top half and the bottom half. Voluntary turnover for registered nurses in 2001 was examined for each group. Gallup found turnover among RNs to be about 16% lower for hospitals in the top half than for hospitals in the bottom half. (See graph.)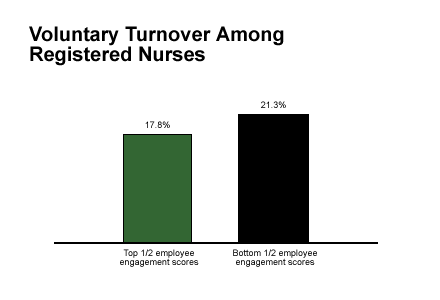 Lower Turnover Equals Healthier Bottom Line
That 16% could make huge difference. Gallup's research indicates that at an average replacement cost of $50,000 per nurse, the difference in nurse turnover represents approximately $300,000 per hospital studied.
Nursing industry experts agree that in order attract and retain quality nurses, healthcare facilities must examine the quality of their workplaces. According to Marilyn Lang, RN and editor of Patient Care Staffing Report, "A lot of hospitals are striving to be 'best in class' employers … the group doesn't have to be huge (to compete). It boils down to creating an environment that is going to attract nurses because they're out kicking the tires."
Key Points
During this nursing shortage, successfully retaining staff is essential. The fundamental duties of nursing managers -- including developing personal relationships with staff members and helping to provide a positive work environment -- are critical in this regard. The reduction in turnover will in turn lead to a more stable work environment and a better financial situation.