Editor's Note: Please see also this article's companion piece "Al-Jazeera Viewers Perceive West Differently".
When Al-Jazeera -- the Qatar-based 24-hour Arabic-language news station -- broadcast a previously unaired videotape of Osama bin Laden on April 15, much of the world took notice. Obviously, the footage held extraordinary interest for millions -- but attracting a massive audience is not unusual for Al-Jazeera. The station boasts a regular viewership of some 35 million Arabs in its primarily Middle East market, as well as hundreds of thousands of viewers in the United States and Europe, and U.S. government officials ranking at least as high as Secretary of State Colin Powell.
The privately owned station is something of a phenomenon in the Arab world, where state-run media is the norm. Its unique brand of reporting has been an occasional thorn in the side of Arab and Western leaders alike. On Oct. 9, 2001, State Department spokesman Richard Boucher answered reporters' questions about Al-Jazeera's coverage of bin Laden and the U.S. war on terrorism in Afghanistan saying:
…The Secretary [of State Colin Powell] met with the Emir of Qatar and expressed some concern about some of the inflammatory rhetoric that was coming out on Al-Jazeera and pointed it out to the emir, as the party who is most responsible for their operations. We would certainly like to see them tone down the rhetoric.
In the wake of Sept. 11, and in the midst of the current Palestinian-Israeli violence, the question is, how much influence does Al-Jazeera wield over the views of the Arab world about the West?
Viewers' Choice for TV News
Residents of the nine predominantly Islamic nations surveyed in Gallup's landmark Poll of the Islamic World were asked to name the television station they turn to first to catch up on the news. The results show that Al-Jazeera is an important purveyor of television news in all of the Arab countries included in the study -- Saudi Arabia, Morocco, Kuwait, Jordan and Lebanon.
Al-Jazeera emerged as the clear favorite for news in Kuwait, Jordan and Saudi Arabia. In Lebanon, it vies for first with the Lebanese Broadcasting Channel (LBC). In Morocco, Al-Jazeera is one of three dominant stations, with two local stations faring slightly better. Overall, the Middle East Broadcasting Center, the region's other satellite television station, places well behind Al-Jazeera as the public's choice for news, but elicits stronger support than most local and state-run options. Western broadcast stations, including CNN and the BBC, have more limited strength throughout the region. The following chart details these consumers' preferences for television news.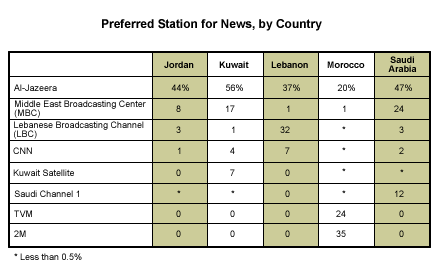 Perceptions About Al-Jazeera's News Style
When attitudes toward various television stations are probed further, it is clear that Al-Jazeera is regarded very positively in the Arab world. High percentages in each country credit the station with being comprehensive, having unique access to news, presenting the most daring/unedited news and always being on the site of news events. These ratings are particularly high in Kuwait and Jordan.
Objectivity is perceived as Al-Jazeera's weakest area, with less than half of respondents in some countries and barely a majority in others associating this virtue with the station's coverage.
Not surprisingly, very few in these Arab nations think of Al-Jazeera when they consider the phrase "has a pro-Western bias." This distinction is reserved for CNN.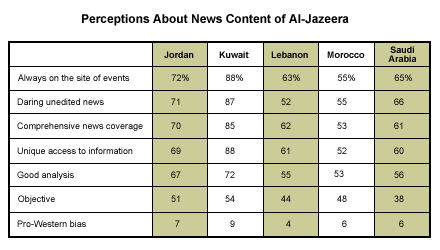 As shown in the table below, Al-Jazeera's reputation for objectivity is strongest relative to that of other stations in Jordan, where 51% say the station is the most objective, considerably more than the 21% who say the same about MBC. Al-Jazeera is much less likely to be singled out in this regard in Kuwait, Saudi Arabia, Lebanon and Morocco, where respondents are equally likely to associate objectivity with other stations (i.e., MBC in Saudi Arabia and Kuwait and LBC in Lebanon).