By the 2008-2009 school year, the United States will need 2.4 million new elementary and high school teachers, according to National Education Association estimates. The impending teacher shortage, which will result from a wave of retiring baby boomers, new standards for reduced class sizes, and increased school enrollment, is already manifesting itself in many areas of the country, especially large urban centers.
To make matters worse, a 2001 Gallup Youth Survey* indicates that the number of teens planning careers in education will not fill the future gap. When asked about their career plans, only 12% of U.S. teens identified teaching as either their first or second choice, suggesting the shortage may only get worse. Public support for strategies to alleviate the problem varies considerably.
Hiring Uncertified Teachers
School districts in many parts of the country have resorted to hiring teachers without proper certification in order to fill chronic vacancies. The New York Times reported April 29 that 12,828 of New York City's 80,000 public school teachers (about 16%) are uncertified. More than 1,100 of these uncertified teachers have failed the state-administered basic teacher certification exam at least four times. Other parts of the country face similar problems. A Texas A&M report published early this year stated that almost 25% of the new teachers hired in Texas aren't fully certified.
In 2001, the Phi Delta Kappa/Gallup education poll** asked U.S. adults about a number of proposed remedies for the teacher shortage. (See graph below.) Not surprisingly, results show that more than eight in 10 (82%) Americans disapprove of "lowering state requirements for the training to become a licensed teacher." When asked if they would support "permitting persons with bachelor's degrees to become teachers without requiring preparation in the field of education," respondents were somewhat less negative. About two-thirds (67%) said they oppose this idea, while 31% said they favor it.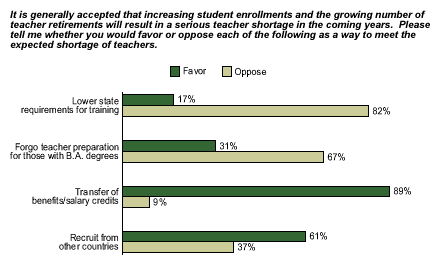 Importing Teachers
Some school districts have recruited teachers from other districts or states -- or even other countries -- where teachers are more plentiful to address their teacher shortages. According to a Houston Chronicle story published last summer, the Houston school district recruited teachers from Mexico, Spain, Germany, Canada and the Philippines to fill vacancies for the 2001-2002 school year. California, another state with a severe teacher shortage, is heavily recruiting them from other states. The California Center for Teaching Careers launched a media campaign in early 2002 urging Colorado teachers to come to California, and many California districts also recruit heavily in the Midwest.
Americans are very supportive of helping teachers move more easily from one district or state to another, and even favor recruiting teachers internationally. Eighty-nine percent (89%) of U.S. adults favor "making it easier for teachers to transfer pension benefits and receive salary credit when changing jobs between school districts and states," and 61% support "recruiting qualified teachers from other countries."
Other Solutions
Other teacher-shortage solutions that U.S. adults favor include "having the federal government provide loans that would be forgiven if the prospective teacher entered the field of teaching" (73% favor this idea, 25% oppose it), and "raising teacher salaries" (88% favor this, 11% oppose it).
Key Points
The teacher shortage is clearly a problem that should be addressed soon in order to avoid a full-blown crisis in American education. However, the American public is unwilling to compromise on solutions that they feel may in any way reduce standards for the quality and competency of teachers. In order to beef up school faculties while also appeasing the public, school districts will be forced to widen their recruiting efforts beyond their own districts and states, and boost financial incentives to attract new teachers.
*Findings for teens are based on telephone interviews with a representative national sample of 501 teen-agers, aged 13 to 17, conducted December 2000 through February 2001. For results based on this sample, one can say with 95% confidence that the margin of sampling error is ±5%.
**Results are based on telephone interviews with 1,108 adults, aged 18 and older, conducted May to June 2001. For results based on this sample, one can say with 95% confidence that the margin of sampling error is ±3%.