New Gallup/UBS Index of Investor Optimism -- EU5 poll data* show European investor optimism falling to 8 points in June -- just four higher than it was when the Index was benchmarked in October 2001. More importantly, the Personal Dimension of the Index reached a new low of 25 in June, down from a high of 44 in January and 42 in March of this year. The Economic Dimension also declined further in June, reaching -17, revealing that EU5 investors continue to be pessimistic about the European economy, though they're not as negative as they were in October 2001 when this dimension was benchmarked at -29.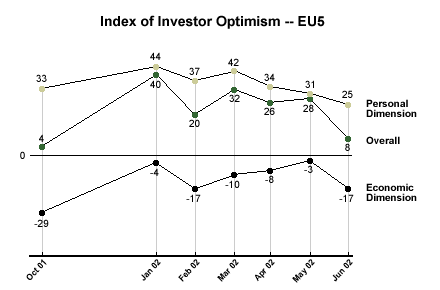 What Does the Drop in Optimism Mean?
Conventional wisdom suggests that a U.S. recovery will lead the worldwide economic turnaround. Over the past several months, European investors have actually been more positive about the prospects for the U.S. economy than they have about prospects in Europe or anywhere else in the world. As a result, it is not surprising that optimism among European investors has tracked pretty closely with that of their U.S. counterparts -- or that when optimism among U.S. investors dropped sharply in June, it was matched by a corresponding drop across the Atlantic.
The key question is whether declining investor optimism in the United States and Europe will dissipate the economic recovery worldwide. While some economists might argue that the crisis of confidence affecting Wall Street will not impact Main Street U.S.A., I don't see how consumers can keep spending in the face of deteriorating investor optimism (See "How Widespread Is the Crisis of Confidence?"). By the same token, I think the confidence issues currently plaguing Wall Street are a worldwide problem, not one that troubles the United States alone, and the negative impact of declining investor confidence will halt the worldwide economic recovery in the months ahead.
Is Now a Good Time to Invest in the International Markets?
Well, if you live in Europe, you may want to invest more heavily in the EU5 if you feel that will help you manage the risks in the financial markets. Of course, if international investors continue to take money out of U.S. financial markets, it will be harder for the U.S. economy to regain its upward momentum.
For those of us in the United States, it's hard to see how investing in other economies around the world is going to produce big gains if the U.S. economy stagnates later this year. On the other hand, if the dollar continues to weaken, then the relative value of international investments increases. Of course, this means that dollar speculation becomes part of your investment strategy.
In this regard, it should be noted that although 42% of EU5 investors continue to find the dollar the most attractive currency in June, this is down from 53% in May. Even more importantly, 49% of EU5 investors told us that the U.S. dollar is overvalued when they were interviewed earlier this month. While I continue to think that the falling U.S. dollar will not reach crisis proportions, these declines in EU5 investor perceptions of the U.S. dollar are not encouraging.
*Results for the Index of Investor Optimism -- EU5 are based on interviews with approximately 200 investors each in France, Germany, Great Britain, Italy and Spain conducted June 1-14, 2002. For results based on a total sample of approximately 1,000 investors, one can say with 95% confidence that the margin of sampling error is ±3%. In addition to sampling error, question wording and practical difficulties in conducting surveys can introduce error or bias into the findings of public opinion polls.