When patients are asked about the most important factor in selecting a hospital, the most frequent response is simply "quality." But try asking them how to determine the level of quality at a hospital, and you will encounter hesitancy and confusion. Healthcare quality is extremely important to the typical patient, but it is often difficult for them to define or even identify it.
Faced with this confusing situation, how will patients react? Usually by evaluating the attributes with which they have the most knowledge and experience. This is why attributes such as hospital cleanliness are so important. From a patient's perspective, if a hospital cannot maintain the cleanliness of its facilities, how can it be trusted perform well on other attributes that the patient is unequipped to notice?
Satisfaction With Hospital Cleanliness
According to the 2001 Gallup Patient Database, hospital patients tend to be most satisfied with the cleanliness of outpatient facilities and least satisfied with the cleanliness of inpatient areas and emergency departments.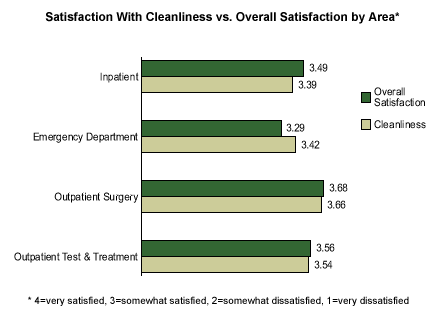 Satisfaction with cleanliness in outpatient surgery and outpatient test and treatment facilities is very similar to overall satisfaction with service in those areas. Satisfaction with emergency department cleanliness exceeds overall satisfaction with ED services. In part, this may be explained by the poorer performance of emergency rooms on another easily understood and critical factor -- waiting time. The area with the most room for improvement is clearly inpatient services. Not only do inpatient services receive the lowest cleanliness satisfaction scores, but satisfaction with cleanliness also scores well below overall service satisfaction in that department.
How to Improve Satisfaction With Cleanliness
In consulting with healthcare clients on this item, I have discovered several ways to improve satisfaction with hospital cleanliness.
1. Value great housekeepers and learn from your best.
Housekeepers should not be viewed as unskilled, entry-level personnel. Great housekeepers have a special talent and should be recognized and rewarded for their performance. Identify your best and study how they perform. Incorporate this knowledge into your hiring and training practices.
2. Recognize that cleanliness is a perception.
Patient evaluations of cleanliness are based on perceptions. Patient perceptions may differ from the perceptions of nurses or managers. If walls are dingy and scarred, they may be perceived as dirty despite frequent cleaning. Lacking adequate storage, many nursing units stack supplies and equipment in hallways. As patients and visitors navigate these narrow, cluttered hallways, they may view the unit as unclean even though it is spotless.
3.Think like a patient.
As people walk through hospitals, they tend to look down. Thus, the floor has a disproportionate impact on perceptions of cleanliness. Many inpatients spend large lengths of time in bed. What are they looking at (as they have little else to do)? The ceiling. A spider web in a corner will be easily spotted. In either instance, cleanliness is evaluated just as it would be in the patient's home. Is the bathroom clean, are the trash cans empty?
Key Points
Cleanliness may not be a strong indicator of hospital quality, but it is an indicator that patients have the expertise to evaluate. Will a clean hospital be viewed as higher in quality? Probably not. But cleanliness is a dissatisfier -- an attribute that can negatively affect perceptions of an otherwise satisfying hospital stay. My experience indicates that when a patient perceives cleanliness to be poor, it can become a key predictor of low patient satisfaction. As cleanliness improves, its importance in determining satisfaction declines. Cleanliness will not make a great hospital, but it can cause an otherwise good hospital to be perceived poorly.