Gallup's workplace research shows that supervisors or bosses play crucial roles in determining their teams' productivity. In every company there are some workgroups that are highly productive and others that are not. These differences exist no matter how high or low a company's overall productivity. Very often, these differences can be traced to individual managers. As a result, how you rate your boss is not just an issue of personal preference -- it has a huge impact on your personal success, and that of the team you work with and the company you work for as a whole.
Most Employees Rate Their Bosses Favorably
According to the September Employee Outlook Index poll -- a joint effort of UBS and The Gallup Organization*, three in four employees (75%) of for-profit, private sector companies say that their boss is "great" or "excellent" to work for. On the other hand, about one in five employees rate their boss as "only fair" or "poor."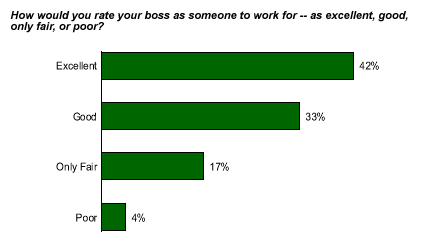 Men and Women Give and Get Similar Ratings
Overall, male and female employees provide similar ratings of their boss as someone to work for. About three-fourths of both male employees (74%) and female (75%) employees rate their boss as "excellent" or "good." Similarly, about one in five males (20%) rate their boss as only fair or poor and about the same number of female employees (23%) rate their boss this way.
Significantly, these ratings are similar whether the employee's boss is a man or a woman. Three out of four of employees with a male boss (78%) rate him as excellent or good; about the same percentage of employees with a female boss (74%) rate her that way.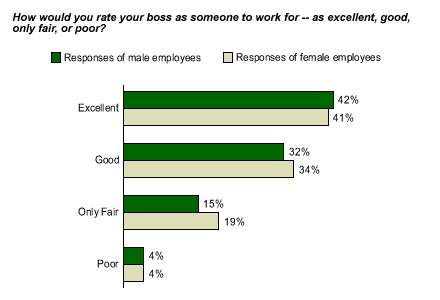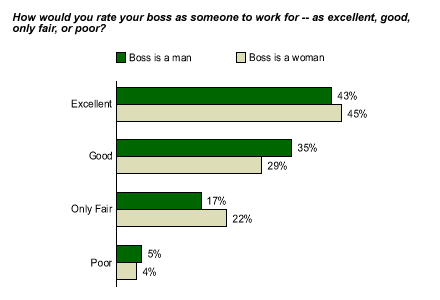 Most Bosses Also Do a Good Job
About three in four employees also say that their boss is doing an excellent or good job for their company. This is the case among both male employees (75%) and female (78%) employees and among both those who have a man (81%) a woman (79%) as a boss.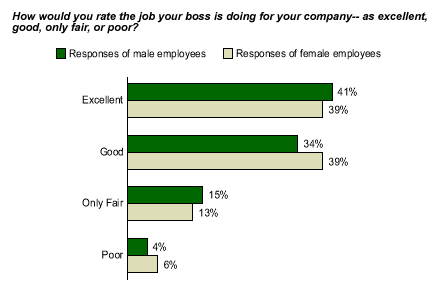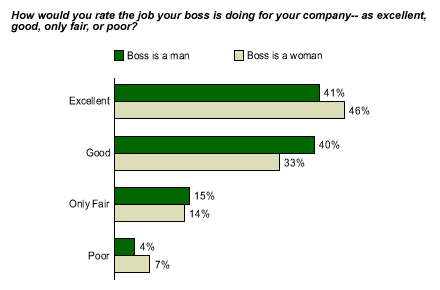 Key Points
The next revolution in productivity is not going to be technological in nature -- it will be managerial. Companies are going to learn to maximize their human capital by optimizing the use of their management and employee talent.
In light of Gallup's workplace research, it is not surprising that about one in five employees give their boss a low rating and about the same percentage say that their boss is doing an only fair or poor job for the company. Gallup data show that 17% of U.S. employees are "actively disengaged," meaning they are fundamentally disconnected from their work. Most, if not all, employees in this group are likely to give their boss a low rating.
During the months ahead, many companies and their managers will face particularly challenging situations as they adjust to a much weaker-than-anticipated economy. The companies that handle the situation in a way that maximizes their number of "engaged" employees (employees who identify with and act to promote their companies' objectives), while minimizing their number of "actively disengaged" employees, are most likely to maintain and even enhance their overall productivity. The companies with that kind of managerial success will be the ones most likely not only to survive, but to thrive in the years ahead.
*Results are based on telephone interviews with 576 adults who are employed with non-governmental, for-profit companies having five or more employees, aged 18 and older, conducted Sept. 5-8, 2002, and Sept. 23-26, 2002. For results based on the total sample, one can say with 95% confidence that the maximum margin of sampling error is ±4%.