GALLUP NEWS SERVICE
PRINCETON, NJ -- The Republican victories in Tuesday's election, which allow the GOP to retain majority control of the House of Representatives, largely resulted from a greater turnout of Republicans than Democrats. The last CNN/USA Today/Gallup poll before the election showed Republicans winning the national congressional vote by a margin of 51% to 45%, virtually identical to the actual voting results, according to preliminary reports. The poll also showed that Republicans expressed greater enthusiasm for the election than did Democrats, and that the projected turnout rate for Republicans was 43%, compared with 36% for Democrats. That larger turnout appears to have provided the margin of victory for the GOP, as independents split their votes almost equally between the two parties.
Percent of Each Party
Voting in Congressional Election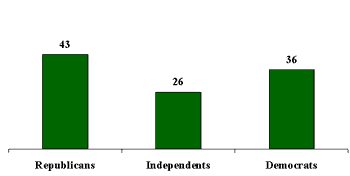 Oct 31-Nov 3, 2002
The Republican margin of victory was not evident in polls taken in September and October, when Democrats led among likely voters by margins of one to four percentage points. The nine-point swing in the lead over the last two weeks of the campaign, from a Democratic advantage of three points on Oct. 21-22, to a six-point Republican advantage on Election Day, occurred at the same time that President George W. Bush was making numerous campaign stops around the country to support his party's candidates.
Projected Vote for Congress
Bush's campaigning in the last week may have been a major factor in energizing the nation's Republicans. Polling in September and early October showed Republicans and Democrats roughly equal in the proportion of each group that was giving "a lot" or "some" thought to the election (used by Gallup as one key measure of a respondent's likelihood to vote). The final pre-election poll, conducted Oct. 31-Nov. 3, showed the expected surge in attention paid to the election by each partisan group that is usually observed at the end of a campaign. However, the Republicans' surge was far greater than that observed among Democrats or independents, and the final poll showed a 10-point advantage for the Republicans on this measure.
Thought Given to the Election by Party,
2002 Campaign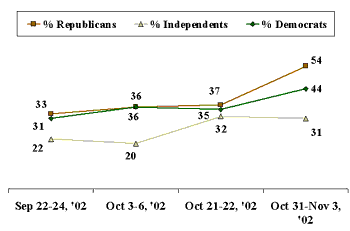 Perhaps also relevant is that Bush's 63% approval rating among all Americans remains one of the highest ever measured by Gallup after a president's first two years in office. In addition, just before the election, 35% of voters said their vote was intended as a message of support for Bush, with only 18% saying it was a message of opposition. Four years earlier, by contrast, the 23% of voters sending a message of support to President Bill Clinton was matched by an identical number sending the opposite message.
Will your vote for a candidate be made in order to send a message that you SUPPORT George W. Bush, be made in order to send a message that you OPPOSE George W. Bush, or will you NOT be sending a message about George W. Bush with your vote?

Message to support


Message to oppose


Not a message

Don't plan to vote (vol.)


No
opinion

%

%

%

%

%

Likely Voters

George W. Bush

(LV) 2002 Oct 31-Nov 3

35

18

45

1

1

Bill Clinton

(LV) 1998 Oct 29-Nov 1

23

23

52

*

2
Major Divisions Among Voters Across the Country by Demographic Characteristics
The last pre-election poll shows major splits among groups across the country. A North-South divide is still a major fact of American politics, with voters in the Northeast supporting Democrats by a 16-point margin, and voters in the South supporting Republicans by an even larger 22-point margin. The Midwest and West are almost evenly divided, but showing small margins in favor of Republicans.
Support by Region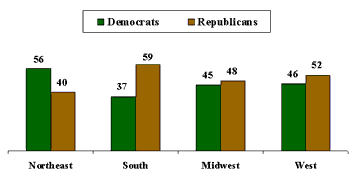 Oct 31-Nov 3, 2002
Similarly, there are major divisions between city-folk and country-folk. People who live in highly urban areas support the Democrats by 10-percentage points, suburban voters support Republicans by the same margin, and rural voters opt for Republicans by a 16-point margin.
Support by Urbanicity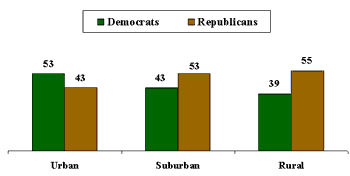 Oct 31-Nov 3, 2002
By far the largest divide among American voters continues to be racial. White voters support Republicans by a 20-point margin, 58% to 38%, while nonwhites support Democrats by a 68-point margin, 82% to 14%.
Support by Race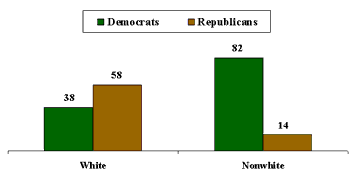 Oct 31-Nov 3, 2002
Socio-economic differences also characterize the American electorate, with lower income voters supporting the Democrats and higher income voters the Republicans. The two highest income groups, those earning from $50,000 to $75,000 a year and those earning $75,000 or more, support Republicans by 22 points and 13 points, respectively. Middle-income voters, making $30,000 to $50,000 a year, are evenly divided, while the lowest income voters support Democrats by a 15-point margin.
Support by Income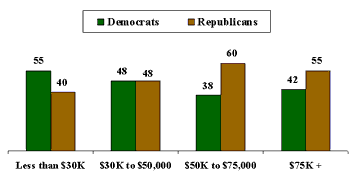 Oct 31-Nov 3, 2002
Major differences exist among the educational categories, but not in a linear direction. The greatest support for Democrats is found among voters with a high school education or less, and those with postgraduate training. Voters with some college education, or those who have earned a college degree, favor the Republicans.
Support by Education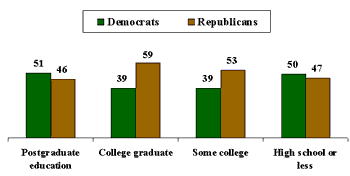 Oct 31-Nov 3, 2002
The "gender gap" has received a great deal of publicity, and indeed men voted for Republicans by a 16-point margin, while women supported Democrats by four points. Still, as indicated in an earlier Gallup release, the gender gap is really a gap between married and unmarried women -- with single women constituting one of the strongest groups for Democrats.
Support by Gender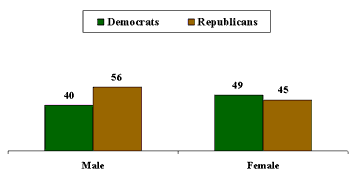 Oct 31-Nov 3, 2002
In this election, there are also significant differences among voters by age groups. Younger voters (under 35) voted for Democrats by a 59% to 39% margin, but the three older age groups all supported Republicans by margins of eight to 12 points.
Support by Age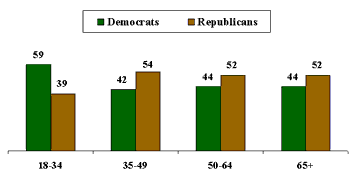 Oct 31-Nov 3, 2002
Faltering Economy Did Not Hurt Republicans
One of the major findings of the poll of voters is that the struggling economy did not hurt the Republicans. Twenty-eight percent of voters rated the economy as excellent or good, 45% as only poor, and 26% as poor. Democrats fared well only among the quarter of voters who rated the economy as poor, winning that group by 69% to 25%. Republicans won among the voters who gave the economy high ratings by about the same margin. Those who said the economy was only fair split their vote about evenly, although leaning toward the Republicans.
Support by Rating of Economy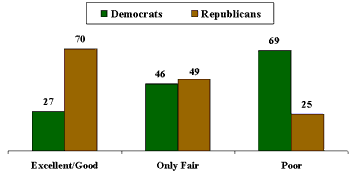 Oct 31-Nov 3, 2002
Another indicator that the economy did not hurt Republicans is that voters who named the economy as the most important issue split their vote between the two parties. Democrats fared well among voters who said Social Security or education were the top issues, while Republicans won by a large margin among voters who cited terrorism as the most important issue. Those who mentioned Iraq as the top issue tilted toward Democratic candidates, 48% to 46%.
Support by Which Issues
Most Important to Vote Choice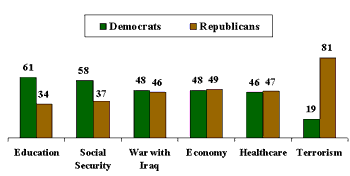 Oct 31-Nov 3, 2002
Survey Methods
Results are based on telephone interviews with 1,221 national adults, aged 18 and older, conducted Oct 31-Nov. 3, 2002. For results based on the total sample of national adults, one can say with 95% confidence that the maximum margin of sampling error is ±3 percentage points.
Results based on likely voters on the subsample of 715 survey respondents deemed most likely to vote in the November 2002 midterm election, according to a series of questions measuring current voting intentions and past voting behavior. For results based on the total sample of likely voters, one can say with 95% confidence that the margin of sampling error is ±4 percentage points.