Six in 10 employees (59%) at for-profit, private-sector companies say they have a 401k retirement account with their company, according to the Employee Outlook Index -- a joint effort of UBS and Gallup*. This compares with 36% of employees who say they have a pension plan. Obviously, many of today's workers will be counting heavily on 401k plans for their retirement.
Employees Have Been Losing Retirement Savings . . .
Unfortunately, the declining equity markets of the past couple of years have not helped many working Americans build their 401k retirement nest eggs. Almost 6 in10 employees (58%) report that their 401k accounts have lost value over the past year. One in five (21%) say their 401k accounts have gone down a little in value while almost twice that number (37%) say their accounts have gone down a lot. Nineteen percent of employees say that the value of their 401k accounts has stayed the same and the same percentage say it has actually gone up.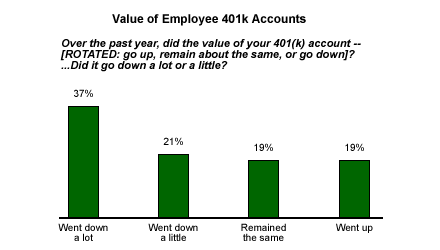 . . . But They Continue to Contribute . . .
With almost 8 in 10 employees (77%) saying that the value of their 401k account has stayed the same or decreased over the past year, Wall Street has feared that many Americans may reduce their 401k contributions or stop contributing to them altogether. This has not been the case. Three in four employees (74%) say they intend to maintain their 401k contribution at the same level over the coming year. Another 15% say they will increase the amount they contribute, while only 9% say they will decrease their contribution.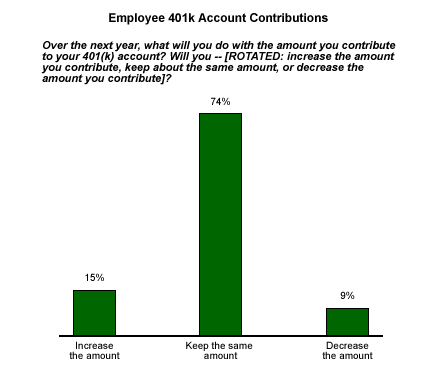 And, Most Will Not Change Their Allocations
Perhaps even more surprisingly, about two in three employees (68%) say that they will not alter the way their 401k funds are distributed or allocated, although 21% do say that they will change to a more conservative allocation of funds. Only 8% say they will shift to a more aggressive investment strategy.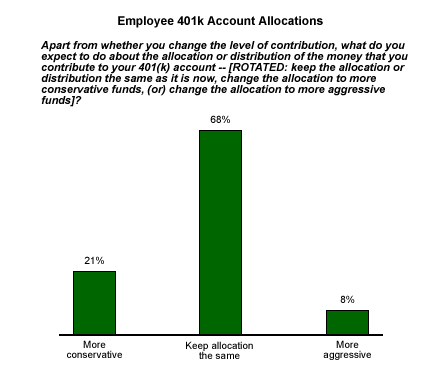 Key Points
In many ways, the past few years have been a major test of the 401k account as an effective retirement planning mechanism. In this regard, the 401k poll results of the Employee Outlook Index are very reassuring. It is clear that most Americans see their 401k accounts as long-term retirement accounts that they will continue to build for the future.
Even when the value of their accounts is declining, employees say they will continue to contribute.
Even when the risks of equity investing increase, employees say they will leave their allocations unchanged.
As part of this survey, nearly three-fourths of employees (73%) told Gallup that they had received their third quarter 401k account statements. While more than two in three of those that had received their statements, (70%) told us that they had already read them, the other 30% said they had not. Of course, given the losses many 401k plans experienced during the third quarter, it is possible that some of these employees were exhibiting avoidance behavior. More likely, however, many employees do not rush to see their statements because they see them as long-term investment accounts and do not plan to change things, regardless of the current results.
As the new Congress considers actions to encourage investing early next year, they may want to include today's 401k plans in their considerations. These accounts are working as the average American's key source of retirement funding and as their major stake in the success of American business. Congress should take actions that make this instrument even more attractive to both employees and the companies that provide them.
*Results are based on telephone interviews with 685 adults who are employed with non-governmental, for-profit companies having five or more employees, aged 18 and older, conducted Oct. 14-17, 2002, and Oct. 21-22, 2002. For results based on the total sample, one can say with 95% confidence that the maximum margin of sampling error is ±4%. For results based on the 421 employed adults in this sample who have a 401k account, the maximum margin of sampling error is ±5%.