GALLUP NEWS SERVICE
PRINCETON, NJ -- More than anything, 2002 may be remembered as a year of scandal in the United States. The corrupt actions of high-ranking executives at several major corporations, most notably Enron, were uncovered. Martha Stewart and some of her business associates became embroiled in an insider stock-trading scandal. The Roman Catholic Church is still dealing with the issue of sexual abuse of young people by priests. And Rep. James Traficant of Ohio was expelled from Congress and jailed after being found guilty of taking bribes while serving in the U.S. House.
The effects of these scandals are apparent in Gallup's annual update of the public's ratings of the honesty and ethics of professions. While ratings of business professionals have never been high, it is clear that the scandals may well have taken a toll. Ratings of the clergy's honesty and ethics are at their lowest point ever, and ratings of congressmen declined this year after reaching historical highs the past 2 years.
Overall, nurses are once again the most highly rated profession among those tested in the survey, while telemarketers and car salesmen rank among the lowest.
Perceptions of Businesspeople Still Suffering From Scandals
The CNN/USA Today/Gallup poll, conducted Nov. 22-24, asked the public to rate the honesty and ethics of 21 professions. While the ratings of business professions have been well below the average of all the professions tested, their current ratings are lower than in the past and even lower than they were in last year's poll. Among the business professions tested, accountants are rated most positively (along with bankers), but only 35% rate accountants' honesty and ethics as "high" or "very high." That compares with a 41% rating in November 2001 and is little improved from a 32% rating in February of this year, when business scandals -- including that of accounting firm Arthur Andersen -- dominated news headlines.
Just 17% of Americans currently rate the honesty and ethics of business executives highly, compared with 25% a year ago. The current rating reflects essentially no change from this past February, at which point 16% rated business executives' honesty and ethics positively.
Stockbrokers' ratings are also down, to 12%, their lowest reading ever. Last year, 19% rated stockbrokers' honesty and ethics positively. Martha Stewart's implication in an insider trading scandal concerning the company ImClone brought the issue of questionable investing practices back into the news.
Rating the Honesty and Ethics of Business Professions
Ratings of Clergy Lowest Ever
Businesspeople are not the only profession whose public image has suffered in the wake of highly publicized scandals. The latest poll shows 52% of Americans rating the honesty and ethics of clergy as high, down 12 points from last year's 64% rating. A drop in ratings of clergy also occurred in 1992-1994, another time when the Catholic Church struggled with the issue of sexual abuse committed by priests. Those ratings eventually bounced back, going as high as last year's 64%, the highest since 1985.
Rating the Honesty and Ethics of Clergy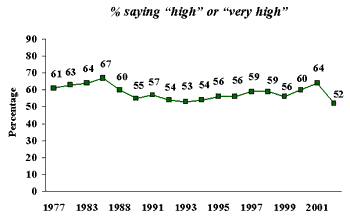 Catholic respondents give slightly lower average ratings to clergy, 50%, than do Protestants, 57%. An analysis of past data shows that the Catholic priest sexual-abuse scandal appears to have dragged down Catholics' ratings of clergy's honesty and ethics more than it has those of Protestants. In 1997, Protestants (62%) and Catholics (64%) gave similar ratings that were above the overall average of 59%, whereas now Catholics' ratings of the clergy are below the overall average and noticeably lower than Protestants' ratings.
Rating the Honesty and Ethics of Clergy,
by Religious Affiliation
Perhaps not surprisingly, the current ratings of clergy are especially negative among those who have no religious affiliation. Just 30% of this group rates religious leaders' ethics highly.
Ratings of Congressmen Fall Back
Congressmen saw a drop in their ratings from a historical high of 25% last year to 17% this year. The current rating falls even below the 2000 rating of 21% but is higher than the dismal 11% rating given to congressmen in 1999. The current rating is in line with the historical average rating of congressmen, 16%, which is based on measures obtained each year since 1976. It is unclear how much of an effect the Traficant scandal may have had on the ratings; the drop may mainly reflect the decay of the rally effect in ratings of government officials that followed the terrorist attacks.
Rating the Honesty and Ethics of Congressmen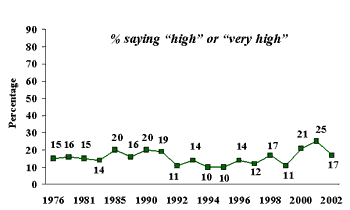 Nurses Continue to Receive Highest Ratings
Nurses, whose honesty and ethics are rated as "high" or "very high" by 79% of Americans, top the list again this year. Nurses have been the highest rated profession since they were first included in Gallup's survey in 1999, except for 2001, when firefighters surpassed them in the wake of the Sept. 11 terrorist attacks (firefighters were not included in this year's survey). Other top-rated professions are pharmacists (at 67%, and the highest rated profession prior to the introduction of nurses to the list), military officers (65%, a new addition to the list), high school teachers (64%) and medical doctors (63%).
Looking at the other end of the spectrum, the public's rating of the honesty and ethics of telemarketers is the lowest of any of the professions tested. Only 5% of Americans rate this group's honesty and ethics as high or very high. Car salesmen are rated just about as negatively as telemarketers are; only 6% of Americans rate their honesty and ethics highly. Advertising practitioners are given positive ratings by only 9% of the public, down from a 14% reading earlier this year.
The complete list follows:
Please tell me how you would rate the honesty and ethical standards of people in these different fields -- very high, high, average, low, or very low? First, ... Next, ...[RANDOM ORDER]

2002 Nov 22-24

Very high


High


Average


Low

Very
low

No opinion

%

%

%

%

%

%

Nurses

22

57

17

2

1

1

Military officers

18

47

26

4

1

4

High school teachers

15

49

29

4

1

2

Clergy

14

38

35

7

2

4

Policemen

13

46

33

6

2

*

Druggists, pharmacists

12

55

26

5

1

1

Medical doctors

11

52

30

6

1

*

Funeral directors

7

32

43

9

2

7

Accountants

4

31

52

8

2

3

Journalists

4

22

50

18

4

2

Bankers

3

33

52

9

2

1

Congressmen

3

14

47

28

6

2

Building contractors

3

17

58

16

3

3

Business executives

2

15

52

23

6

2

Lawyers

2

16

45

25

10

2

Labor union leaders

2

12

49

26

7

4

Real estate agents

2

17

57

19

3

2

Stockbrokers

2

10

53

24

5

6

Advertising
practitioners

1

8

50

28

8

5

Car salesmen

1

5

40

38

15

1

Telemarketers

1

4

29

36

27

3
Survey Methods
These results are based on telephone interviews with a randomly selected national sample of 1,017 adults, 18 years and older, conducted Nov. 22-24, 2002. For results based on this sample, one can say with 95 percent confidence that the maximum error attributable to sampling and other random effects is plus or minus 3 percentage points. In addition to sampling error, question wording and practical difficulties in conducting surveys can introduce error or bias into the findings of public opinion polls.
PERCENTAGE SAYING "VERY HIGH" / "HIGH," SELECTED YEARS

'83


'88


'92


'96


'98


'99


'00


'01

Feb
'02

Nov
'02

%

%

%

%

%

%

%

%

%

%

Nurses

--

--

--

--

--

73

79

84

83

79

Druggists,
pharmacists

61

66

66

64

64

69

67

68

--

67

Military
officers

--

--

--

--

--

--

--

--

--

65

Grade school/
high school
teachers

--

--

--

--

--

57

62

--

--

64

Medical doctors

52

53

52

55

57

58

63

66

--

63

Policemen

41

47

42

49

49

52

55

68

61

59

Clergy

64

60

54

56

59

56

60

64

--

52

Funeral
directors

29

24

35

35

33

35

36

--

--

39

Bankers

38

26

27

26

30

30

37

34

--

36

Accountants

--

--

--

--

--

--

38

41

32

35

Journalists

28

23

27

23

22

24

21

29

--

26

Building
contractors

18

22

19

23

19

18

23

--

--

20

Real estate
agents

13

13

14

15

16

14

17

--

--

19

Lawyers

24

18

18

17

14

13

17

18

--

18

Business
executives

18

16

18

17

21

23

23

25

16

17

Congressmen

14

16

11

14

17

11

21

25

--

17

Labor union
leaders

12

14

14

16

15

17

17

17

--

14

Stockbrokers

19

13

13

15

19

16

19

19

--

12

Advertising
practitioners

9

7

10

11

10

9

10

11

14

9

Car salesmen

6

6

5

8

5

8

7

8

--

6

Telemarketers

--

--

--

--

--

9

--

--

--

5

Firefighters

--

--

--

--

--

--

--

90

--

--

Members of
U.S. military

--

--

--

--

--

--

--

81

--

--

Engineers

45

48

48

48

50

50

56

60

--

--

College teachers

47

54

50

56

53

52

59

58

57

--

Dentists

51

51

50

53

53

52

58

56

--

--

Senators

16

19

13

15

19

17

24

25

--

--

Auto mechanics

--

--

--

--

--

24

22

22

--

--

Insurance
salesmen

13

10

9

11

11

10

10

13

--

--

Veterinarians

--

--

--

--

--

63

66

--

--

--

Judges

--

--

--

--

--

53

47

--

--

--

State governors

--

--

--

--

--

24

30

--

--

--

Local
officeholders

16

14

15

19

21

20

25

--

--

--

TV reporters

33

22

31

23

21

20

21

--

--

--

State
officeholders

13

11

11

13

17

16

20

--

--

--

Newspaper
reporters

26

22

25

17

20

19

16

--

--

--

Day care
providers

--

--

--

--

--

41

--

--

--

--

Computer
industry execs.

--

--

--

--

--

35

--

--

--

--

Home repair
people

--

--

--

--

--

29

--

--

--

--

Chiropractors

--

--

--

--

--

26

--

--

--

--

Store
salespeople

--

--

--

--

--

22

--

--

--

--

Nursing home
operators

--

--

--

--

--

22

--

--

--

--

Computer
salesmen

--

--

--

--

--

20

--

--

--

--

Jewelers

--

--

--

--

--

20

--

--

--

--

Entertainment
industry execs.

--

--

--

--

--

15

--

--

--

--

Real estate
developers

--

--

--

--

--

15

--

--

--

--

Gun salesmen

--

--

--

--

--

12

--

--

--

--

Internet
journalists

--

--

--

--

--

10

--

--

--

--

HMO managers

--

--

--

--

--

10

--

--

--

--