The ways Americans get their news are grounded in routine. For example, Americans may read the newspaper at the breakfast table or tune in to network morning shows, listen to news and talk radio shows during the morning commute, check the Internet and e-mail before starting the workday, or catch the late local newscast before bed. A Gallup measurement of Americans' daily and weekly news acquisition habits yields valuable insight into which media are growing and which are dwindling in popularity, as well as the demographic and political variables that drive the way people get their news.
Local Leads
A Dec. 5-8 Gallup Poll* measured the public's preferences for a variety of daily and weekly news sources. The value of local news sources is immediately evident: 57% of Americans say they watch local television news every day -- a higher percentage than for any of the other sources tested. Local newspapers are an everyday source of news for 47% of respondents, followed by nightly network news (43%), and cable news networks (41%). The rest of the daily news sources tested are used every day by roughly a third of the public or less. Among weekly news sources, TV newsmagazines such as 60 Minutes and 20/20 garner the most attention, with nearly a quarter of Americans (23%) saying they watch such shows every week.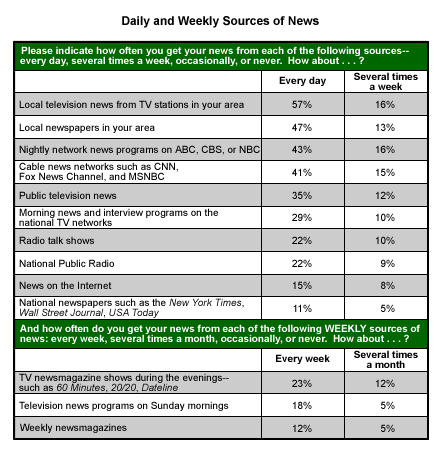 Emerging Media
Gallup has been measuring America's choice of news sources since 1995; currently, some intriguing trends are emerging. Stalwarts such as the nightly network news and newspapers are declining in everyday use, while use of talk radio and the Internet is rising.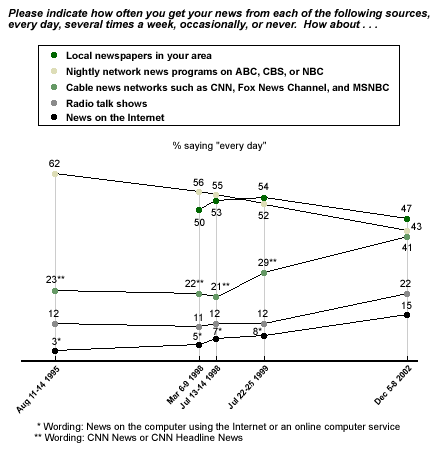 The percentage of Americans who say they watch the nightly network news every day is down nine percentage points since 1999, and 19 percentage points since 1995, and the percentage saying they get the news from the local newspaper every day is down seven points from 1999.
The 1990s and early 21st century marked the emergence of cable news networks and the Internet as popular news sources. Currently, 41% of Americans say they get their news from "cable news networks such as CNN, Fox News Channel, and MSNBC" every day, putting it on par with the nightly network news shows. The percentage saying they use the Internet for news every day nearly doubled from eight points to 15 points since July 1999. Americans under age 50 are significantly more likely to use the Internet for news every day than are Americans aged 50 and older.
The Rush Limbaugh Effect
About one in five Americans get their news from radio talk shows. These shows appeal to conservatives and Republicans, and some of the best-known talk show hosts (Rush Limbaugh) are conservative. The Gallup data bear this out. Republicans are significantly more likely than Democrats to say they get their news from radio talk shows every day, 29% to 15%. This is likely a result of the greater proliferation and higher profile of conservative radio talk shows -- Limbaugh being the most obvious specific example.
The everyday use of certain television news sources also varies by political affiliation, but in the other direction. Democrats are somewhat more likely than Republicans to say they watch public television news, nightly network news, and local television news.
Additional Points
The decline of newspaper readership and the rise of the Internet as a news source may be intrinsically linked. More newspapers are taking their content online, providing easy -- and often free -- access to information that used to be accessible only with the purchase of a newspaper. This same relationship could also be true for network and cable television use. For example, as NBC continues to share content and television personalities with MSNBC, it knowingly sacrifices one product at the expense of developing another.
*Results are based on telephone interviews with 1,001 national adults, aged 18 and older, conducted Dec. 5-8, 2002. For results based on the total sample of national adults, one can say with 95% confidence that the maximum margin of sampling error is ±3%.