GALLUP NEWS SERVICE
PRINCETON, NJ -- For the first time since the terrorist attacks on Sept. 11, George W. Bush's approval rating has dropped below the 60% level, now showing 58% of Americans who approve and 37% who disapprove of the way he is handling his job as president. In a Gallup Poll conducted just days before the Sept. 11 attacks, Bush's approval rating reached the lowest of his presidency, with 51% approving and 39% disapproving. After the terrorist attacks, his approval skyrocketed, reaching a record 90% in mid-September 2001. It has gradually declined since then, dropping below 80% for the first time in early March 2002, and dropping below 70% for the first time the following July. By December of last year, it was below the 65% level.
George W. Bush's Job Approval Rating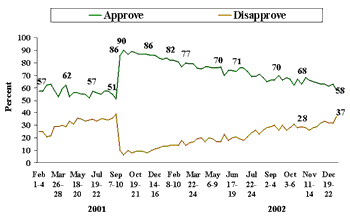 This most recent drop may well be related to the controversy over North Korea's nuclear weapons capability. In a poll conducted just a week ago, when Bush's overall approval rating was at 63%, Americans gave Bush a foreign affairs approval rating of 60%. That rating is now down to 53%, with 42% of Americans disapproving of the way he is handling foreign affairs, the highest disapproval he has received on this issue. Just prior to Sept. 11, Bush's foreign affairs approval rating was 54% approval to 33% disapproval, a 21 point favorable margin that is only 11 points in the current poll.
George W. Bush's Job of
Handling Foreign Affairs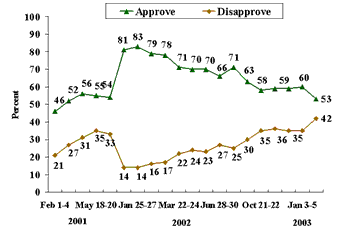 The seven-point drop in foreign affairs approval is nearly equal in size to the five-point drop in Bush's overall approval rating in the last week. In contrast, Bush's economic approval rating did not change over the same time period (49% approved in the Jan. 3-5 poll and 48% approve in the poll conducted over the weekend), further implicating foreign affairs as a reason for Bush's declining rating.
While there were no specific questions about North Korea in the current poll, respondents were asked about Iraq. Support for invading that country is the same as it was a week ago, suggesting that the public's lower rating of Bush on foreign affairs was not related to Bush's actions toward Iraq.
The other major foreign policy news this past week has been the development of a nuclear weapons program in North Korea. The Bush administration has been criticized for having a double standard about the nuclear programs in Iraq and North Korea, treating the latter country as less of a concern than the former. In the poll last week, Americans were about evenly divided over whether North Korea was as much of a threat to the United States as Iraq; 51% thought Iraq was more of a threat, while 46% said North Korea was either the greater threat (18%) or at least as much of a threat (28%). Last week, among people who had been following the news about North Korea very closely, a clear majority, 59%, thought that North Korea represented at least as much of a threat as Iraq.
Bush Economic Ratings Show No Change From Last Week
Apart from foreign affairs, the public has been souring on Bush's handling of the economy for several months, which helps to explain the more general decline in Bush's ratings since the beginning of last year. The disaffection with Bush's economic performance reached a critical point last October, when just 49% of Americans approved of Bush in this area, the first time his approval rating on the economy had dropped below the 50% level. It rose in November to 55%, but declined again in December to 49%, only a point higher than the current reading. The last three polls have also shown 47% of Americans disapproving, the highest level of disapproval in the Bush presidency.
George W. Bush's Job of
Handling the Economy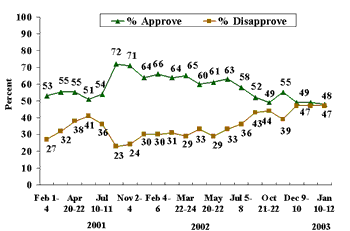 One indication of how important the economy is to Bush's ratings is that a majority of Americans, 55%, believe that Bush is not giving enough attention to the economy. Another 41% say he is giving the right amount of attention.
By contrast, Americans are far less critical of Bush's action on the war on terrorism -- 59% of Americans say he is spending the right amount of attention to that issue, with 25% saying too much and 14% saying not enough. Both items show more dissatisfaction with Bush than there was last July, although a majority of Americans are positive about Bush's actions in dealing with terrorism.
Do you think President Bush is paying -- too much attention, about the right amount of attention, or not enough attention -- to the war on terrorism, the economy?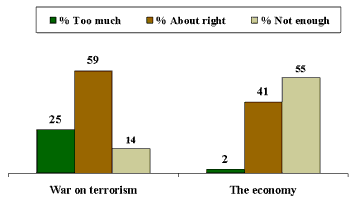 Jan 10-12, 2003
Survey Methods
The latest results are based on telephone interviews with 1,002 national adults, aged 18+, conducted Jan. 10-12, 2003. For results based on the total sample of national adults, one can say with 95% confidence that the margin of sampling error is ±3 percentage points. In addition to sampling error, question wording and practical difficulties in conducting surveys can introduce error or bias into the findings of public opinion polls.