In slow-growth times, it seems especially important that companies look for ways to make their employees feel valued and productive -- and therefore enthusiastic about the future. But a new poll of employees suggests that many companies are missing inexpensive opportunities to do so.
Most Employers Have Formal Performance Reviews
Eight in 10 private-sector employees say that their companies have some type of formal periodic performance review during which employee performance is discussed and evaluated. Forty percent say that they have such reviews every six months or more often. Another 52% say they have a formal review on a yearly basis.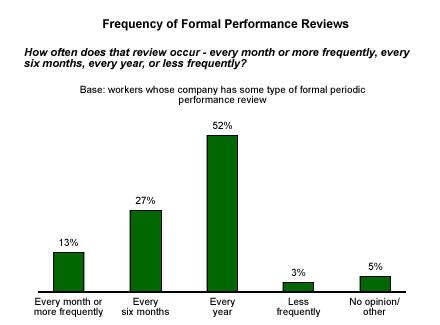 Many Employers and Employees Set Specific Performance Goals
Nearly two-thirds of employees (63%) say that their supervisors or employers set specific performance goals for them or the team they worked with in 2002. Fifty-nine percent of employees who said their supervisors or employers did not set specific performance goals for them say they personally set specific performance goals for themselves last year.
Only about half (56%) of those employees with specific performance goals -- set by their supervisor, employer, or themselves -- say they "completely met" their goals last year. However, another 29% say they "came close to meeting" their goals, while just about 1 in 7 (14%) say they "partially met" or were "unable to meet" their goals.
Financial and Other Types of Recognition
Fifty-eight percent of employees who had specific performance goals say they received a bonus or some other kind of special incentive compensation to reward them for their performance last year. Apart from monetary awards, 39% of employees say that they received some other type of recognition for their work, such as a letter of praise or a plaque. Twenty-nine percent say they received neither special compensation nor any other type of recognition, while 26% say they got both a financial incentive and another type of recognition.
As might be expected, those employees who say they completely met their 2002 goals are more likely than those who do not say they met their goals to say they received financial and/or other types of recognition. Two in three employees (65%) who say they completely met their goals last year also say they received financial compensation for this achievement, and 49% say they received some other type of recognition. Among those employees saying they came close to meeting or partially met their goals, 56% received monetary compensation for what they did and 31% received some other non-monetary recognition.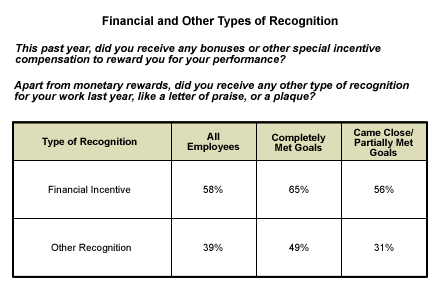 Bottom Line
The ability of any company to make its growth and profit targets depends on whether its employees can achieve their individual performance goals. Gallup's workplace research has shown that companies have a better chance of achieving their goals if they set clear individual targets, provide financial incentives for reaching those targets, and recognize employees who meet their targets.
Even during difficult economic times, companies can establish clear individual performance targets. Usually, they also maintain their incentive pay structures because such compensation is directly tied to performance and productivity. All companies -- even those struggling with profitability -- have high performers who are contributing to the bottom line. Incentive pay is used to reward these employees for their performance, even as cuts are being made elsewhere.
On the other hand, it is often easy for management to think of non-financial recognition as an unnecessary extra expense. Managers may question whether plaques really motivate people and believe financial performance incentives are sufficient.
In reality, non-monetary recognition is an inexpensive way to improve morale and stimulate productivity -- goals that become more important than ever in sluggish economic periods. Because only two-thirds of employees who fully met their goals last year received financial incentives and only half received other forms of recognition, it seems that many companies are missing a huge opportunity to achieve higher productivity at a time when they need it most.
*Results are based on telephone interviews with 641 adults who are employed with non-governmental, for-profit companies having five or more employees, aged 18 and older, conducted Jan. 13-16, 2003, and Jan. 20-22, 2003. For results based on the total sample, one can say with 95% confidence that the maximum margin of sampling error is ±4%. Selected responses based on subgroups within the survey had a maximum margin of error ranging from ±5% to ±11%. In addition to sampling error, question wording and practical difficulties in conducting surveys can introduce error or bias into the findings of public opinion polls.