It has been well documented in the health community that teen-agers tend to need more sleep than adults do, and that most teens don't get as much sleep as they should. According to a 2000 National Sleep Foundation report, just 15% of adolescents report getting eight and a half hours or more of sleep on a typical school night, and more than a quarter (26%) say they sleep six and a half hours or fewer on school nights.
Recent Gallup survey results further suggest that many teens believe they are deprived of sleep. According to the 2003 Gallup Youth Survey*, the vast majority of teens are not satisfied with the amount of sleep that they get on school nights. When asked if they wish they could get more sleep than they presently do during the week, more than three-fourths (78%) of U.S. teens (aged 13 to 17) said yes and only 22% said no.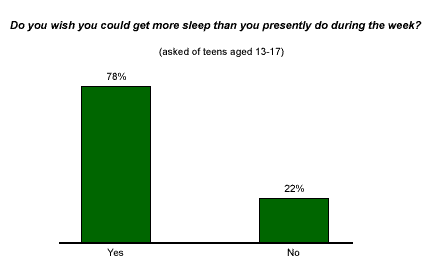 Girls are slightly more likely than boys to feel that they are not getting enough sleep. Eighty-two percent of teen girls wish they could get more sleep during the week, compared with 74% of boys. It may be that girls are more attuned to physical needs such as sleep -- or that they actually do sleep less, an idea that echoes a 2000 study by University of Kentucky psychologist Fred Danner.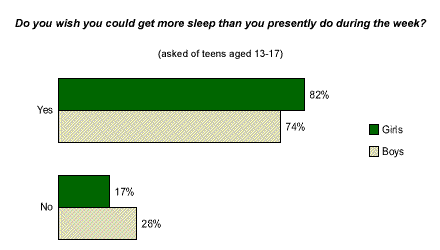 Danner also found that students who sleep less are more likely to have academic problems. Interestingly, there is no evidence of the reverse in Gallup's data: teens' academic standing does not seem to be related to whether or not they feel they should be getting more sleep. Seventy-seven percent of teens who described themselves as "above average" or "near the top" academically in their classes said they wish they could get more sleep, as did 79% of teens who described themselves as "average" or "below average" academically. Yet when Gallup asked teens more specifically if they "miss out on needed sleep because of your homework and extracurricular activities," differences did emerge according to academic standing. Slightly more than half (52%) of teens who call themselves "above average" or "near the top" feel they miss out on sleep because of these activities, as do 43% of "average" or "below average" students.
Bottom Line
According to the National Sleep Foundation, teens not only need more sleep than adults, but studies have shown that their bodies also tend to be programmed to fall asleep later and wake up later than adults. The results of such studies have prompted many school districts across the country to alter high school class schedules. High schools that used to begin classes between 7 a.m. and 7:30 a.m. now begin between 8 a.m. and 8:30 a.m., and end at 3:30 p.m. rather than 2:30 p.m. If Gallup survey results are any indication, this extra hour of sleep could go a long way in helping teens to get the amount of rest they need.
*The Gallup Youth Survey is conducted via an Internet methodology provided by Knowledge Networks, using an online research panel that is designed to be representative of the entire U.S. population. The current questionnaire was completed by 1,200 respondents, aged 13 to 17, between Jan. 23-Feb. 10, 2003. For results based on the total sample, one can say with 95% confidence that the maximum margin of sampling error is ±3%. For a complete description of the sampling and weighting procedures used to conduct the survey, click here.