Two important developments last week potentially boosted the quality of life for Iraqi civilians in Basra and other parts of Iraq. First, the U.S. government committed another $200 million toward feeding the Iraqi people. The World Food Program will conduct the food purchase for the United States, which translates into more than 300,000 tons of food. Also, in Basra, a city in the grips of a terrible food shortage, the United States and Britain seized control Wednesday of a food distribution complex said to house thousands of tons of supplies and food.
Clearly, the food and supply shortages and the humanitarian plight of Iraqi civilians are not going unnoticed by Americans. Results from a poll conducted in late March*, show that nearly a third of Americans (30%) describe the need for food, water, and medical help for Iraqi civilians in Basra and other areas as a "crisis." Further, roughly half of the public (49%) feels the need for aid is a "major problem," while 17% call it a "minor problem." Just 2% think the shortage of food, water, and medical help in these areas of Iraq is "not a problem at all."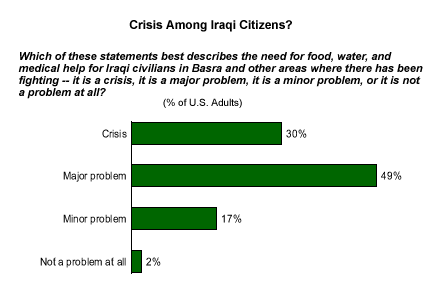 Women Slightly More Concerned About Humanitarian Aid
American women are somewhat more likely than American men to see a pressing need for humanitarian aid for Iraq. Specifically, 85% of women describe the situation as a crisis (34%) or major problem (51%), compared with 73% of men (of whom 26% say crisis and 47% say major problem). These findings are reflective of the views of the two genders on war in general. Men are generally a little more likely than women to be supportive of the war, and less averse to its negative outcomes. (See "Gender Gap Varies on Support for War" in Related Items.)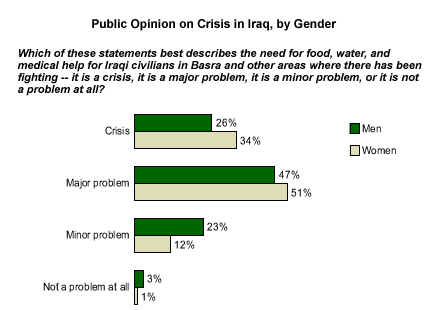 Bottom Line
Regardless of differences by gender, the public's opinion on the issue of humanitarian aid in Iraq is clear -- a majority believes it is a crisis or a serious problem. Whether the two new events affect public opinion on this subject remains to be seen.
*Results are based on telephone interviews with 1,012 national adults, aged 18 and older, conducted March 29-30, 2003. For results based on the total sample of national adults, one can say with 95% confidence that the maximum margin of sampling error is ±3%.